Dear IMC-ers kali ini mau share kegiatan kami eksplorasi dengan fosil yang kami dapatkan dari kegiatan "mining fossils" di farm beberapa hari yang lalu ya. Untuk pertama kalinya C memilih dan ingin sendiri kegiatan ini waktu di farm, awalnya saya agak ragu dan uhmm tiketnya cukup mahal untuk "mining fossils" ini tapi C terlihat antusias apalagi melihat anak yang sudah lebih besar di depannya , jadi ya sudah mengingat "follow the child" dan juga masa-masa seperti ini ada periodenya (sensitive periode) saya mengikuti saja kemauan C. Selama di farm saya berikan C pilihan untuk memilih 2 kegiatan yang bayar menggunakan tiket dan ia konsekuen dengan memilih "mining fossils" dan tractor go-cart, naik kuda poninya lain kesempatan saja. So here are our fun activities with fossils!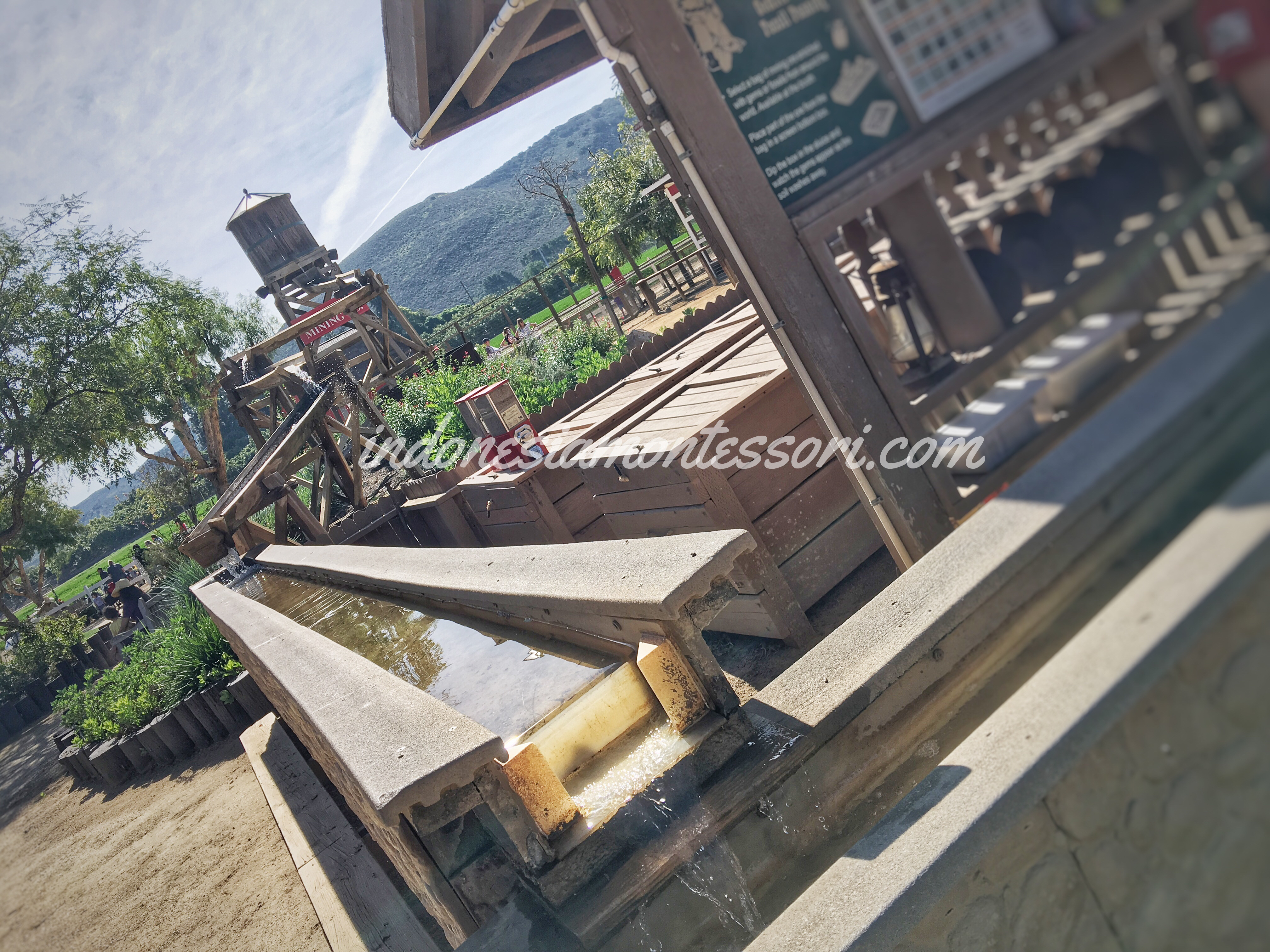 Ini miniaturnya seru ya keren sekali , lalu C diberikan sekantong batu-batuan / debris yang didalamnya terdapat fossil dan C akan mencuci dan memilih sendiri fosilnya seperti foto di bawah.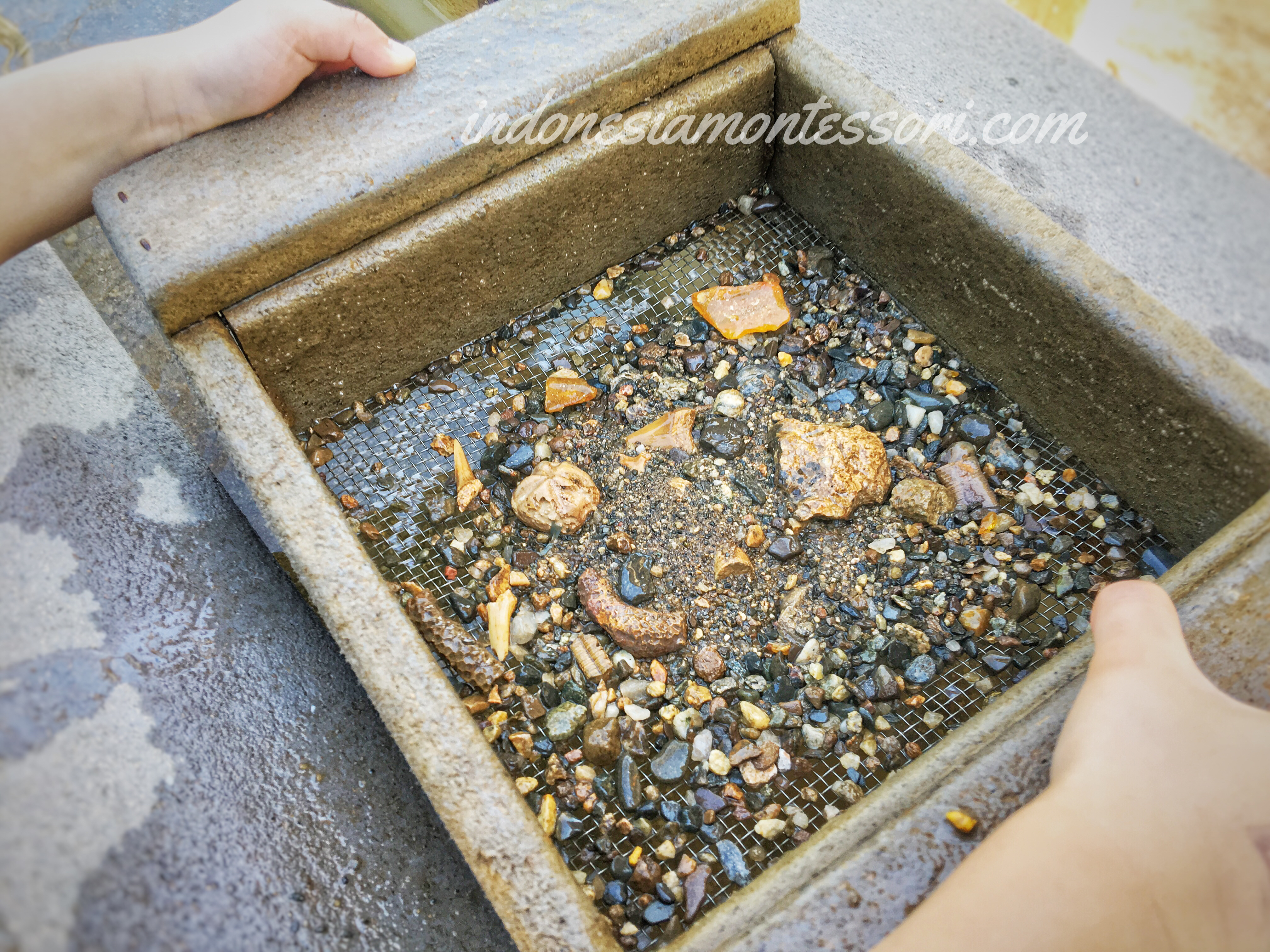 Waaaaaaa…pertama-tama saya kurang bisa identifikasi juga sih yang mana yang fosil yang mana yang batu-batuan, setelah pemandunya memberi tahu dan memberikan brosur guidelinenya saya mulai mengerti, uhmmm jaman mommy dulu rasanya ga ada kegiatan ini C!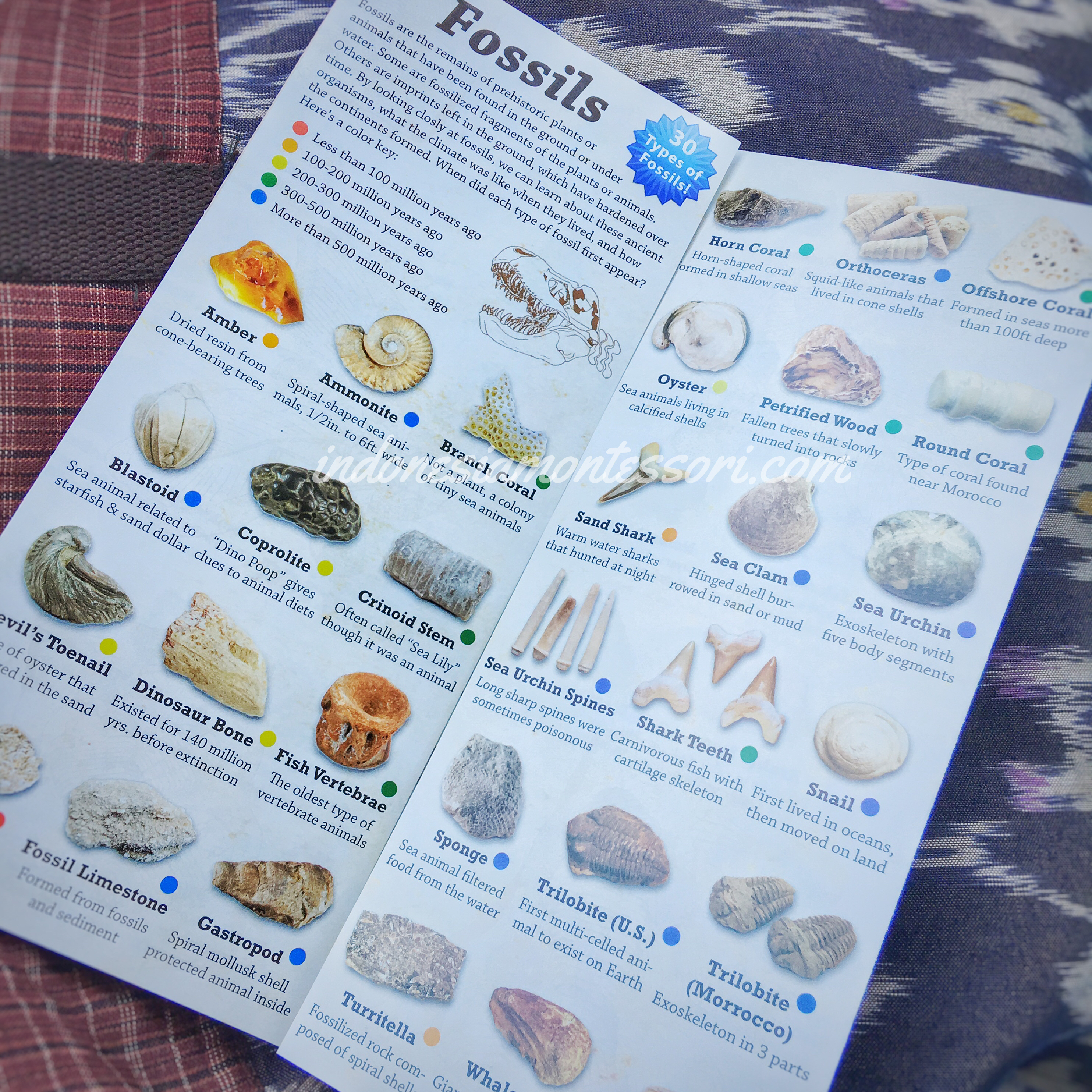 Nah ini brosur yang diberikan cukup lengkap ya, langsung setelah pulang saya laminasi supaya awet dan bisa digunakan untuk referensi di kemudian hari.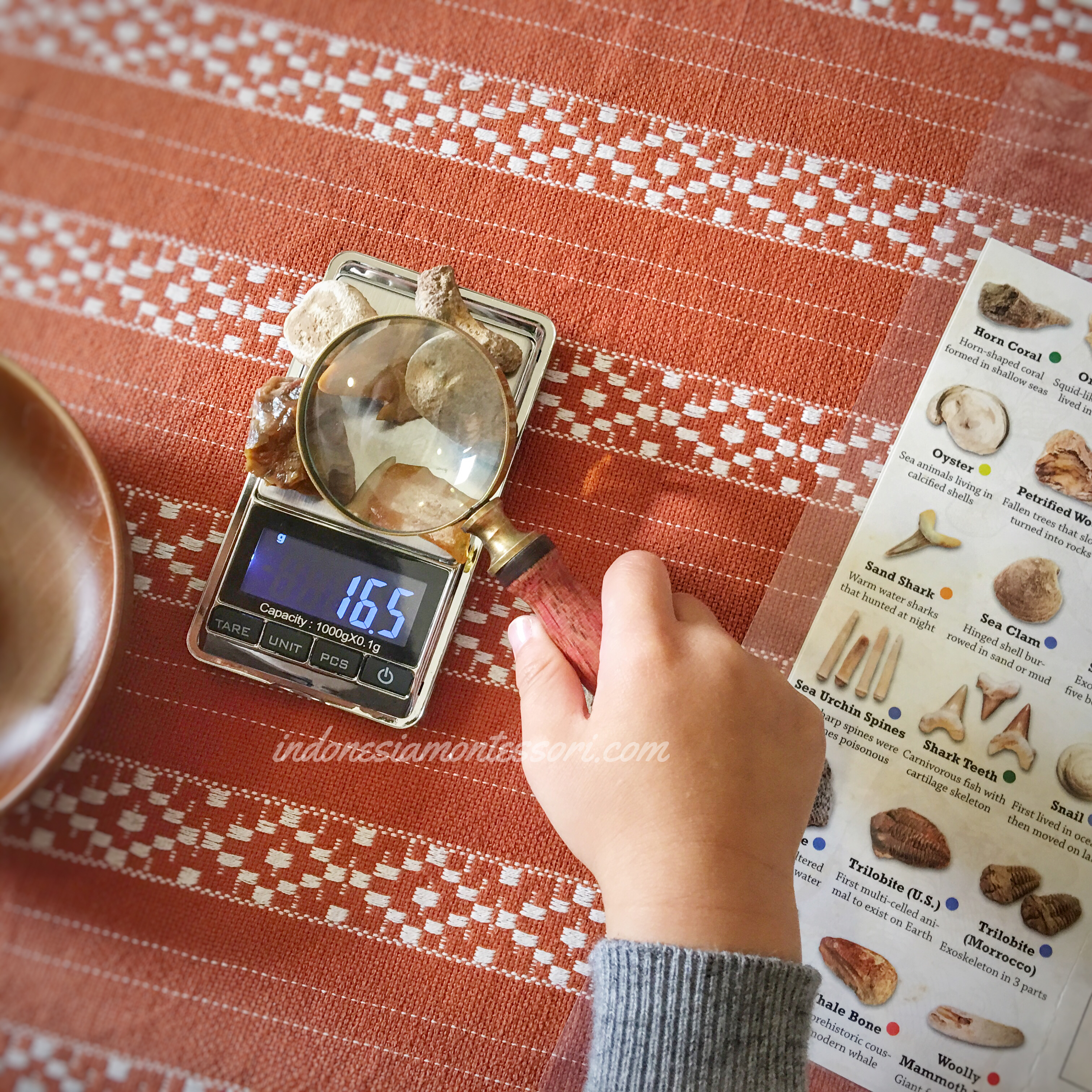 Keesokan harinya kami observasi dan eksplorasi lagi dengan fosil hasil kumpulan C, saya sediakan kaca pembesar, timbangan dan tweezer untuk C bebas observasi. Naluri montessori nya langsung aja ya, ketika lihat brosur referensi yang sudah saya laminasi otomatis langsung mencocokkan bagaikan mencocokkan figurin dengan kartu nomenklatur Montessori kami hahaha….well done C!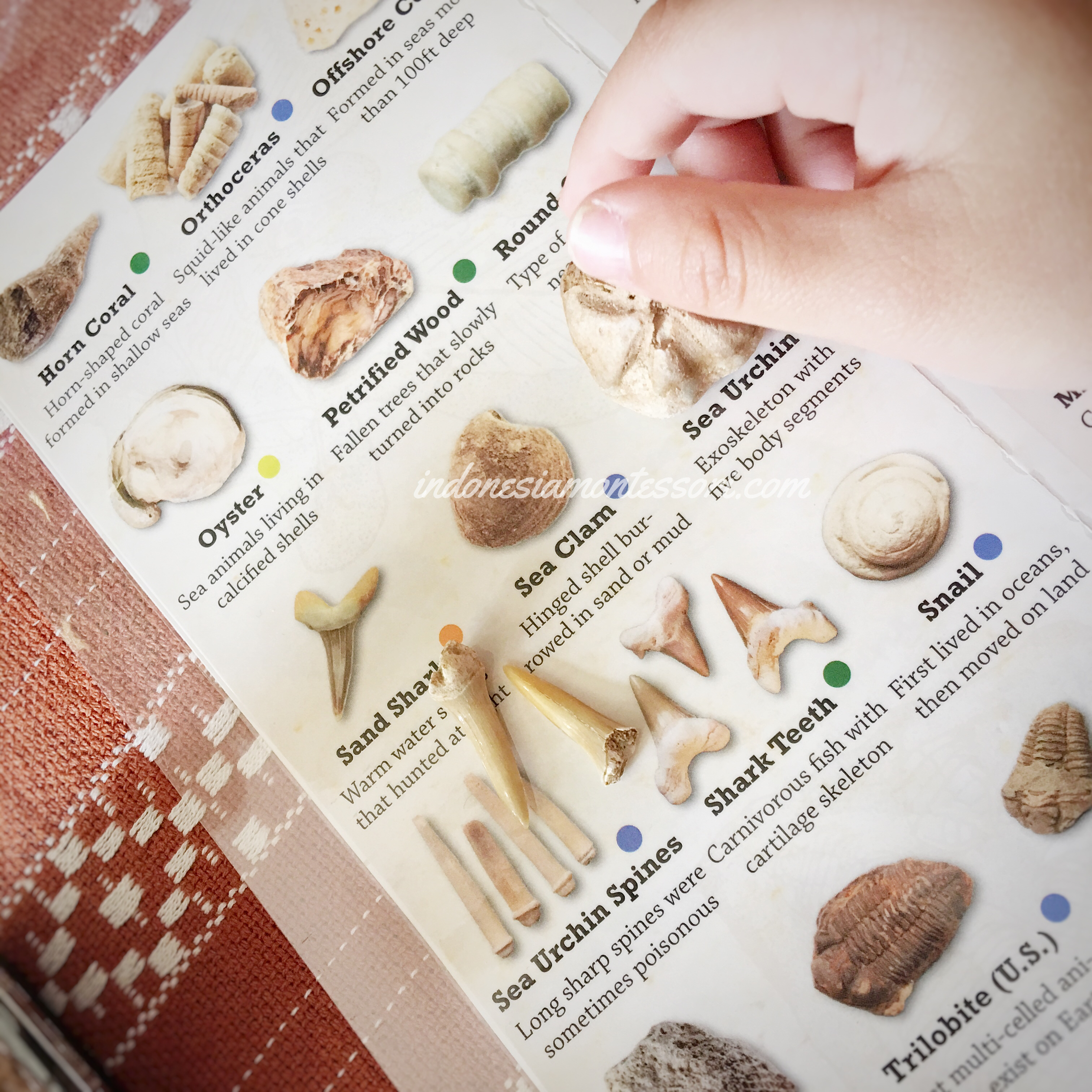 Cukup akurat juga loh ternyata yang C cocokkan hampir 70% dari brosur kita miliki , ah lain kali jadi ketagihan nambang fosil lagi nih biar lengkap hehehe…
Selanjutnya C timbang-timbang deh fosilnya, saya sengaja membiarkan ia eksplorasi tanpa terlalu banyak komentar pada tahap ini , saya biarkan iya observasi sendiri tekstur, berat, dll nya.Seru ya? lain kali mau lagi ah!
Oh ya untuk IMC readers yang belum sempat menambang fosil, bisa ikut download referensinya dan kegiatan yang berhubungan di sini ya:
Fossil Identification Workbook – serba serbi fosil
Have fun little explorer ! #ExploreWithIMC