Hello April! entah kenapa kalau ice breaker nya saya kok nyebutin bulan-bulan atau tahun-tahun terus ya? rasanya kalau baru mau mulai mengetik cerita saya kok cenderung mulai dengan "Hello April" "Hello 2017" "Hello IMC Mommies" hahaha ada yang sadar ga sih? saya sebetulnya udah sadar dari dulu tahu somehow tetap ngalirnya begitu tuh…mungkin sejenis ice breaker untuk saya ya…hahahaa karena setiap mau menulis artikel kan blank putih gitu…lah mau mulai dari mana nih? ya udah say HI dulu aja deh!
Sore ini berhubung kami sedang kurang enak badan , we decided to stay home and to take it easy….seperti biasanya Spielgaben kami come to the rescue. Waktunya nyantai, duduk-duduk di karpet sambil mendengarkan musik dan minum teh (ini impian sesungguhnya…). Namun maksud saya "santai" dengan anak di bawah usia 5 tahun, ya setidaknya sore ini ga main yang basah-basah atau berantakan dulu ya C…soalnya C juga masih ga enak badan plus saya juga nih..padahal sudah makan minum yang sehat-sehat terus loh..
Kali ini kami mengkombinasikan buku-buku kesukaan kami dengan Spielgaben V4 kesayangan kami selama 2 tahun terakhir ini. Buku HOP on POP karya Dr.Seuss dan juga INSIDE OUTSIDE UPSIDE DOWN karangan Stan & Jan Berenstain. Bukunya sangat sederhana dan kalau orang dewasa awalnya baca mungkin mikir "Opo iki kok buku nya ga ada isinya?" tapi menurut saya buku yang sangat mudah dicerna dengan gambar yang merepresentasikan "word" nya sangat mudah dimengerti anak usia dini, so this time let's make these awesome stories alive!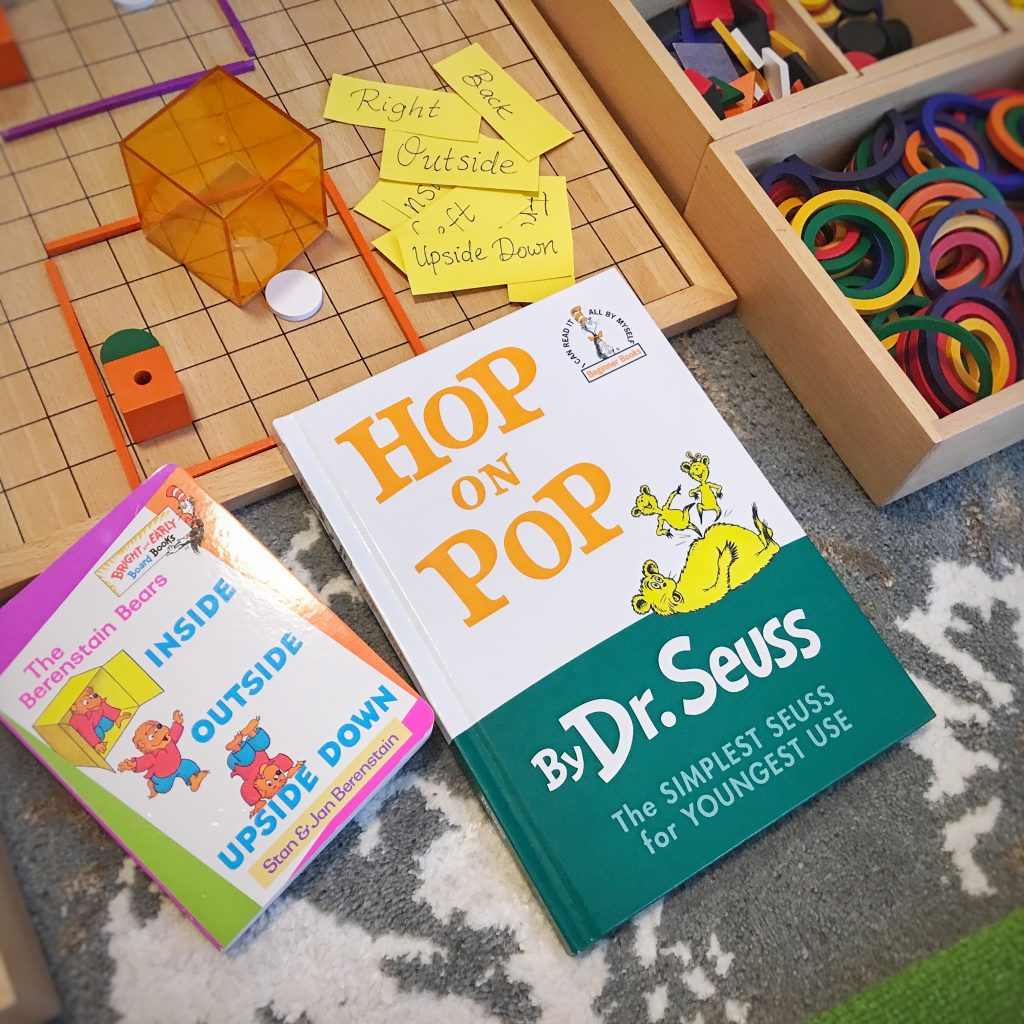 Dari kedua buku ini banyak hal baru yang bisa dikenalkan pada anak usia dini seperti pengenalan posisi, di dalam, di luar, terbalik, di kanan, di kiri, depan, belakang dll. Selain itu banyak kosa kata yang bisa dikenalkan juga loh ! simak karya-karya C making these stories come alive ya!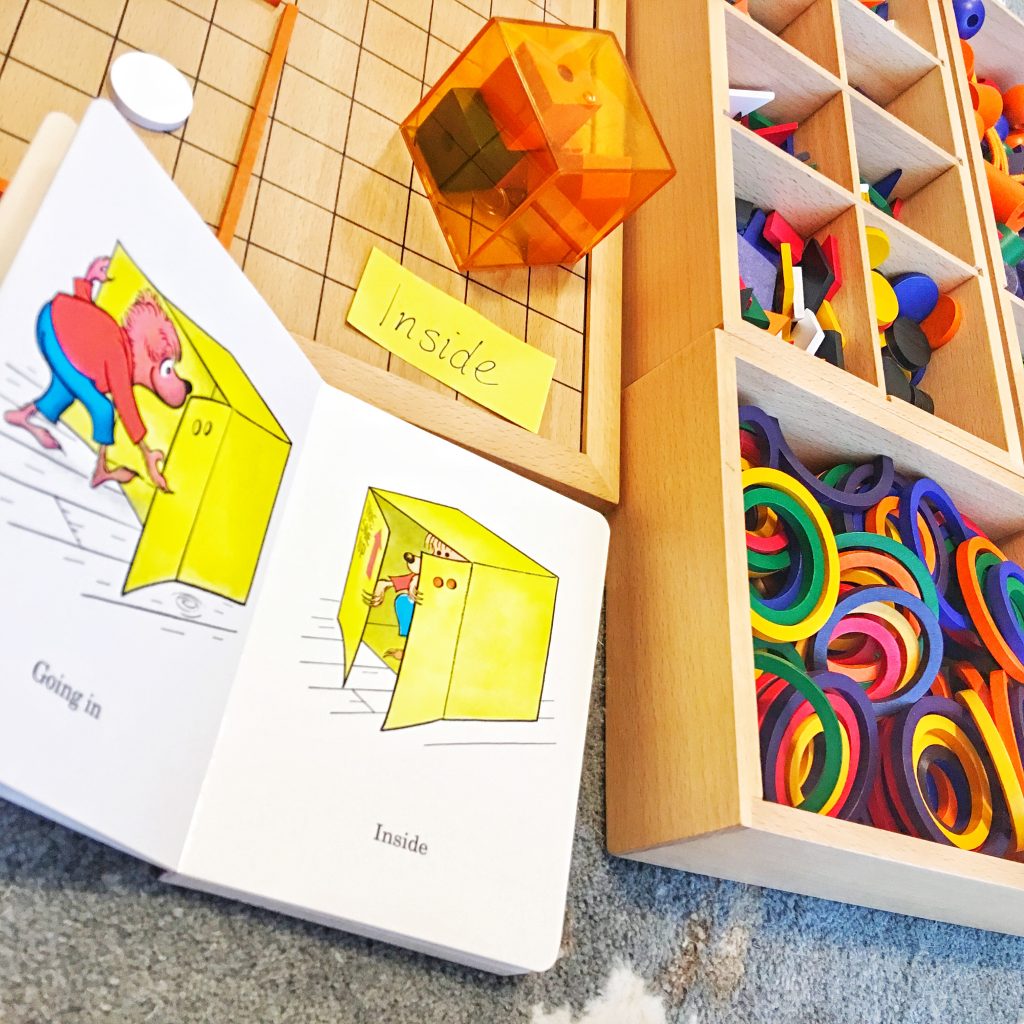 Inside….
Tall….Smallllll….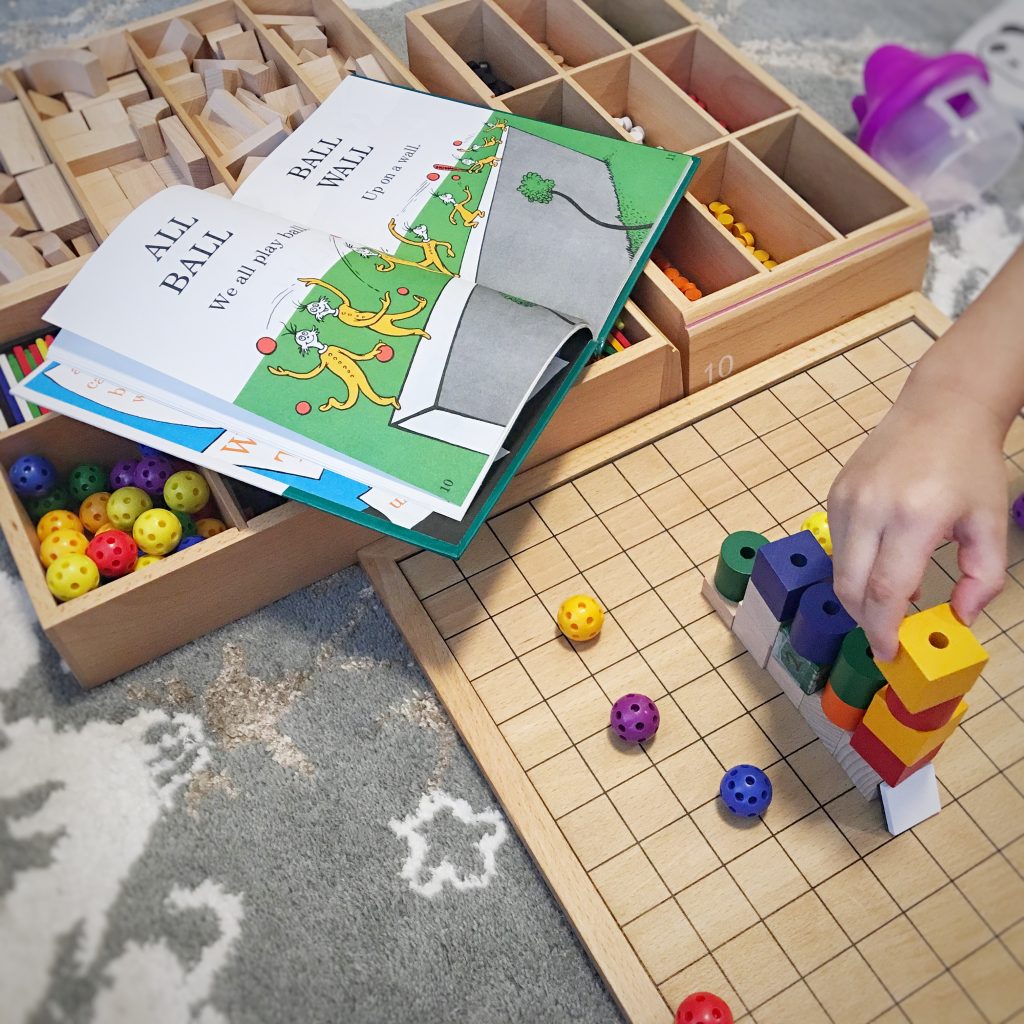 We all play ball. Up On a Wall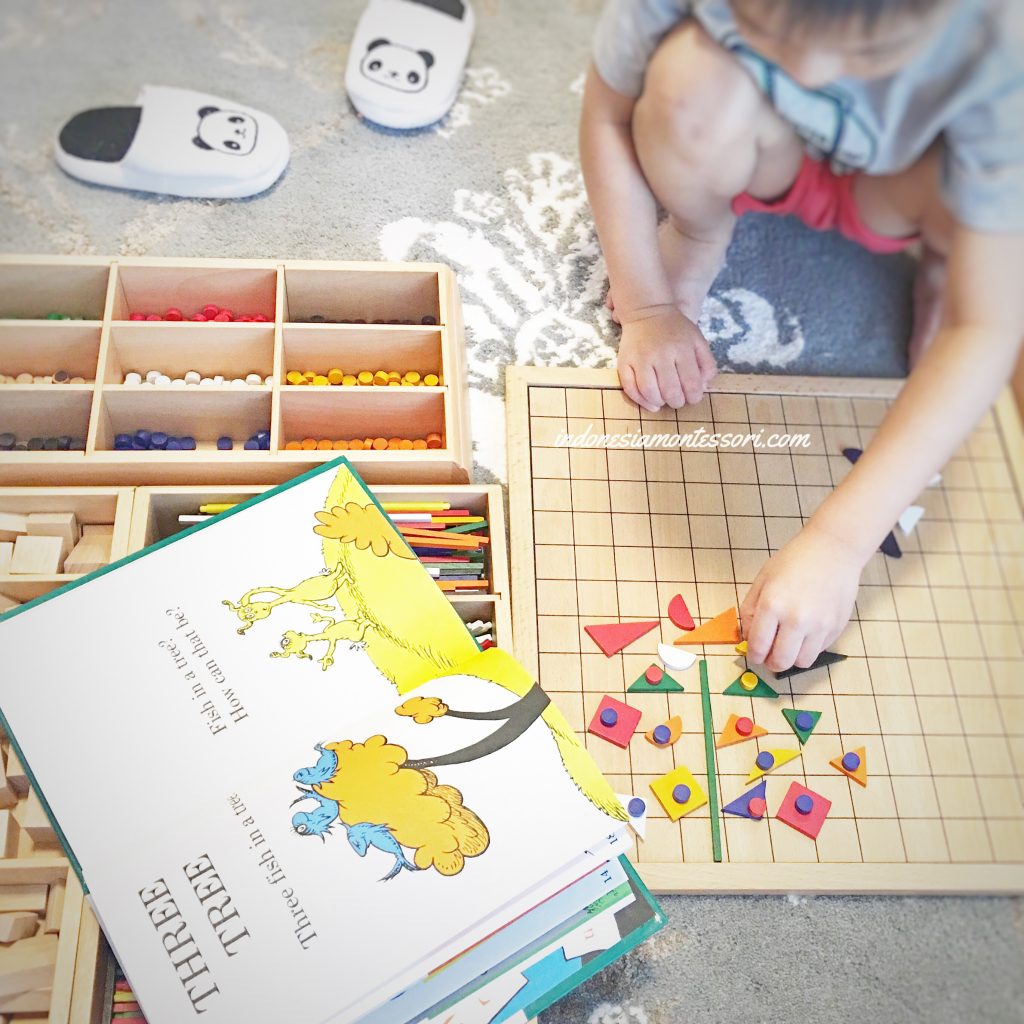 Three Tree…three fish in a tree!
Hahaha seru kan? senang saja sih melihat C berkreasi dari skenario sederhana yang ada di dalam buku-buku ini.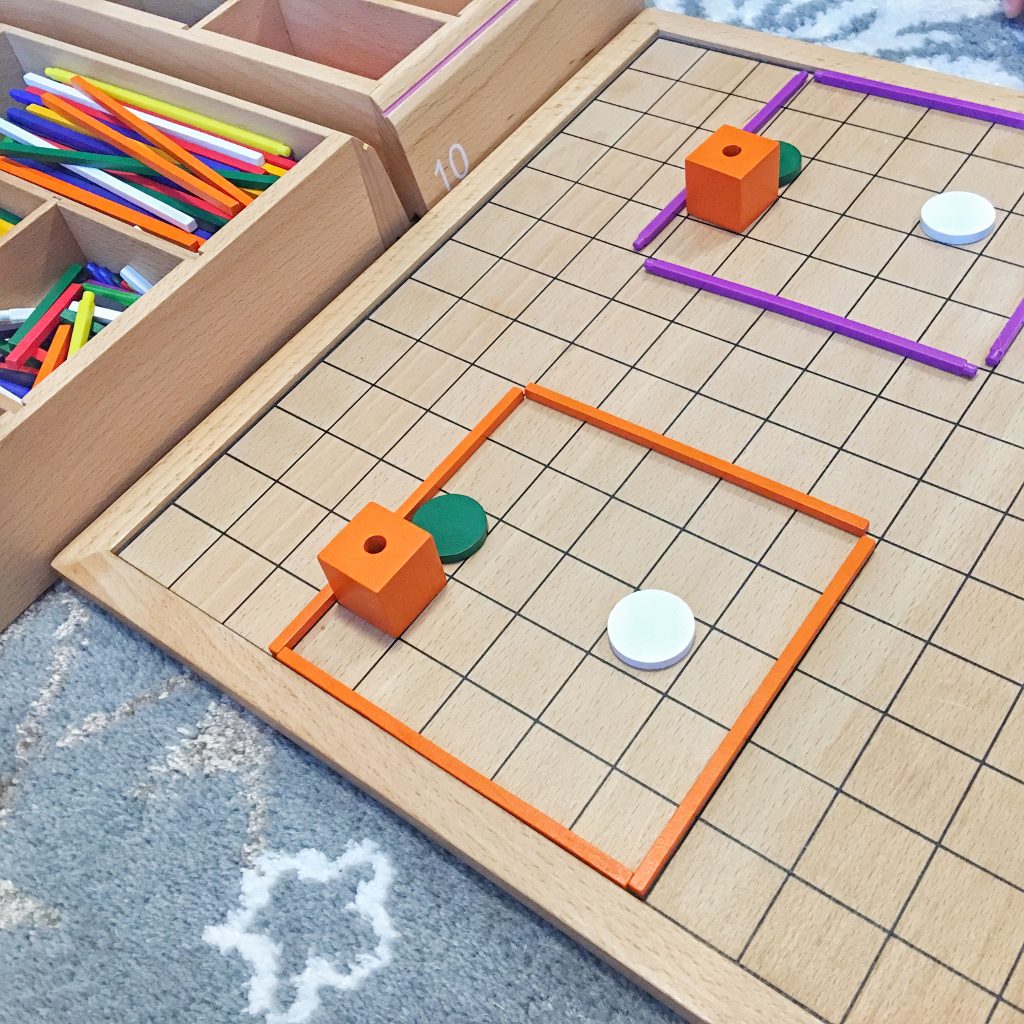 Selanjutnya kita juga main carbon copy, C diminta membuat yang sama persis copy dari buatan saya….di sini bisa di extend juga mengenai posisi misalkan di mana letak lingkaran putih terhadap lingkaran hijau. Lingkaran hijau ada di baris berapa? bagaimana posisi kubus oranye terhadap lingkaran hijau dll. Extension dari topik ini bisa disesuaikan dengan usia-usia masing-masing ya!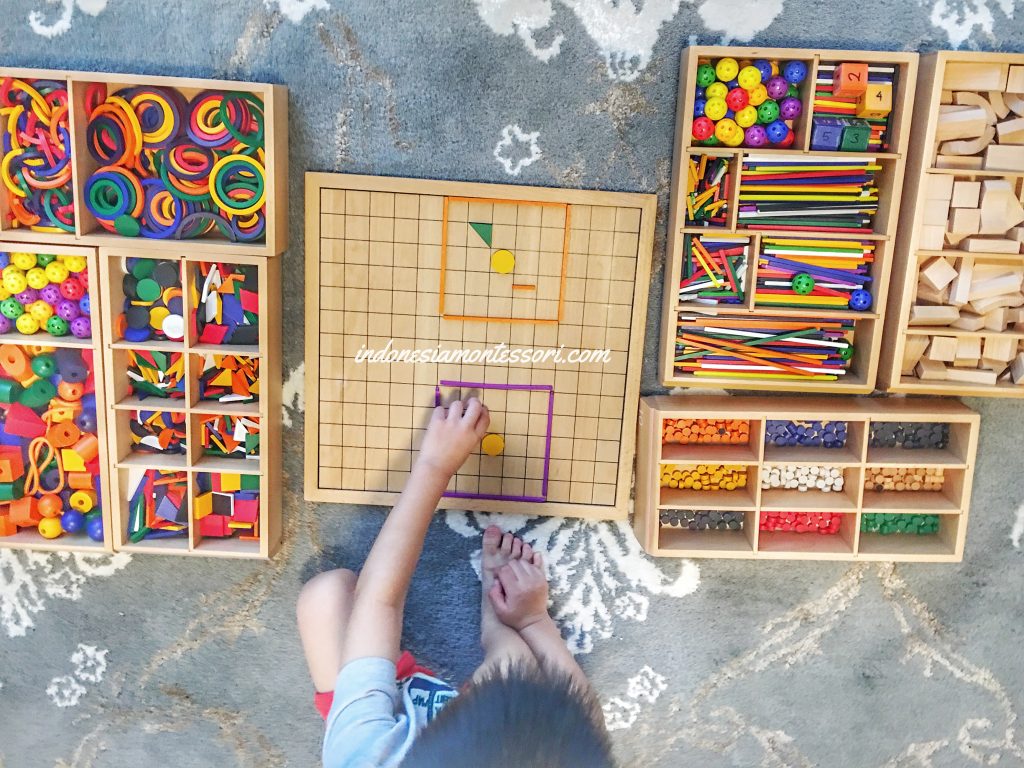 Hehehe…seru deh C buat carbon copy!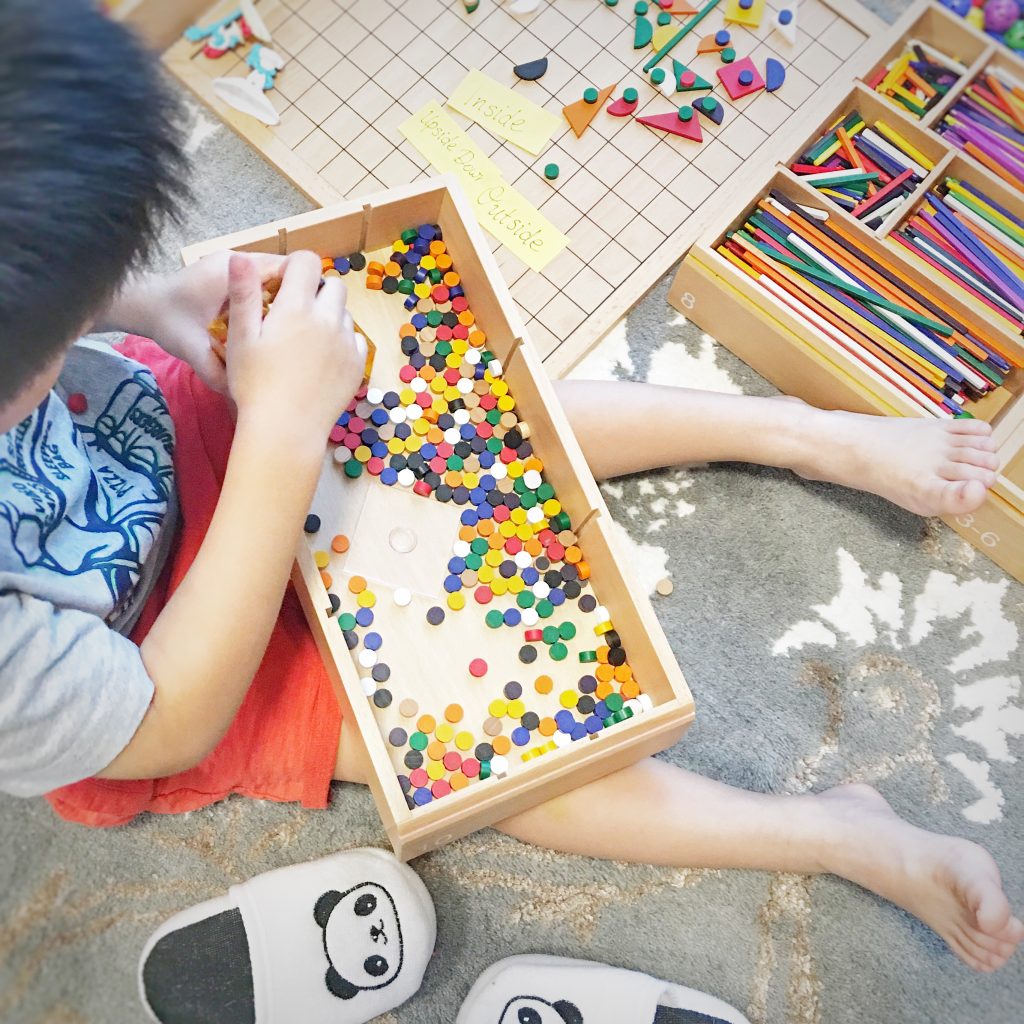 Somehow berakhir dengan mencampur semua wooden dots! hahahaa jadi keren banget yaaaa…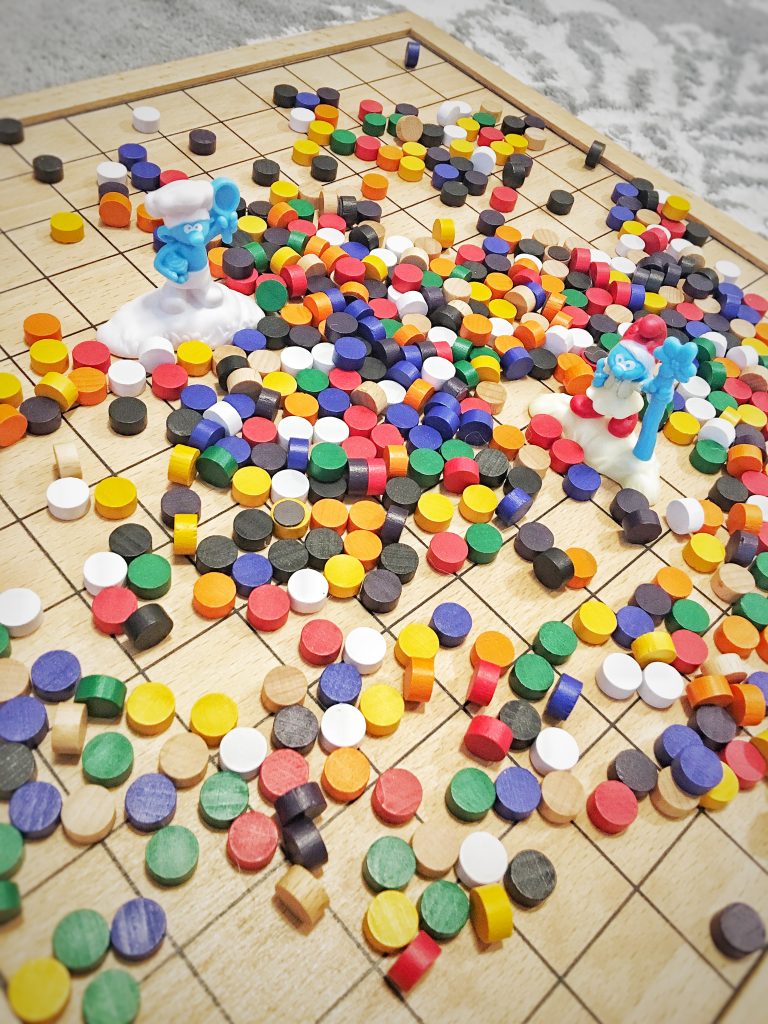 Nah, yuk silakan dicoba. Bagi IMC Mommies yang juga suka buat kegiatan di rumah menggunakan Spielgaben V4 bisa share kegiatannya di #SpielgabenWithIMC yaaa…dan untuk ide kegiatan edukatif lainnya di rumah menggunakan Spielgaben V4 bisa di cek di sini.