Hi Moms, pagi ini saya pergi berbelanja ke grocery store dekat rumah dan SHOCK!!!!! HAHHHHHHH kok produk nya sudah memasuki tema Natal , ada gingerbread, cokelat, dll….lirik ke cell phone dan confirmed! sudah bulan November aja…uhukkkkk….senang tapi juga agak freeze sedikit gitu…langsung kepikiran..wowwwwww!!! kayanya baru kemarin aja nih ulang tahun ke 21 , sekarang sudah jadi IBU beranak 2 hahahaa…ya sudah lah gapapa tetap berpikir dan berjiwa muda yang penting *menghibur diri banget*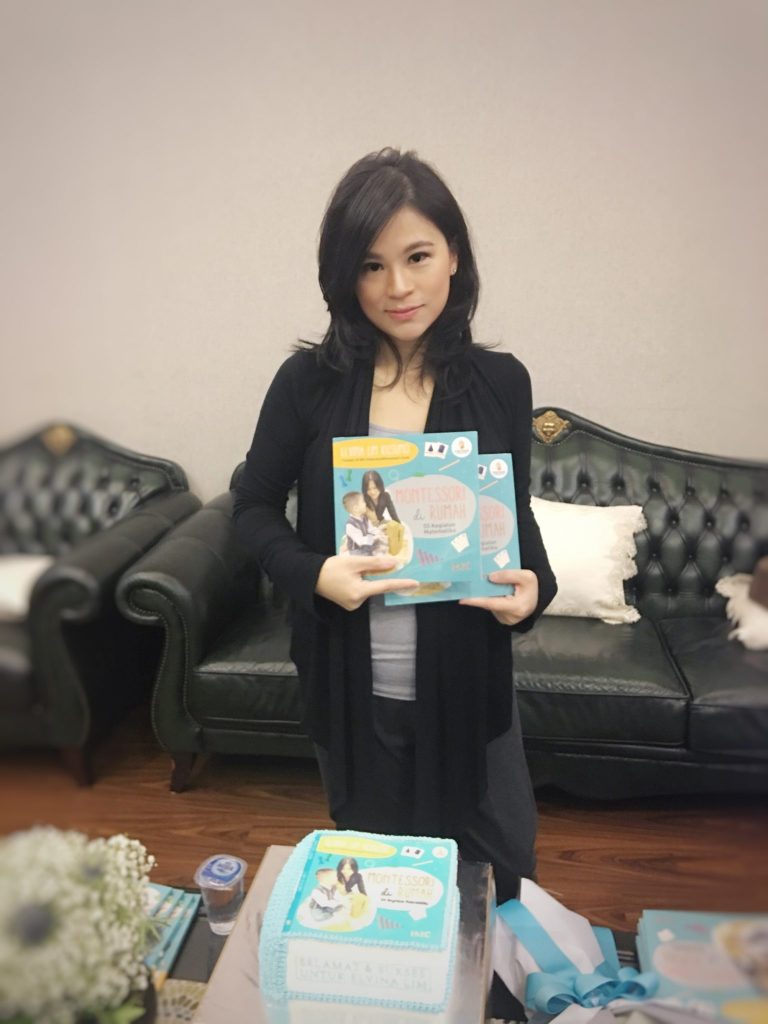 Nah, akhir bulan Oktober lalu sehari setelah acara launching buku seri matematika Montessori di Rumah, saya langsung saja kerja lagi…kerjanya seru! hehehee jadi ceritanya gini , kebetulan sebagai Founder IMC saya dapat undangan untuk menghadiri EAT Forum Asia Pacific yang pertama di Indonesia. What a coincidence, suami saya ternyata juga sebagai salah satu keynote speaker hahahaa…jadi seru ya, selain saya bisa networking, kenalan, brainstorm ideas , be inspired, saya sekalian bisa nontonin my dearest husband. Biasanya saya itu suka "malas" kalau diundang-undang ke acara hahaa, sebetulnya sih karena saya kan tinggalnya saat ini di Singapura , sedang hamil dan punya anak balita dan sibuk mengurus IMC dan rumah tangga, jadi saya ga memprioritaskan mendatangi berbagai undangan acara ketemuan, arisan dll…huhuhu mungkin belum saatnya ya. Namun saya tahu EAT event seperti yang kali ini saya harus datang. Udah di undang ga datang!!!! nanti ga diundang lagi hehee. Saya betul-betul yakin dan semangat hadir karena saya percaya saya bisa ketemu dan kenalan sama banyak orang yang memiliki pemikiran sama globally!!!! How I miss that! talking with them, changing ideas, sharing stories and ideas really empower myself and each other! istilahnya energi jadi banyak lagiii kalau sudah saling mentor seperti ini. Yang gawatnya saya ini suka terlalu semangat, saking semangatnya meski throw up2 kesana kemari saya tetap heboh ngobrol, berkeliaran hahahaa dengan high heels sampai suami saya "memaksa" untuk istirahat…hahahaa iya saya sampai lupa saya lagi hamil 4 bulan Wkwkwkwkwkwkwkwkwkww…..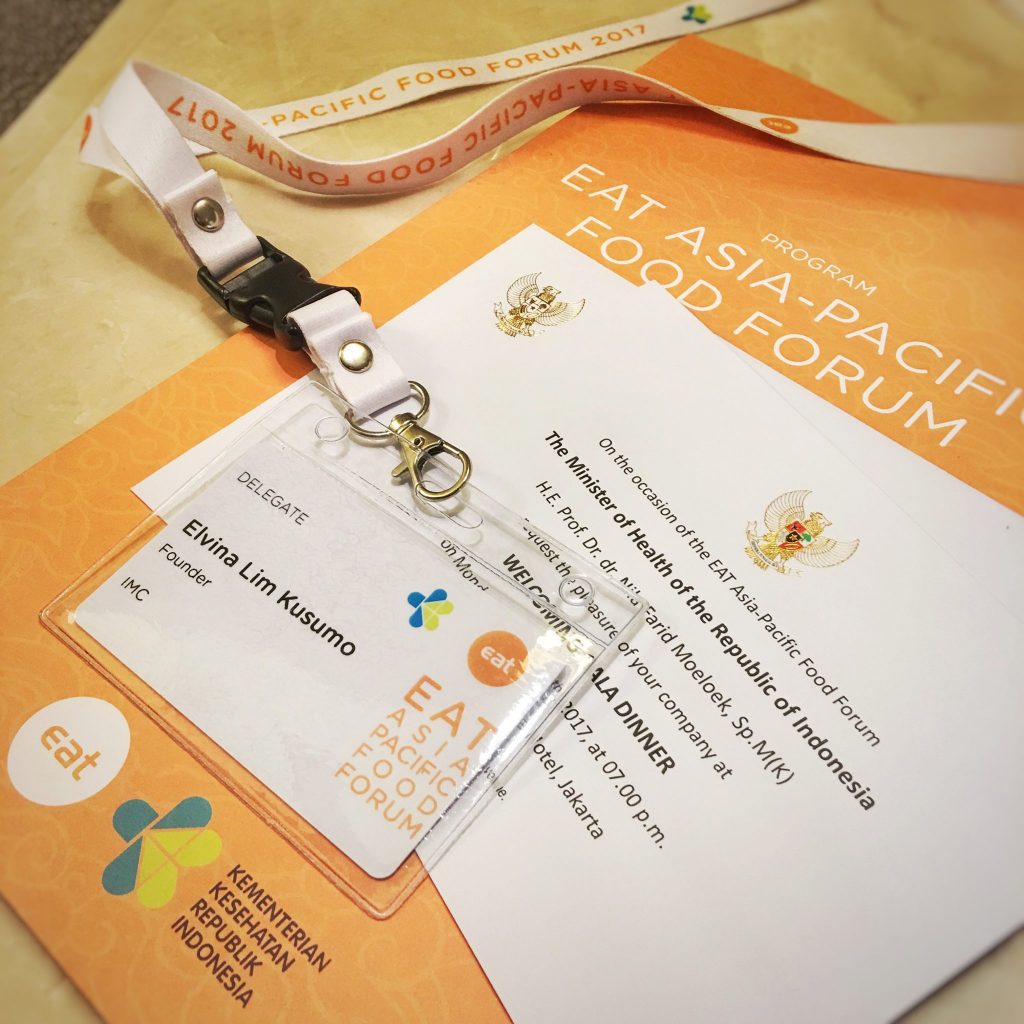 Jujur, badan saya udah masuk angin dan lelah banget-banget setelah acara launching kan, tapi dipaksain banget…C kebetulan sudah mau stay di rumah orang tua saya…ini betul-betul membantu dan ini pertama kalinya dalam 5 tahun ini C mau nginep terpisah dari saya dan suami loh!!!! Bravo C!!!! jadi seminggu kemarin saya fokus "kerja" dan menemani hubby. Bagi saya saat-saat seperti ini inspiring banget, saya intensif bisa tukar pikiran dengan suami, dengan teman-teman baru yang saya temui dari berbagai negara dan juga membuka wawasan ya! meskipun saya tetap masih throw up 5-7 kali sehari Ouchh!!! #PregnancyWithIMC , this will NOT stop me hahahahaa setiap sampai ke suatu area saya langsung cari "restroom" just in case aja butuh langsung tahu dimana…hehehehehee….it works!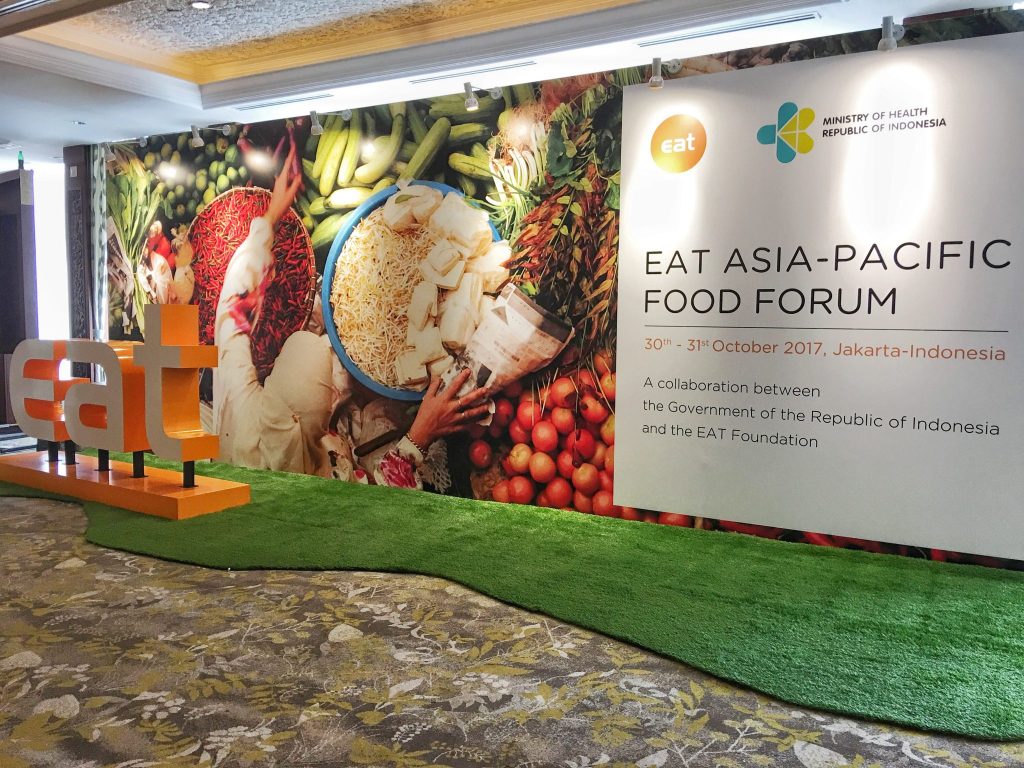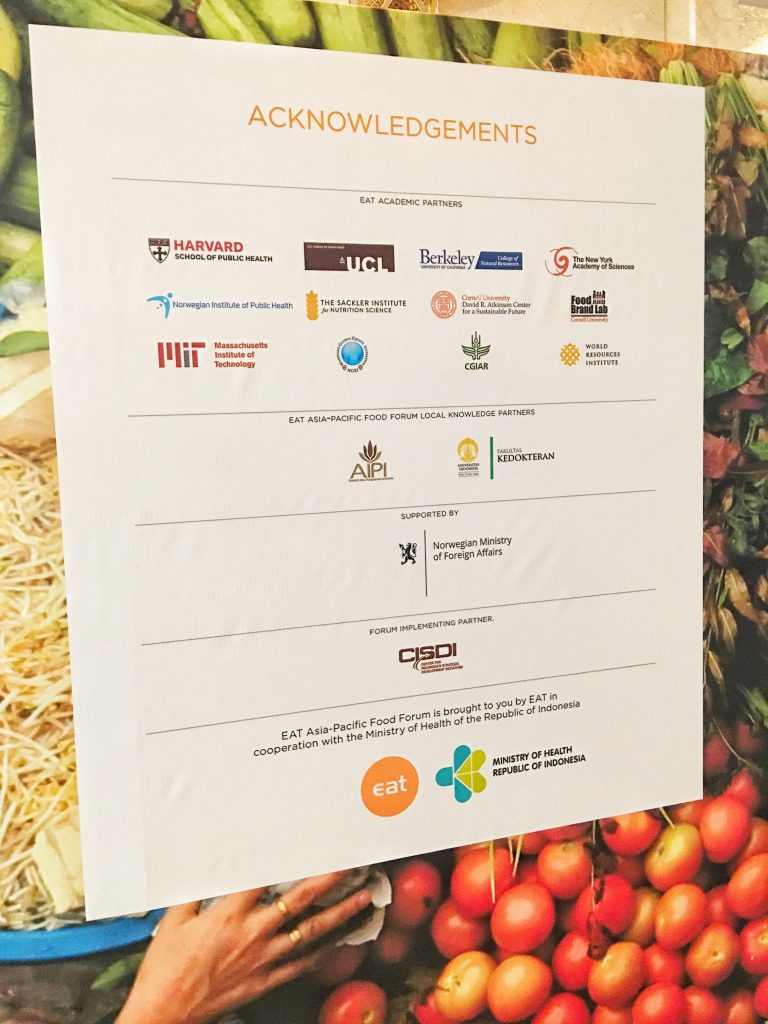 Acara ini terdiri dari berbagai EAT Talk , panel diskusi, networking events, lunch and gala dinner….betul-betul suatu kesempatan untuk berkenalan dan bertemu dengan lebih dari 500 like minded people globally…dari berbagai benua yaaaaa….sempat berkenalan dengan teman-teman dari Indonesia, Finland, Spain, dll…amazing!!!! I feel so energized after talking and inspiring each other! Kebetulan kan background saya juga lulusan food science, food manufacturing operation , juga agriculutral business from Purdue University, jadi food adalah part of me! nah kalau sekarang tujuan saya lebih ke edukasi untuk anak usia dini ya ini termasuk juga edukasi tentang makanan, dll ya!
"Hosted in Jakarta, October 30-31st, the EAT Asia-Pacific Food Forum will be the first region forum of its kind during the UN´s Decade of Action on Nutrition (2016-2026). The new UN focus on nutrition recognizes that diets and a well-managed food system play a decisive role in achieving the Sustainable Development Goals (SDGs), and the Paris Climate Agreement.The Asia-Pacific Food Forum will address the main food challenges in the region, including food security in a changing climate, the effects of rapid urbanization on diets and the double burden of malnutrition.During a focused two-day program, 500 high-level political, business, academic and civil society leaders will meet in Jakarta to share research, best practices and lessons learned, and find common solutions. The Asia Pacific Food Forum is based on the model piloted at the EAT Stockholm Food Forum, which over its four years of existence has become the leading global arena for those seeking to transform the food system. Our high-level speakers will present topics ranging from changing food consumption trends, to building resilience in the food value chain, sustainable aquaculture, pathways to food security and recipes for future healthy and sustainable diets."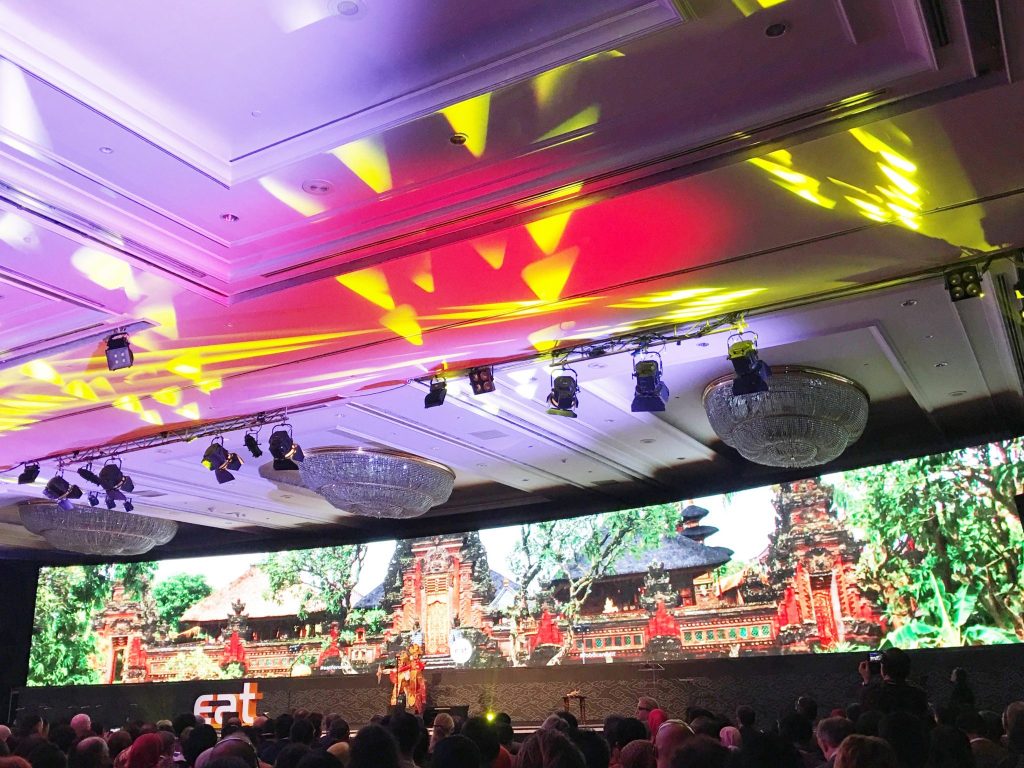 Nah ini ringkasan EAT TALK hari pertama ya :
It's a wrap ! woke up early in the morning to learn together , brainstorm, meet like minded people for better Food for Indonesia 🇮🇩 Inspired and got so many ideas after the #EATTalk #EATForum by @gunhild_stordalen Founder & President @eatfoundation , Prof.Dr.Nila Moeloek @kemenkes_ri , His Excellency M.Jusuf Kalla, Vice President of the RI, Prince of Wales @kensingtonroyal ,Ms.Puan Maharani – coordinating Minister for Human Development and Culture, Dr.Subramaniam Sathasivam – Minister of Health of Malaysia, @angietvlau Angie Lau from @bloombergtv ,Peggy Liu – Chairperson JUCCCE, Dr.Sri Mulyani @smindrawati – Minister of Finance of the RI and last but not least, 
my one and only beloved hubby Dr. A.K 
What a morning ! #eatapac #foodcanfixit #elvinalimkusumo #APFFINDONESIA #EATforum2017
Super proud of my dearest husband, what an awesome talk! this remind us why we fell in love with each other the first time we met 9 years ago..and got hitched the year after LOL! 
I think we both agree, we "connect right away" with each other, we keep discussing, coaching each other and throwing questions and ask advices from each other. We talked about many different topics…hahaa A to Z..ughhh from baby food to economics, politics and artificial intelligence hahaa… I learned a lot from him, he got so many insights from my perspectives too (lol!). He is my mentor and my sparring partner LOL!
Sometimes, just sometimes motherhood makes me physically and mentally tired and forget this! but hey, my husband is my number 1 priority then our kids 😉 need to juggle between these things these days..
Thank God, I think we are both lucky to find like minded soul mate to share life with at such young age. (Ciee Vin, Sweet banget sih tumben….ada maunya nih? hahahahaa ga kok tulus Babe!)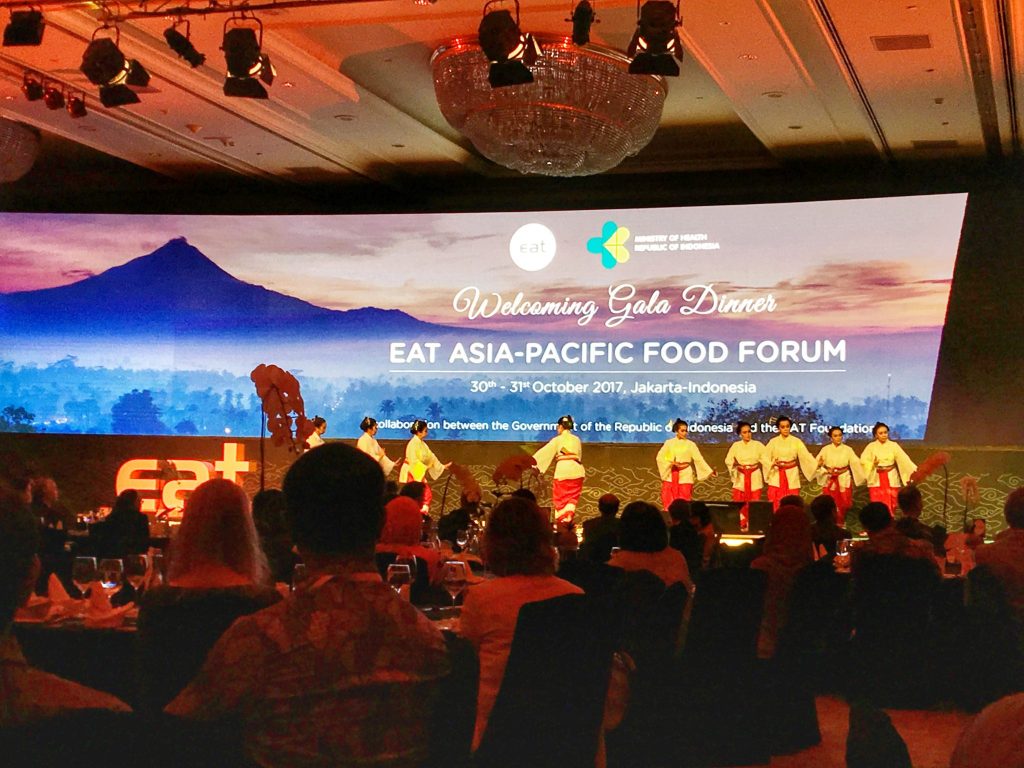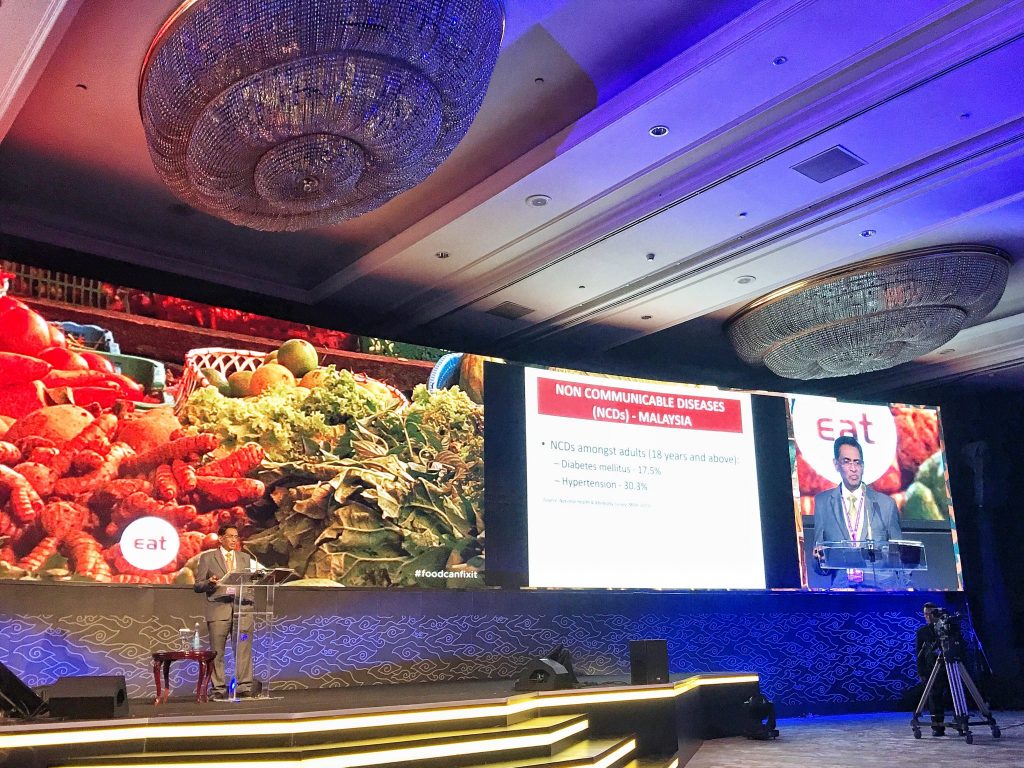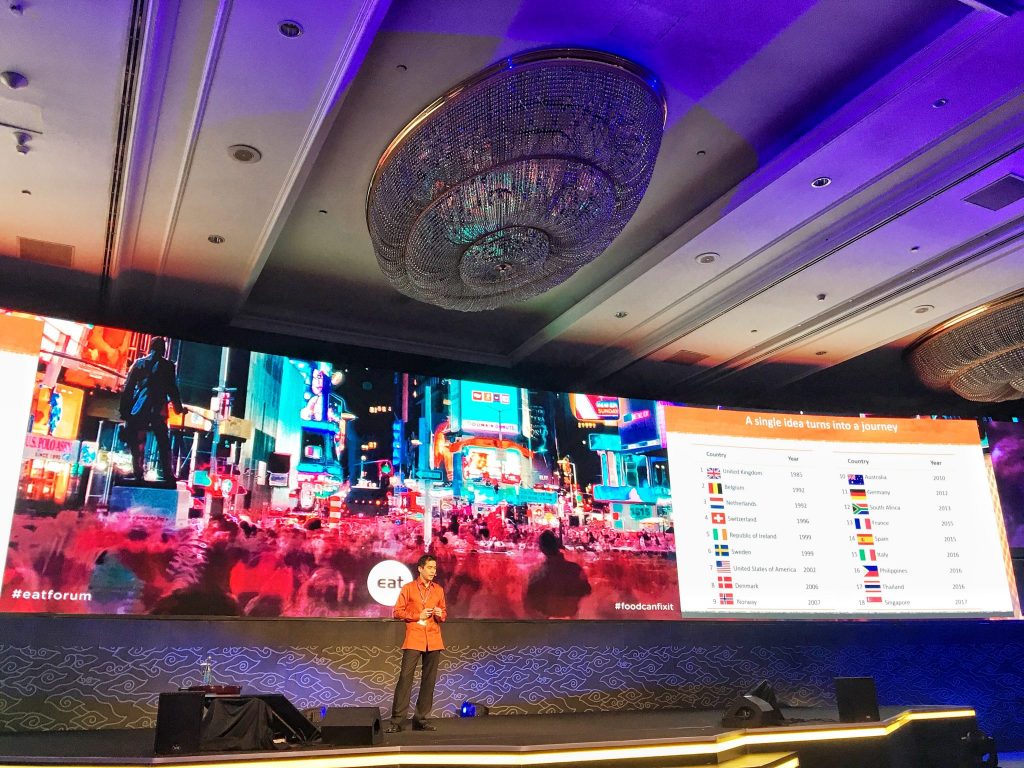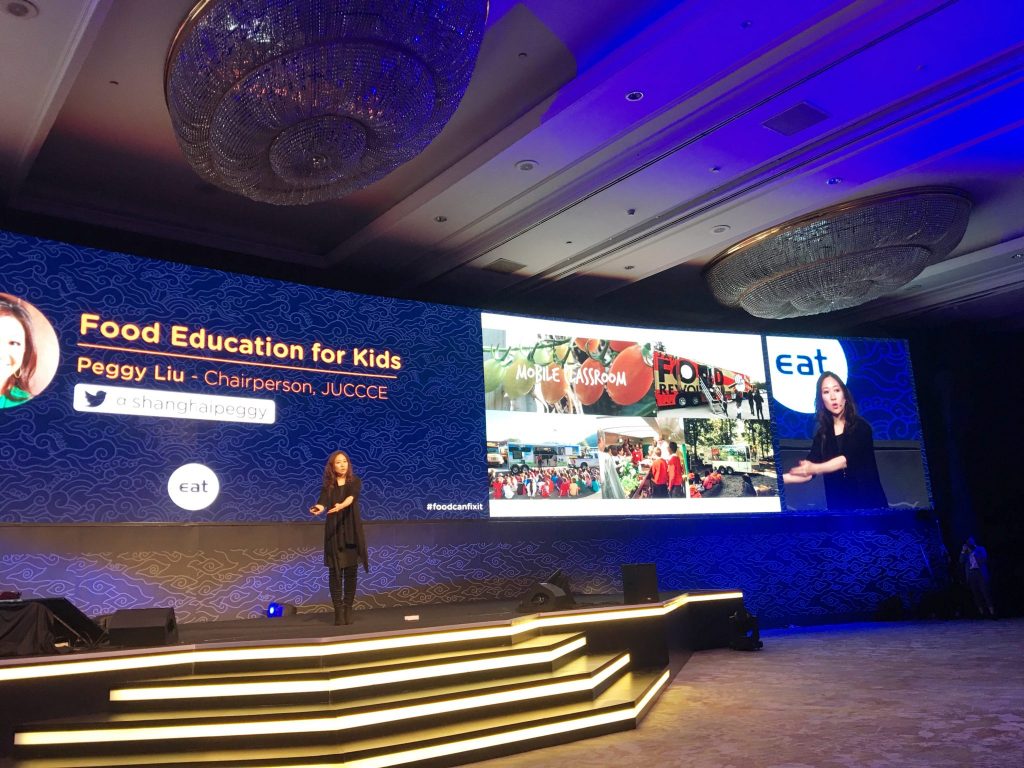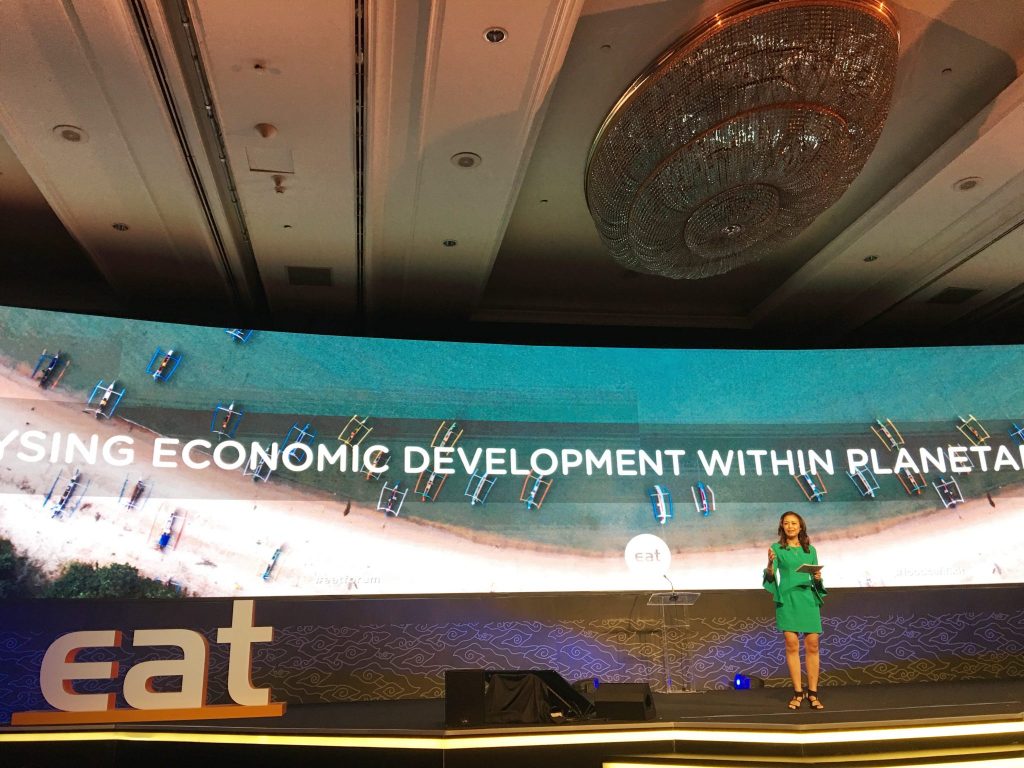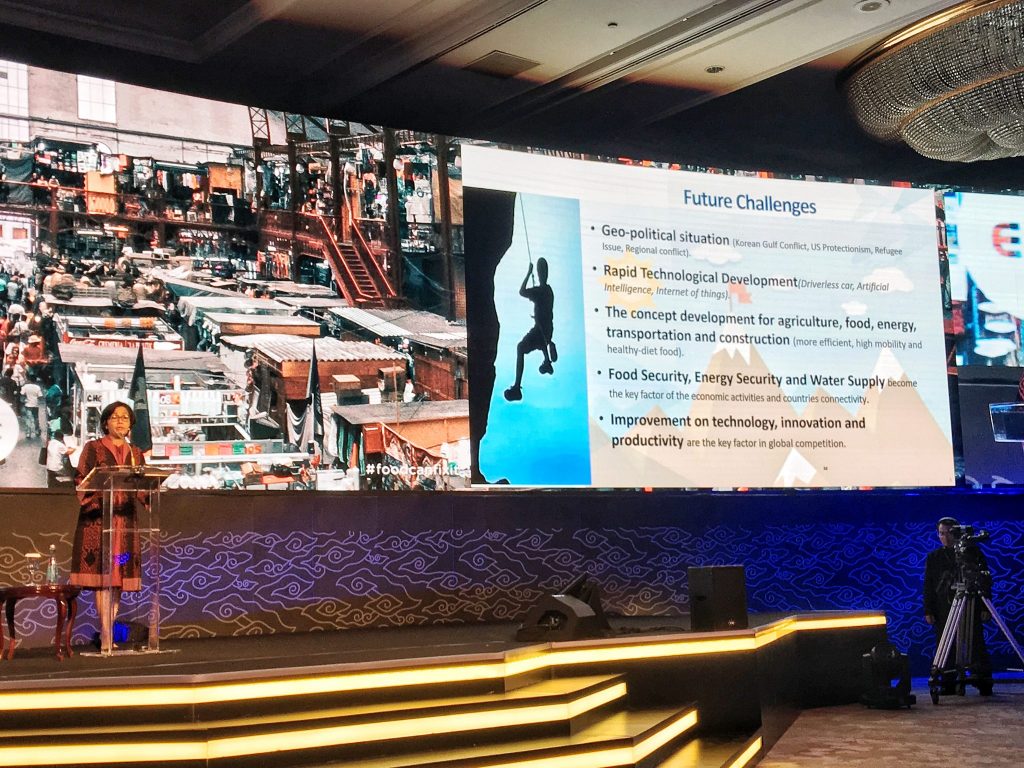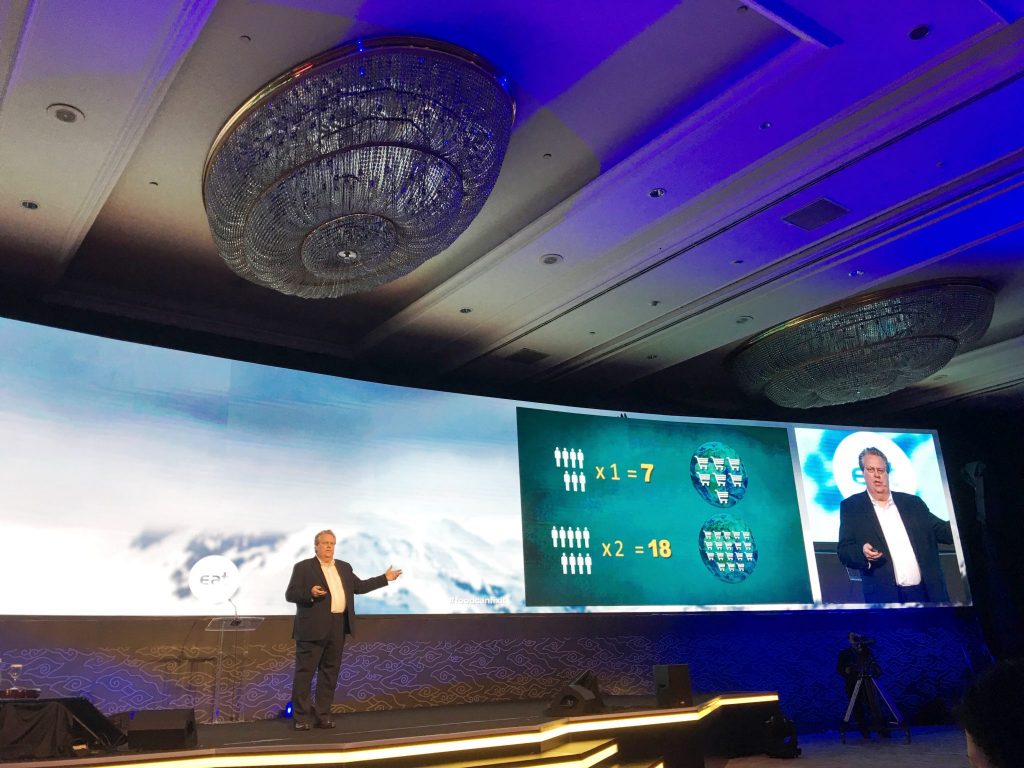 Senang banget sempat bersalaman, memperkenalkan diri dan berfoto dengan Prof. Nila.Moeloek , mentri kesehatan Republik Indonesia  🙂
Selanjutnya silahkan di tonton di video di bawah ya…Enjoy!!! Hope you are inspired as much as I do!