Hi All, beberapa saat yang lalu saya dan C kehabisan ide….mau main apa ya? akhirnya setelah kamu ubek-ubek (bahasa apa sih Vin?) kami temukan berbagai stik kayu es dan penjepit baju berbagai ukuran. Hehehee…akhirnya kami berdua berkreasi membuat kreasi bebas menggunakan bahan yang sangat sederhana ini. Meskipun bahannya sederhana tapi tetap seru dan memiliki nilai edukatif untuk anak loh!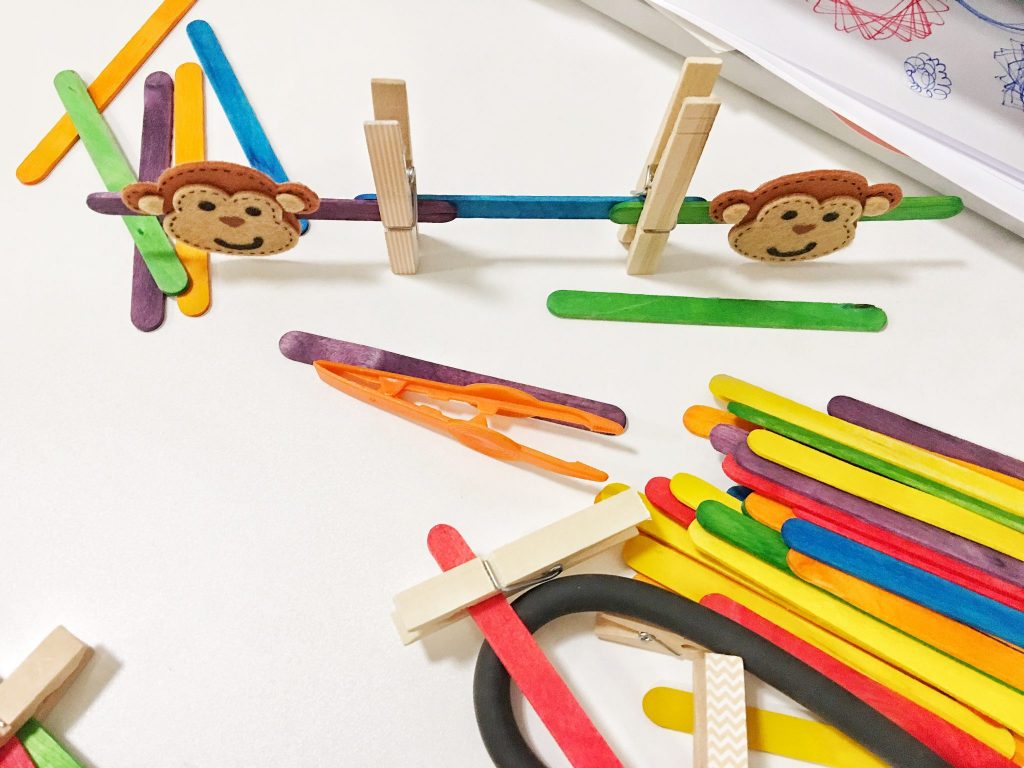 Berbagai tantangan untuk C yakni bagaimana ya cara membuat struktur yang kokoh hanya menggunakan penjepit baju dan stik kayu ini? Ga pakai lem ya C kali ini…hayoooo kira-kira harus diletakan di mana ya kalau strukturnya kurang kokoh? haruskan dipindah? haruskah diperkuat menggunakan tambahan penjepit?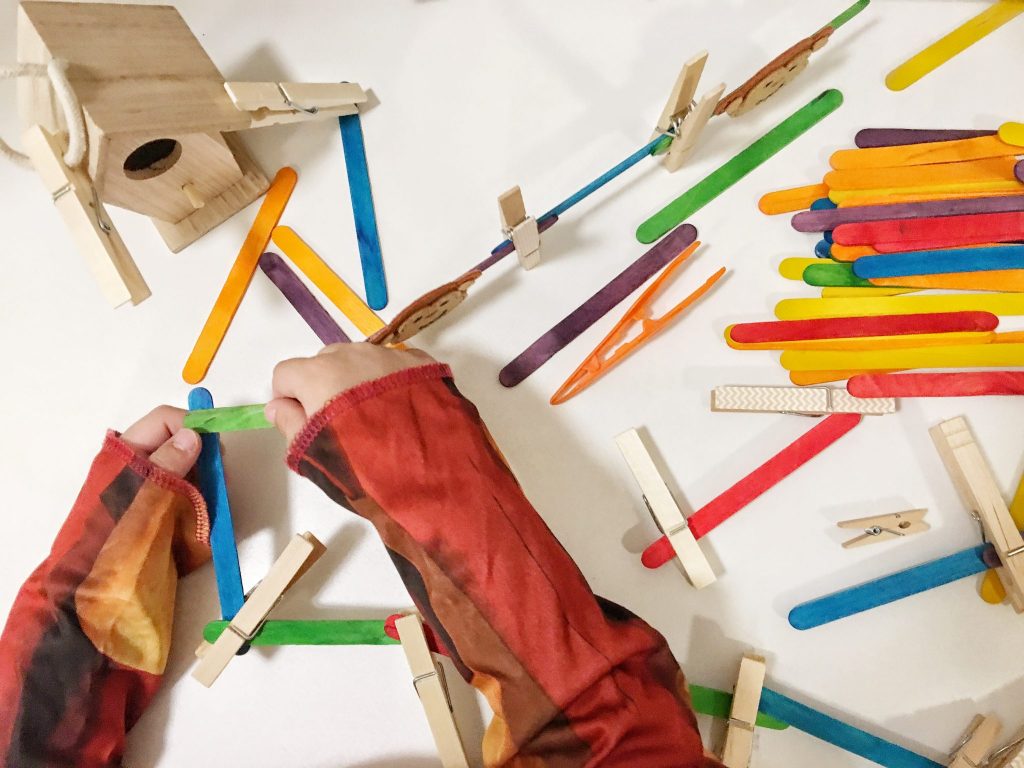 Di saat-saat seperti ini lah C dapat "tinkering" berpikir dan berimajinasi lebih jauh lagi dengan cara konkret dan mengalamai proses "discovery".
"Oh, kalau stiknya di tengah lebih seimbang ya…"
"Oh kalau diletahan di pinggir , mungkin kita perlu menambah penjepit baju lagi supaya kokoh."
"Berapa penjepit ya yang diperlukan untuk membuat struktur ini kokoh?"
"Yahhhh..lepas lagi, jatuh lagi, what should I do? what to change? what to add?"
Proses ini precious, ga akan di dapatkan dimanapun ya Moms. Hanya dengan memberi kesempatan anak untuk mencoba, gagal dan mencoba lagi mereka dapat mengalami sendiri proses menemukan jalan keluar! Di saat-saat seperti inilah kita bisa mengenalkan "Growth Mindset" untuk anak ya!!! secara langsung anak mengalami sendiri apa sih yang dimaksud?
"We like to think of our champions and idols as superheroes who were born different from us. We don't like to think of them as relatively ordinary people who made themselves extraordinary." – Carol Dweck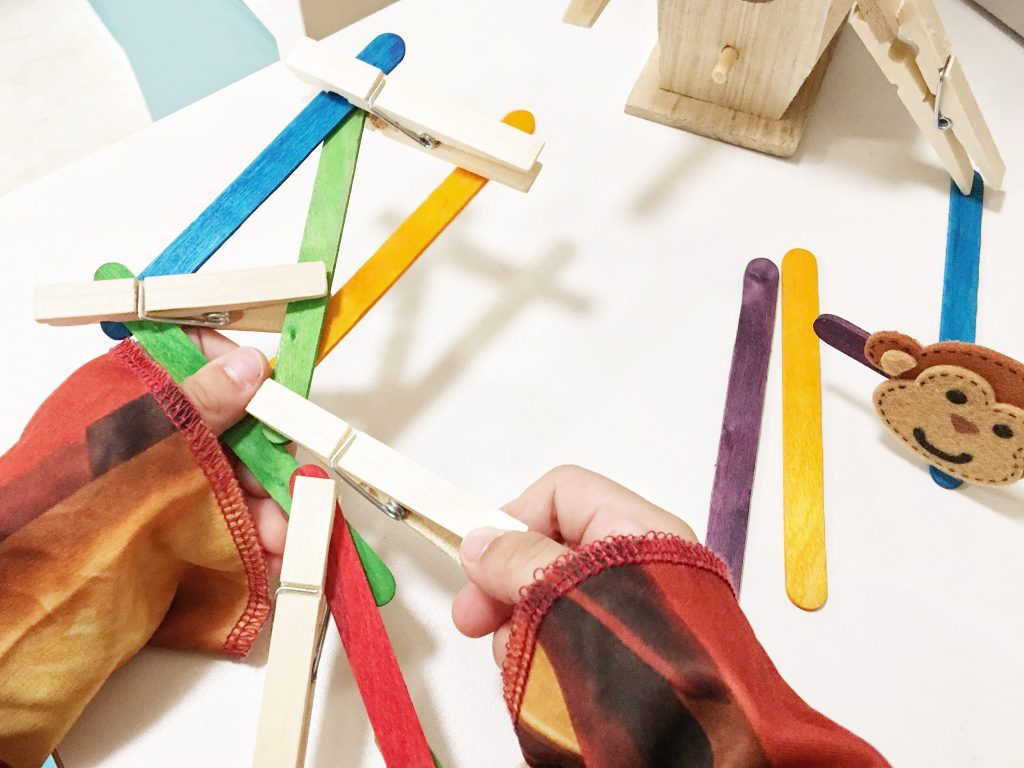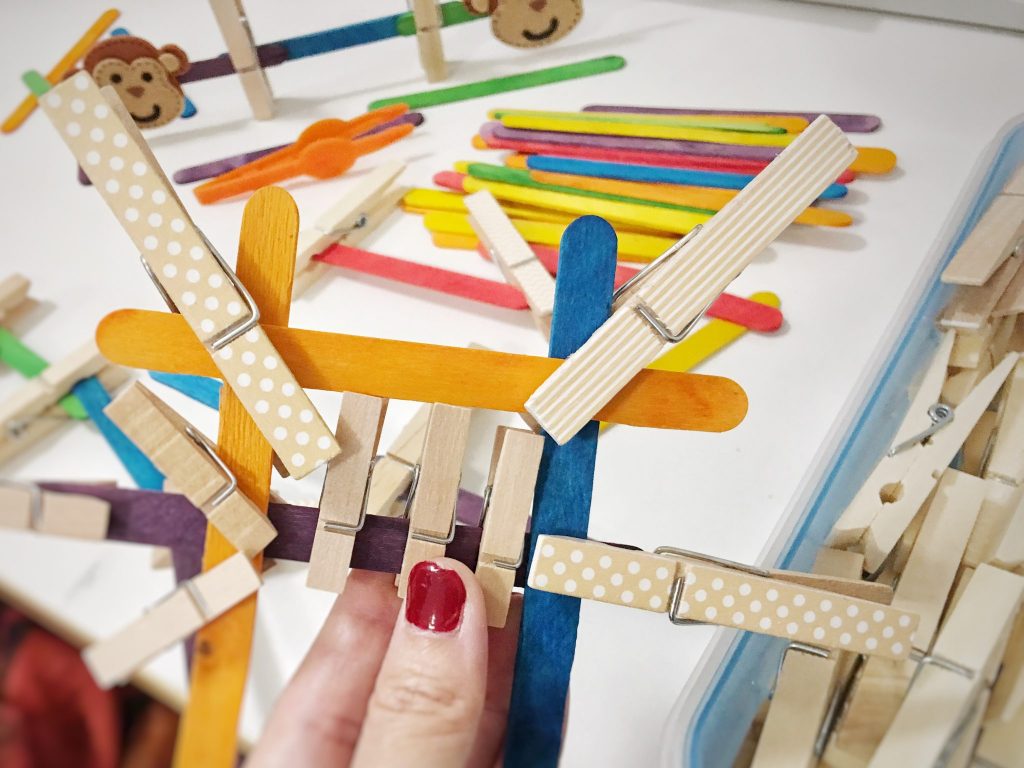 "Your failures and misfortunes don't threaten other people. . .It's your assets and your successes that are problems for people who derive their self-esteem from being superior." – Carol Dweck