Dear IMC-ers, kali ini saya ingin share salah satu kegiatan Montessori inspired untuk anak usia 3 tahun ke atas. Di kegiatan ini, si kecil mulai mengenal konsep kuantitas secara real. Ingat! bukan mengenal dan menghafal 1-10000 tetapi mengenalkan konsep kuantitas. Anak-anak pada dasarnya dan secara natural tertarik pada angka-angka , bisa dilihat dalam kehidupan sehari-hari anak-anak biasanya mulai tanya "berapa kue ini Mommy?" , "kancing ku ada berapa Mommy?" dll dan itulah yang Montessori sebut sebagai "Mathematical Mind"
The impulse to produce order out of disorder is called the "mathematical mind". Dr. Montessori borrowed this phrase from the works of Blaise Pascal, a French philosopher and mathematician, who said "man's mind was mathematical by nature and that knowledge and progress came from accurate observation." (The Absorbent Mind (1988) page 169)
—–
"Maths should be more than just numbers on a page. Maths should be tangible, you should be able to hold maths in your hand, manipulate it, experiment with it, create with it, play with it… and understand it."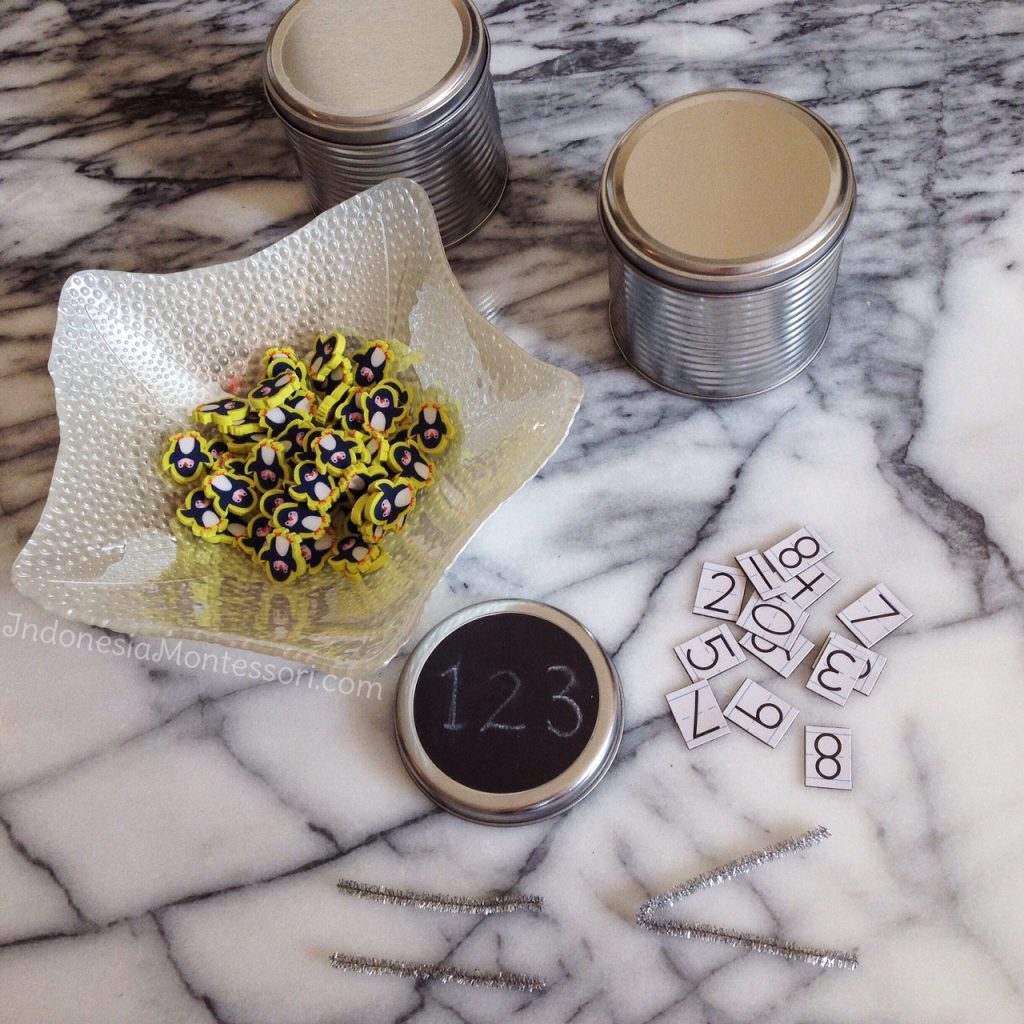 Demikian penampakan undangan kegiatan kami , disediakan 55 buah penghapus penguin nan lucu, angka-angka 0-10 dan juga pipecleaners perak yang bisa dipakai untuk tahap selanjutnya sebagai tanda lebih besar, lebih kecil atau sama dengan.
Our aim is not only to make the child understand, and still less to force him to memorize, but so to touch his imagination as to enthuse him to his innermost core. – Maria Montessori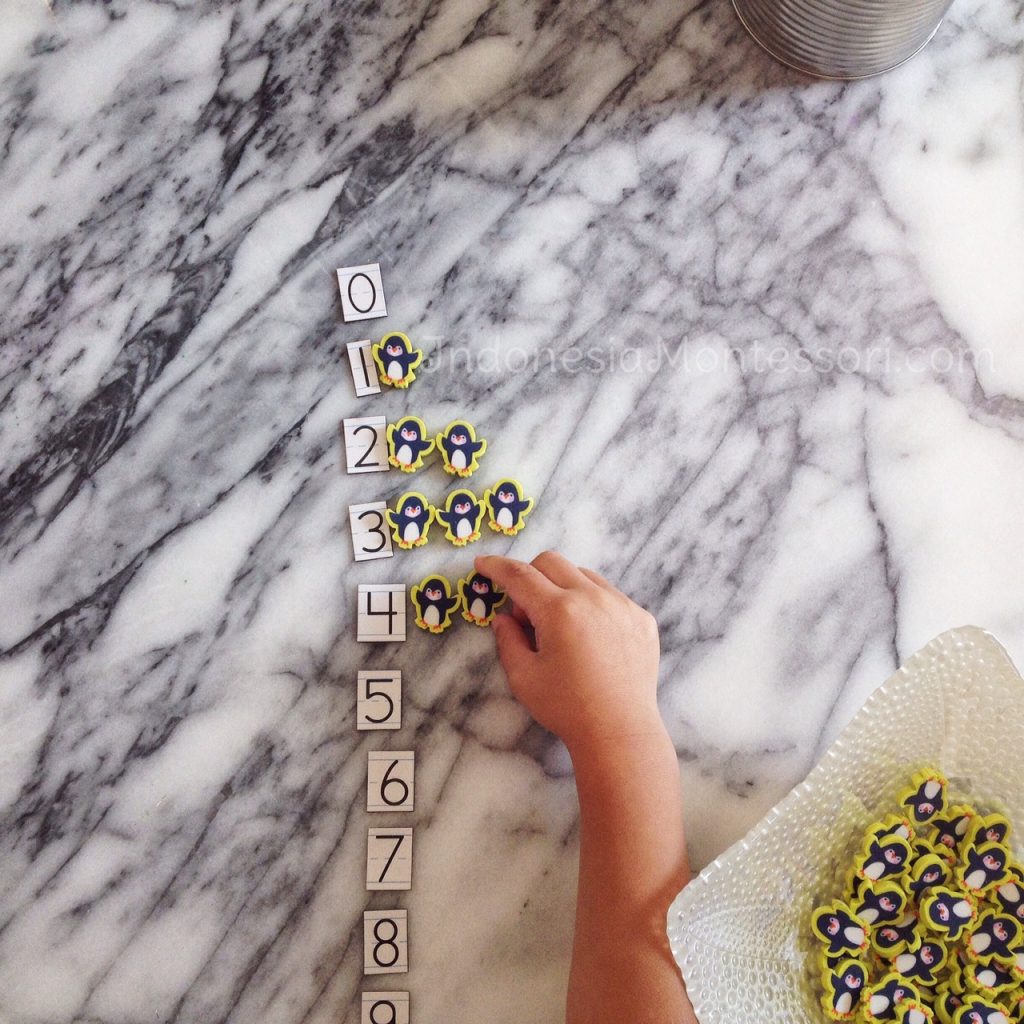 Nah dimulai dari "0" , mengapa? karena saya ingin mereview lagi konsep "0" zero yang artinya kosong, tidak ada. C biasanya juga menggunakan Spindle Box untuk mengenal kuantitas dan rak tersebut di mulai dari zero. Selanjutnya C mulai mencocokkan jumlah penghapus penguin dengan angka yang sesuai. Sengaja penguinnya ada 55 supaya self-check, kalau betul semua berarti semua penguin terpakai. Metode Montessori juga mengutamakan self-check/ self-correct activity, dimana di encourage anak untuk menemukan sendiri permasalahannya dan mencoba mencari solusinya.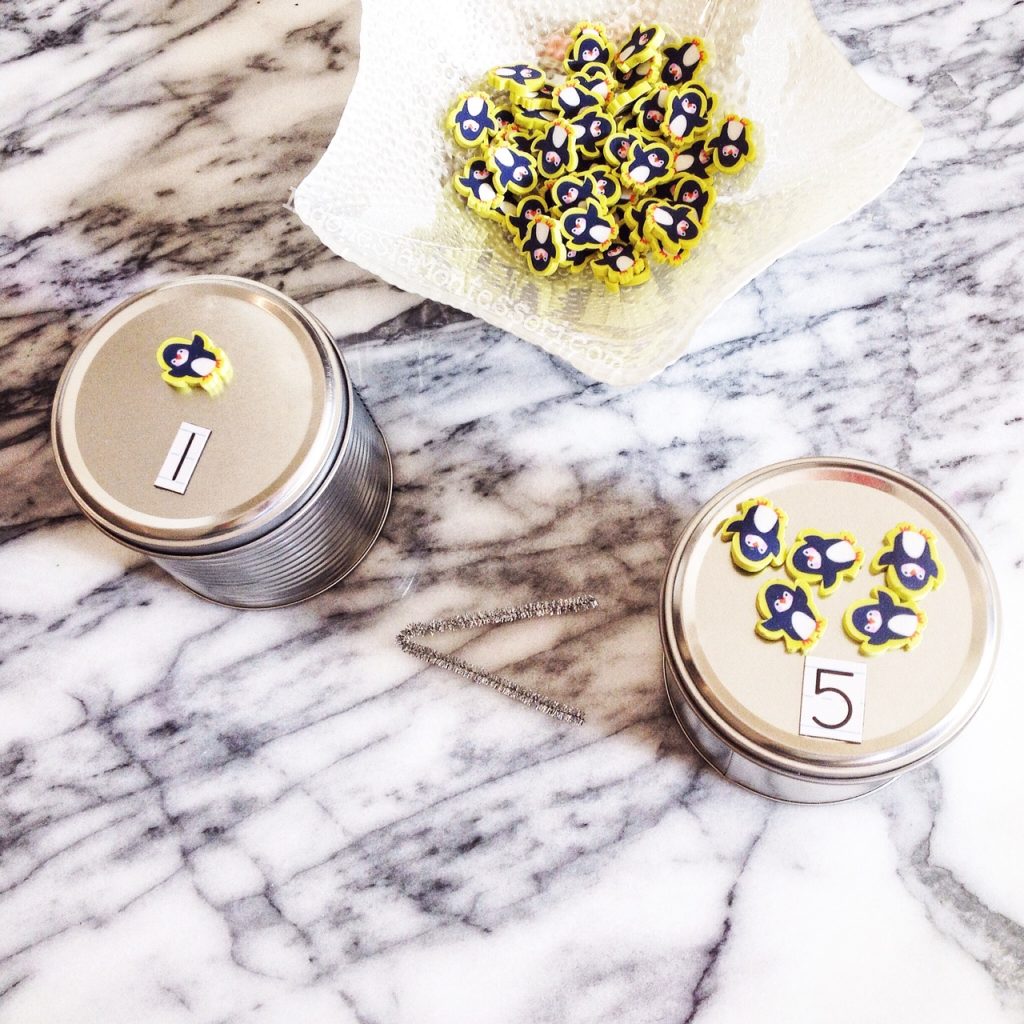 Bagi untuk anak yang sudah lebih besar dan mengerti konsep kuantitas dasar, bisa mulai dikenalkan dengan inequality symbol (tanda lebih besar dan lebih kecil).
"We especially need imagination in science. It is not all mathematics, nor all logic, but it is somewhat beauty and poetry."
– Maria Montessori
Wooden Spindle Box dan juga DIY Small Number Rods di atas juga merupakan salah satu Montessori Apparatus yang awalnya digunakan untuk mengenalkan C dengan konsep kuantitas secara hands on, real dan visual. Selamat dicoba!