Our Milky Way Galaxy Sensory Play
Dear IMC-ers, sesuai dengan salah satu topik kegiatan #IndonesiaMontessoriHomeschool minggu ini, Mom C menyiapkan invitation to play bertemakan Milky Way Galaxy Sensory Play….kali ini momC siapkan Frozen Planet (Miniatur Planet yang sudah dibekukan) dan selanjutnya MomC siapkan juga berbagai filler untuk mewujudkan tema kali yaitu Milky Way Galaxy yang berisi planet-planet di sekitar bumi serta bintang-bintang yang bertaburan di angkasa.
The Milky Way is the galaxy that contains our Solar System. Its name "milky" is derived from its appearance as a dim glowing band arching across the night sky whose individual stars cannot be distinguished by the naked eye. The term "Milky Way" is a translation of the Latin via lactea, from the Greek γαλαξίας κύκλος (galaxías kýklos, "milky circle").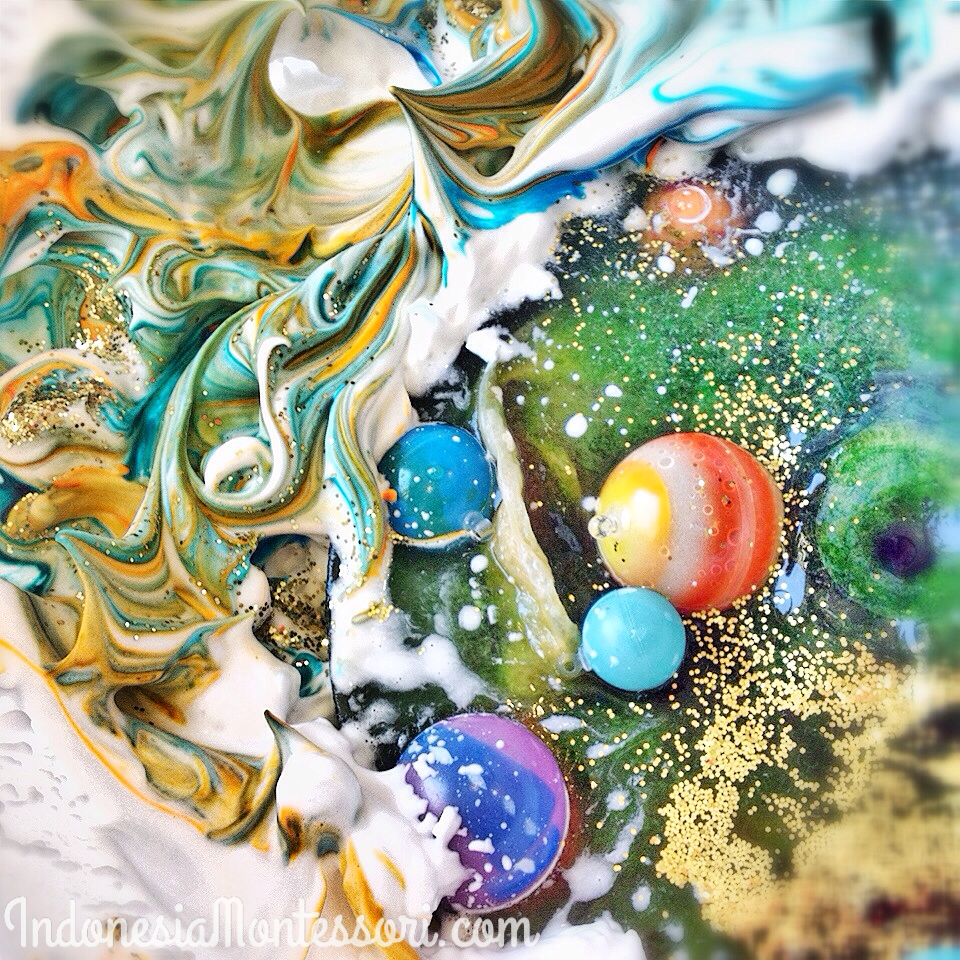 Begini kurang lebih wujud sensory play kami kali ini, C udah ga sabar mau main aja selama MomC siapin, jadi MomC harus buat dan foto secepat kilat hahaha…sebelum di aduk-aduk dan di siram macam-macam oleh C.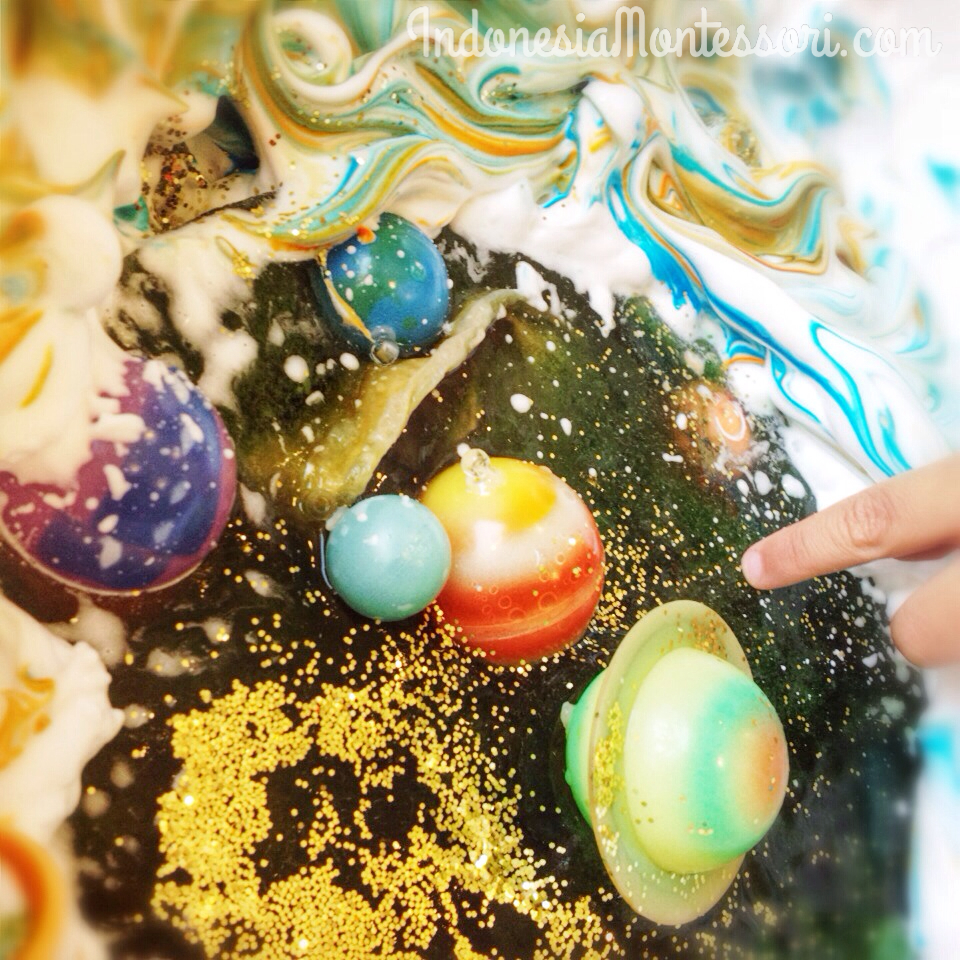 Tuh, baru sebentar aja C udah mulai mau main , dia sibuk sebutin "itu Saturnus , itu planet apa Mommy? itu glitter apa Mommy? yellow glitter Mommy!"
(beginilah jadi Mom, memang kudu multitasking!)
Nah foam di sekitar planet ini, ceritanya Nebula…yah kira-kira begitu deh imajinasi MomC kali ini..
A nebula (Latin for "cloud";[2] pl. nebulae, nebulæ, or nebulas) is an interstellar cloud of dust, hydrogen, helium and other ionized gases. Originally, nebula was a name for any diffuse astronomical object, including galaxies beyond the Milky Way. The Andromeda Galaxy, for instance, was referred to as the Andromeda Nebula (and spiral galaxies in general as "spiral nebulae") before the true nature of galaxies was confirmed in the early 20th century by Vesto Slipher, Edwin Hubble and others.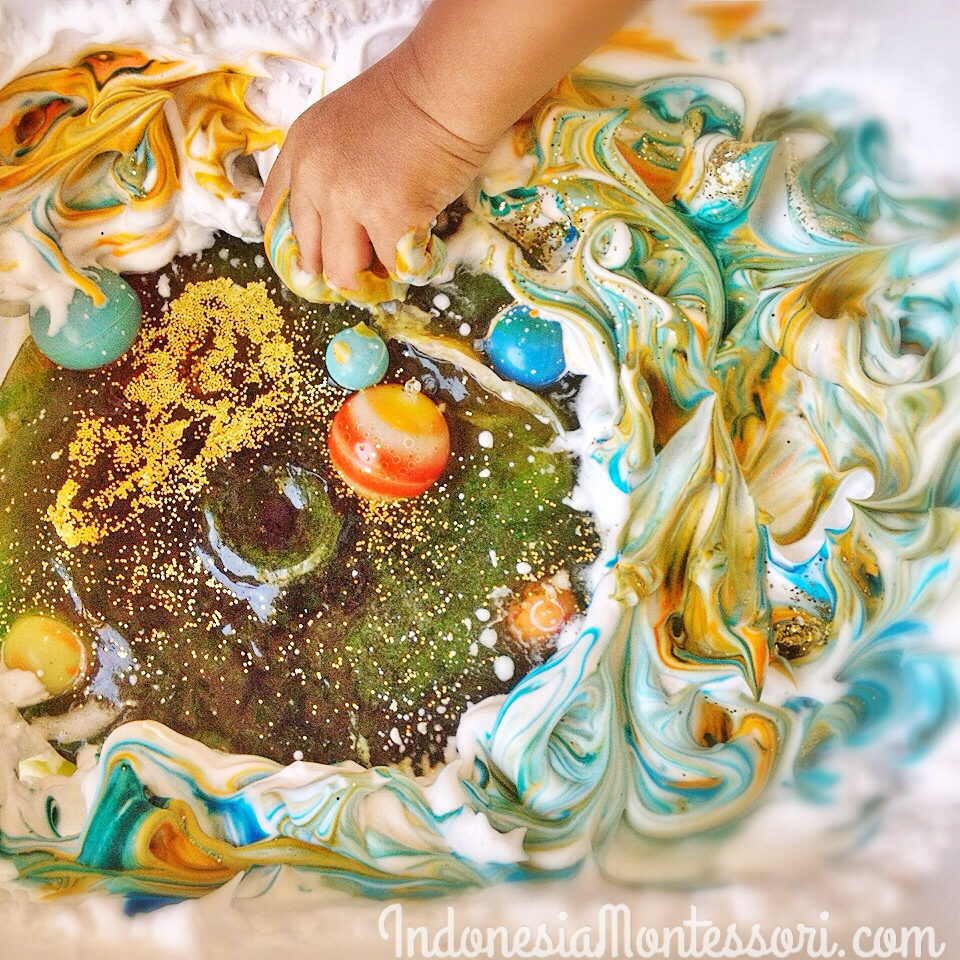 Yup, belum selesai disiapin langsung aja planetnya di comot oleh C sambil bilang " It is a darkkk starrryy night!! dark staryy night mommy!"
Seru banget main ini di aduk-aduk, sampai planetnya semua lepas dari es batu yang beku itu , C bilang "dingin mommy dingin!!" , lalu setelah planet nya lepas semua di aduk-aduk sama C sehingga ketutupan foam. Setelah semua planet tertutup foam (alias Nebula) , C mulai cari-cari dan aduk-aduk sampai semua planet miniatur nya ketemu kembali…sambil ketawa cekikikan dan bilang " Oh I think I need to take a bath after this, look at my messy hands!" tapi tetep aja ga berenti main terusss…sampai lama banget…dan sebut-sebutin berbagai nama planet yang sebelumnya dikenalkan oleh momC secara umum saja.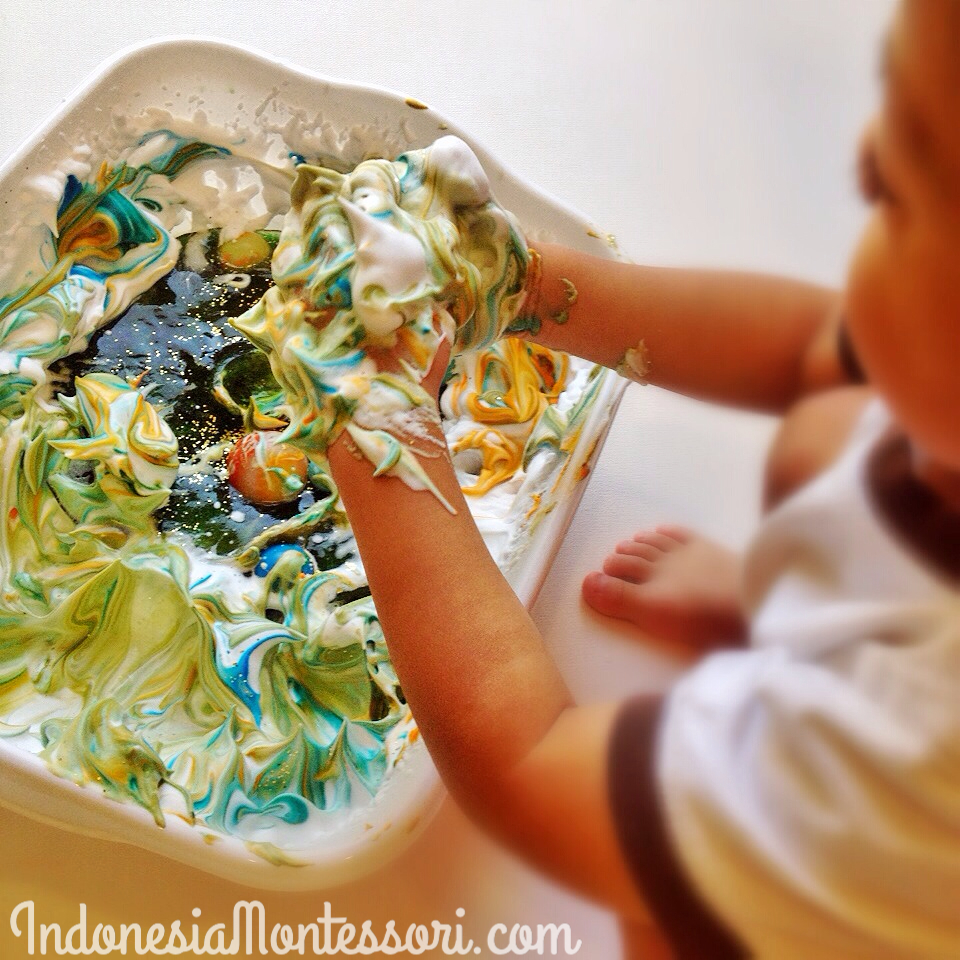 Yuk dicoba, persiapannya mudah , seru dan cocok digunakan untuk mengenalkan tata surya bersamaan dengan printable IndonesiaMontessori.com bertemekan nama planet-planet yang MomC buat minggu lalu yang bisa di download di artikel di sini.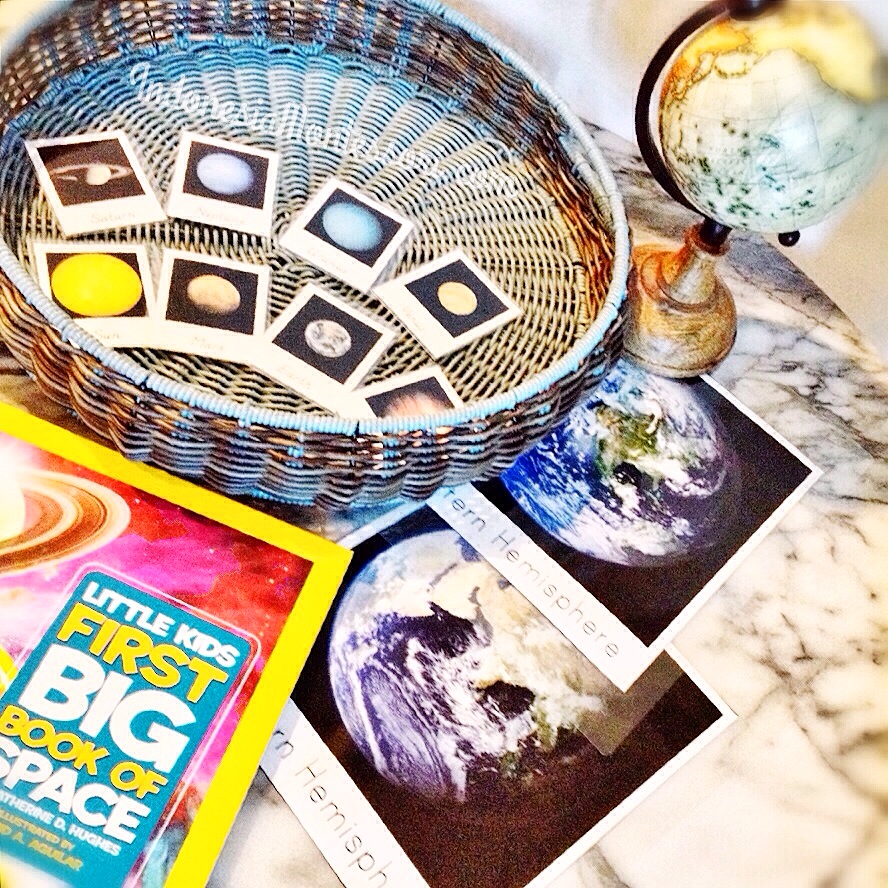 Untuk mendapat notifikasi di E-Mail anda mengenai artikel dan printable terbaru, masukan E-mail anda di dalam kotak oranye dan jangan lupa verifikasikan ya! Have Fun!