Hi IMC Readers, hari ini kita kembali seru-seruan tentang makanan ya! hehe kali ini saat sedang balik-balik timbunan berbagai macam majalah di rumah kami eh ketemu tentang Chocolate Chemistry , langsung C tertarik banget dan minta makan cokelat haha…kebetulan ada beberapa macam cokelat yang sudah diolah dan dikombinasikan menjadi produk lain di rumah so jadilah kegiatan sains sederhana sambil snack time.
UHhuhuhu….C tidak tahan dan menghabiskan semua sampel cokelatnya…padahal tadinya mau bagi dua….huhu ya sudah ga apa deh sekali-kali ya C!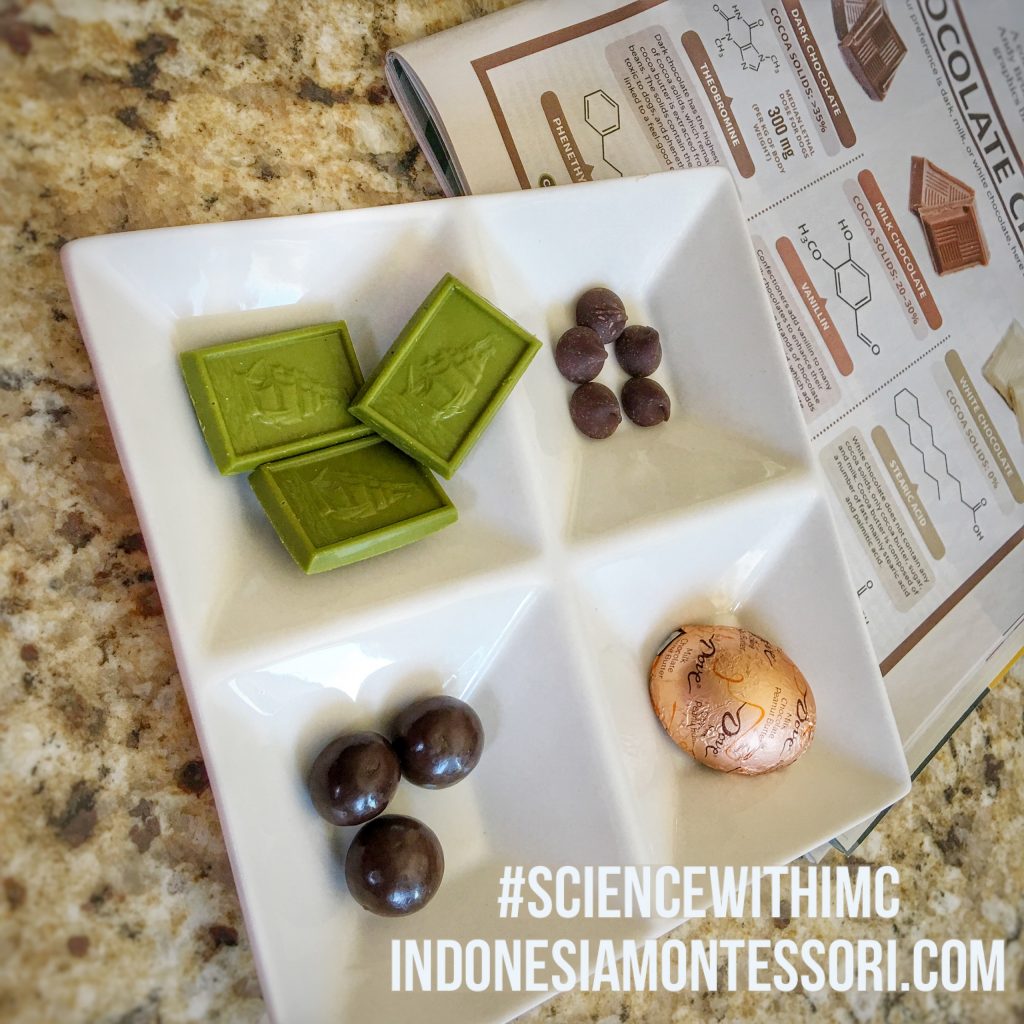 Nah C , cokelat yang kita sukai ada 3 macam ya…apa aja sih? kata C "ceritain mommy, ceritain cokelat..don't stop!"
What is Chocolate?
Chocolate is a solid mixture. In its basic form it is composed of cacao powder, cocoa butter, and some type of sweetener such as sugar; however, modern chocolate includes milk solids, any added flavors, modifiers, and preservatives.
Cacao is the plant matter which lends the unique tast and bitterness to chocolate. The chocolate mixture is made of aggregations of micro particles of cacao and sugar, and globules of cocoa butter fat milk solids.
The word "chocolate" comes from the Nahuatl word Xocolatl for "bitter water", referring to its original incarnation as a hot, spiced beverage in the Mayan and Aztec traditions.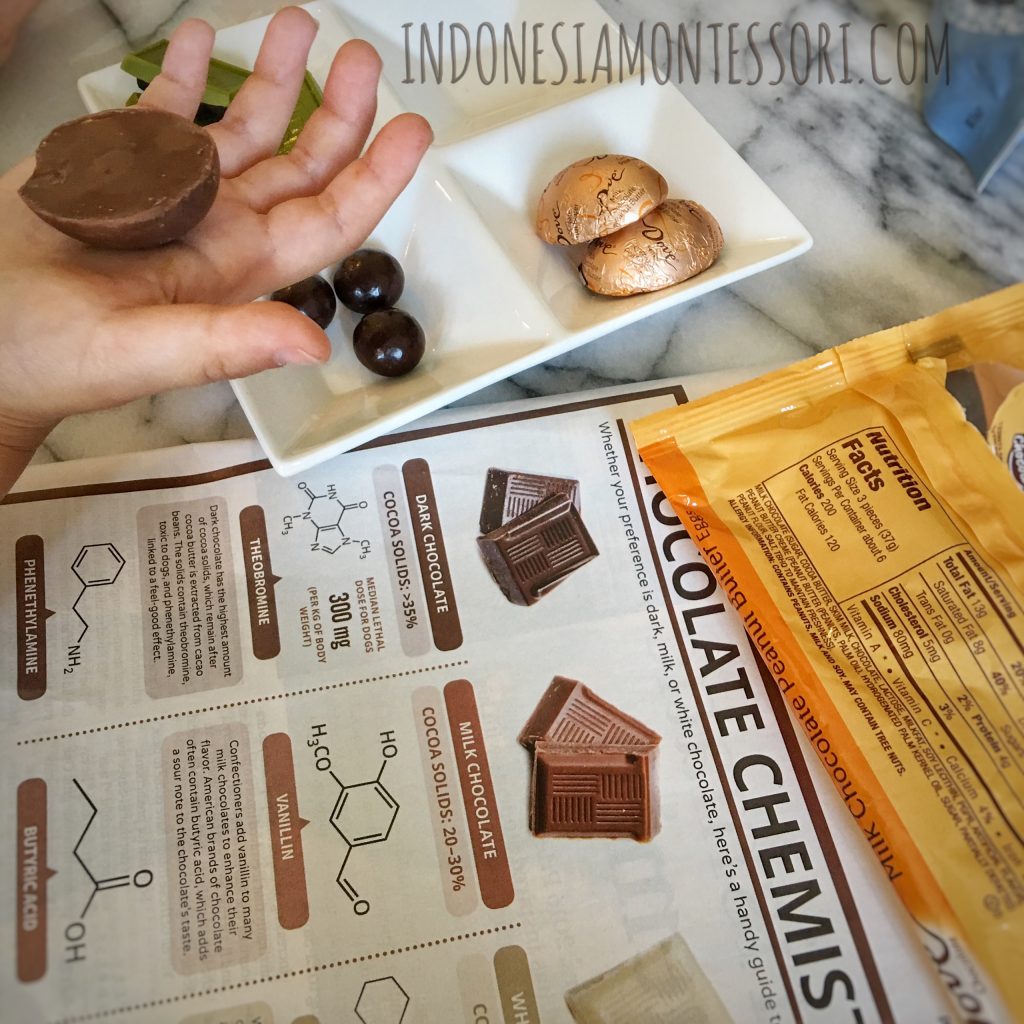 Yuk silahkan coleh dicoba…dan ini bagian favorit C , langsung dibuka dan di makan dengan nikmatnya cokelat berisi selai kacang (peanut better) itu. Nah C yang ini cokelat nya terbuat dari Milk Chocolate….kalau yang itu terbuat dari Dark Chocolate. Kalau yang hijau itu apa ya C? kebetulan kita ada beberapa macam green tea chocolate di rumah yang sempat dibeli saat bulan lalu ke Jepang, so keluarlah itu semua dan baru kali ini C mencoba loh!
Sekaligus kita bersama-sama membaca bahan baku (ingredients) dari kemasan cokelatnya supaya yakin dibuatnya dari dark chocolate atau milk chocolate ya?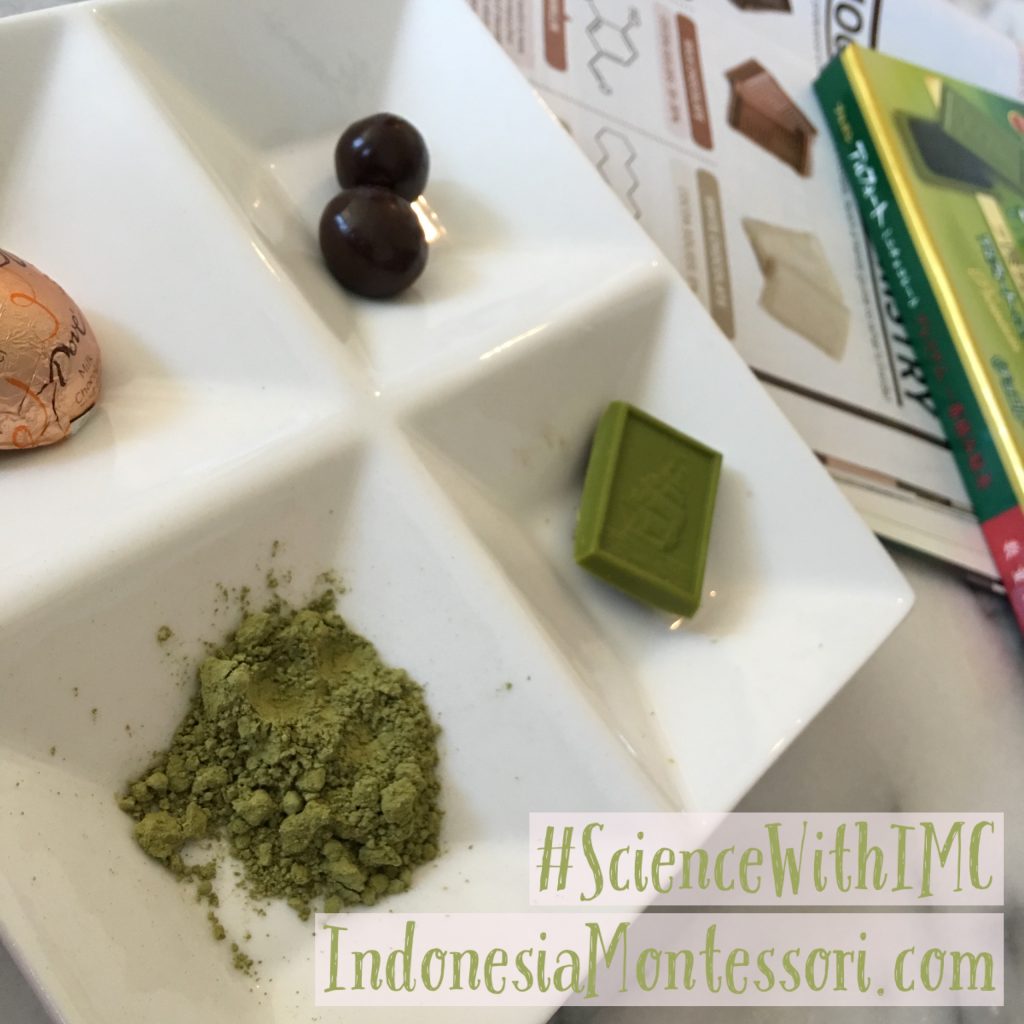 Keluar juga bubuk green tea organik untuk menjelaskan C bagaimana sih adanya asal muasalnya cokelat hijau yang menarik dan ternyata enak itu? selain itu ternyata cokelat putih tidak mengandung cocoa solid ya, hanya 0% . Which one is your favorite? mine is the darkest one 🙂 C loves all, esp the milk chocolate he said. Have fun trying! #ScienceWithIMC