Hi IMC-ers, kalau yang sudah membaca IMC dari beberapa bulan yang lalu pasti sudah pernah melihat kegiatan kami dengan menggunakan our very own DIY IMC Light Table. Banyak IMC readers yang sempat tanya kepada momC beli di mana dll, dan jawabannya disini ya! momC akan jelaskan cara buatnya sangat mudah dan kurang dari 10 menit! yuk intip cara buatnya dan buat sendiri light table untuk si kecil bermain dan berkreasi di rumah.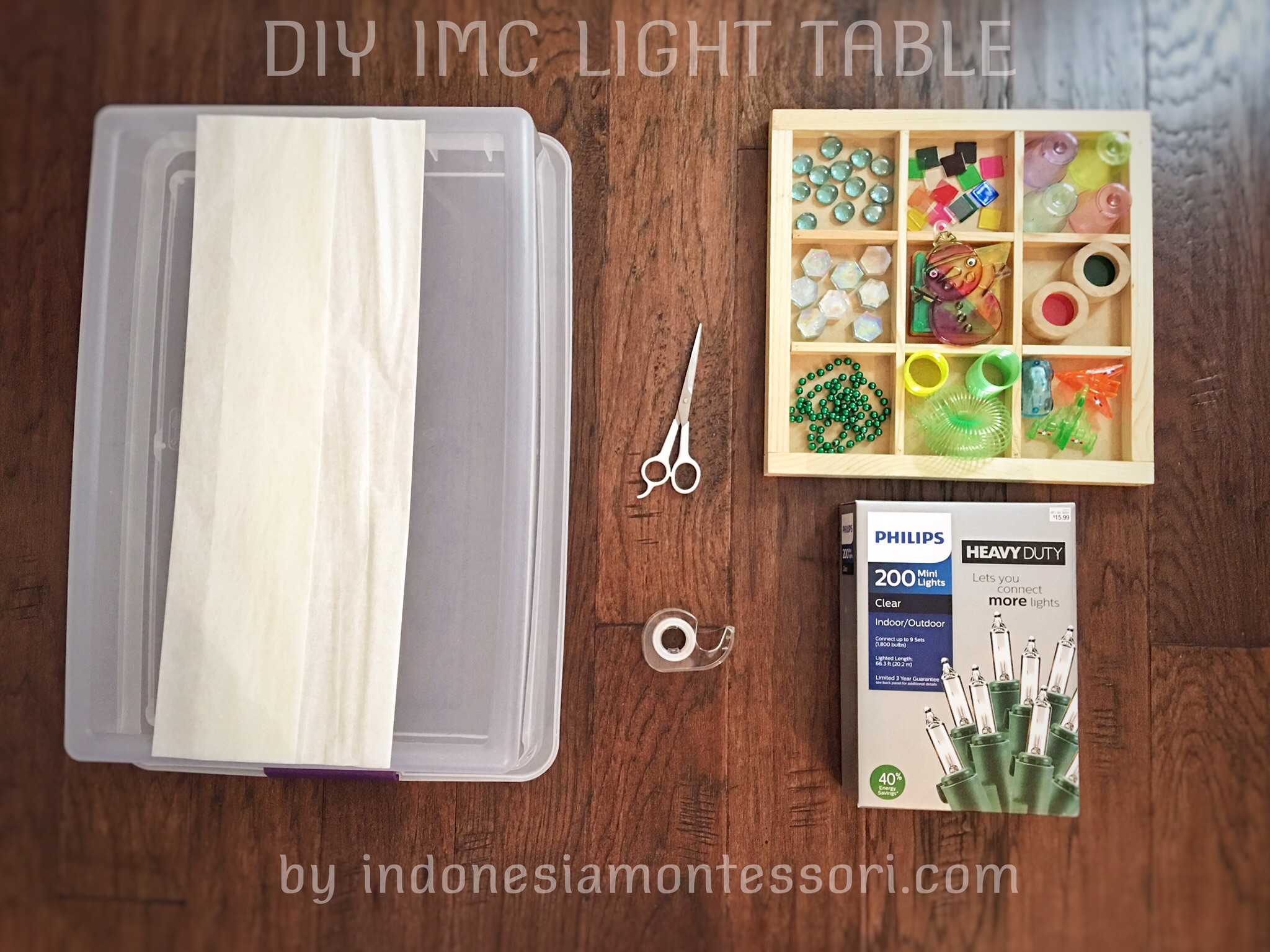 Bahan-bahan yang diperlukan :
Wadah dengan tutup bening / transparan , kami menggunakan ukuran 60 x 46 x 16 cm
Kertas seperti di atas berwarna netral dan tipis
Gunting
Selotip
Lampu , pada kesempatan ini kami menggunakan lampu Philips Heavy Duty Clear untuk hiasan pohon natal kami. Lampu lainpun dapat IMC-ers gunakan yang pasti, pastikan keamanannya ya.
Pernak pernik mainan kecil yang bisa digunakan di Light Table.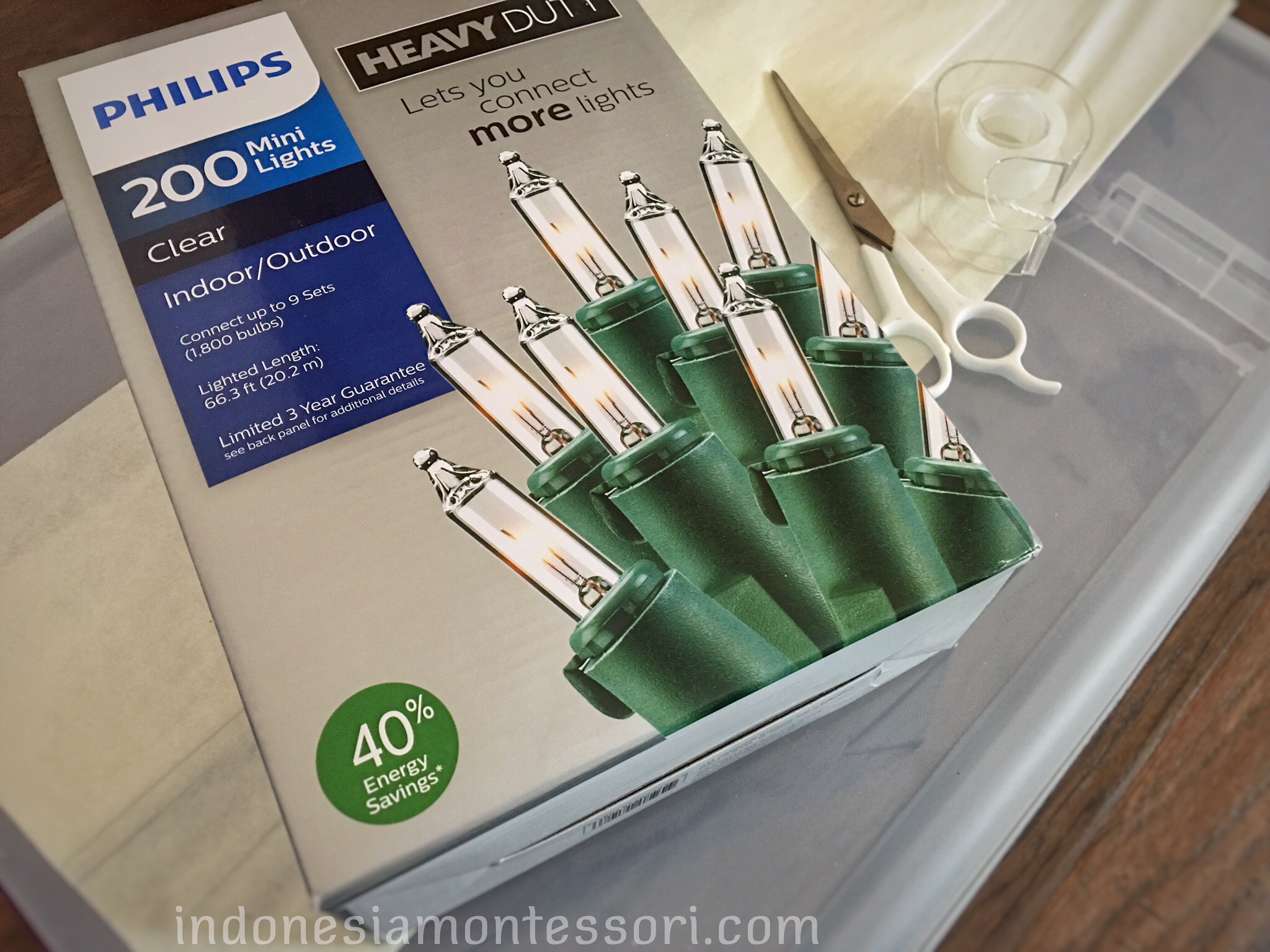 Pertama-tama tempel kertas putih ke seluruh permukan kontainer bening , tempel setiap sisinya menggunakan selotip.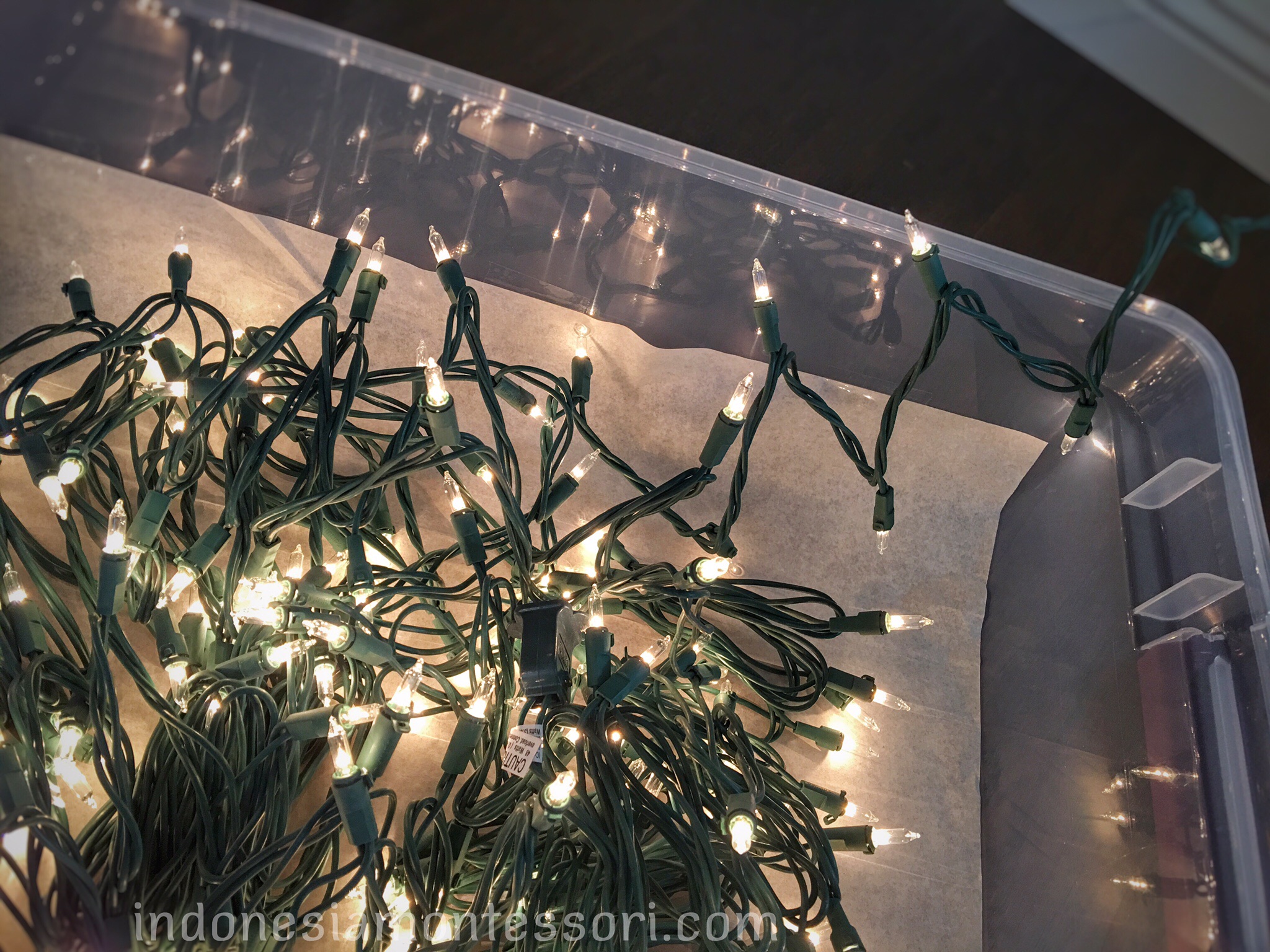 Taruhlah lampu dalam posisi yang aman dan dekat dengan sumber stop kontak (Pastikan aman!). Setelah itu perlahan tutuplah kontainer bening.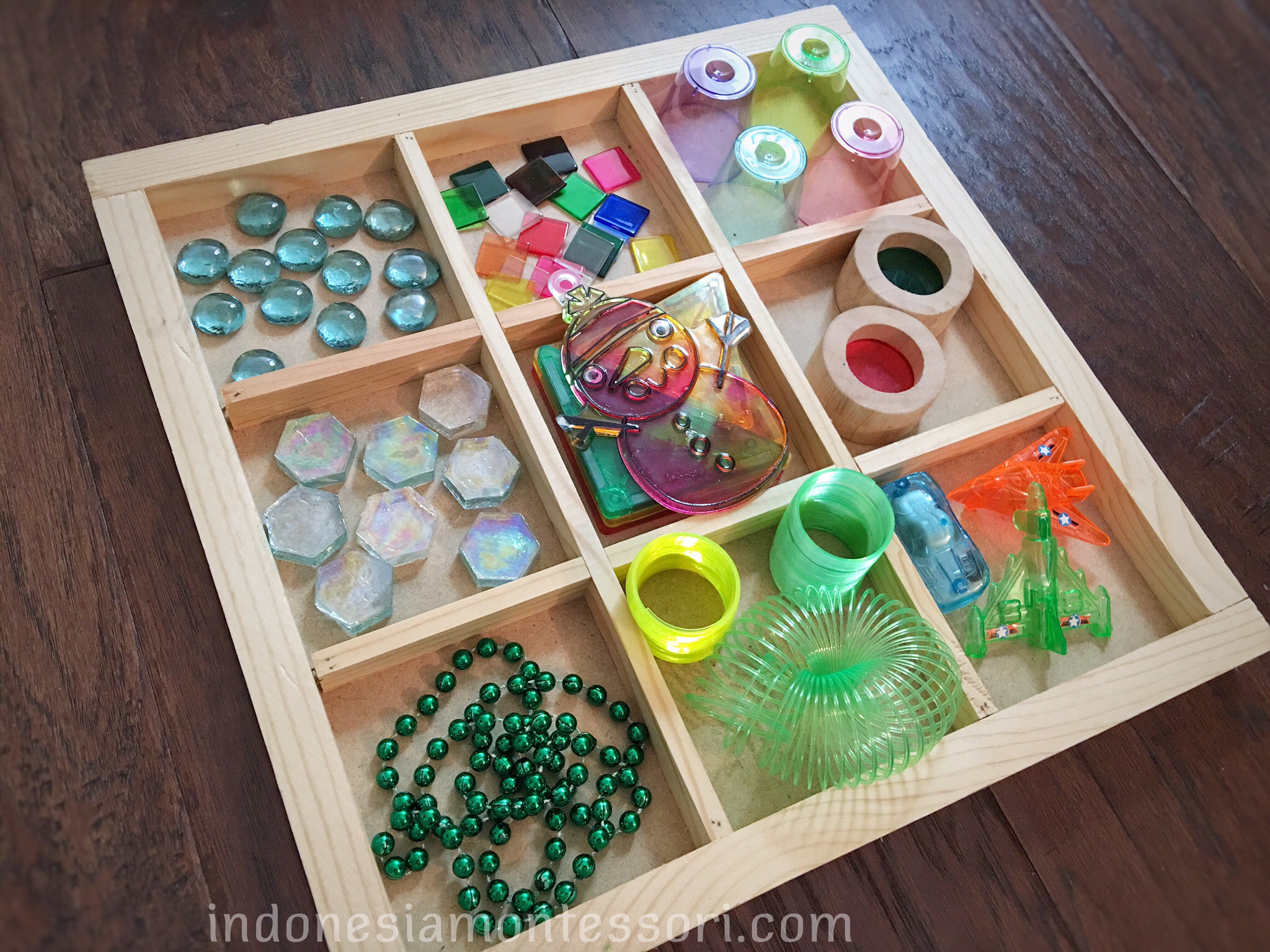 Nah ini kumpulan pernak pernik yang ada di rumah, IMC-ers dapat menggunakan juga mainan-mainan yang si kecil sudah miliki, look around and be creative.
'In any environment, both the degree of inventiveness and creativity, and the possibility of discovery, are directly proportional to the number and kind of variables in it.' ~ Simon Nicholson, Architect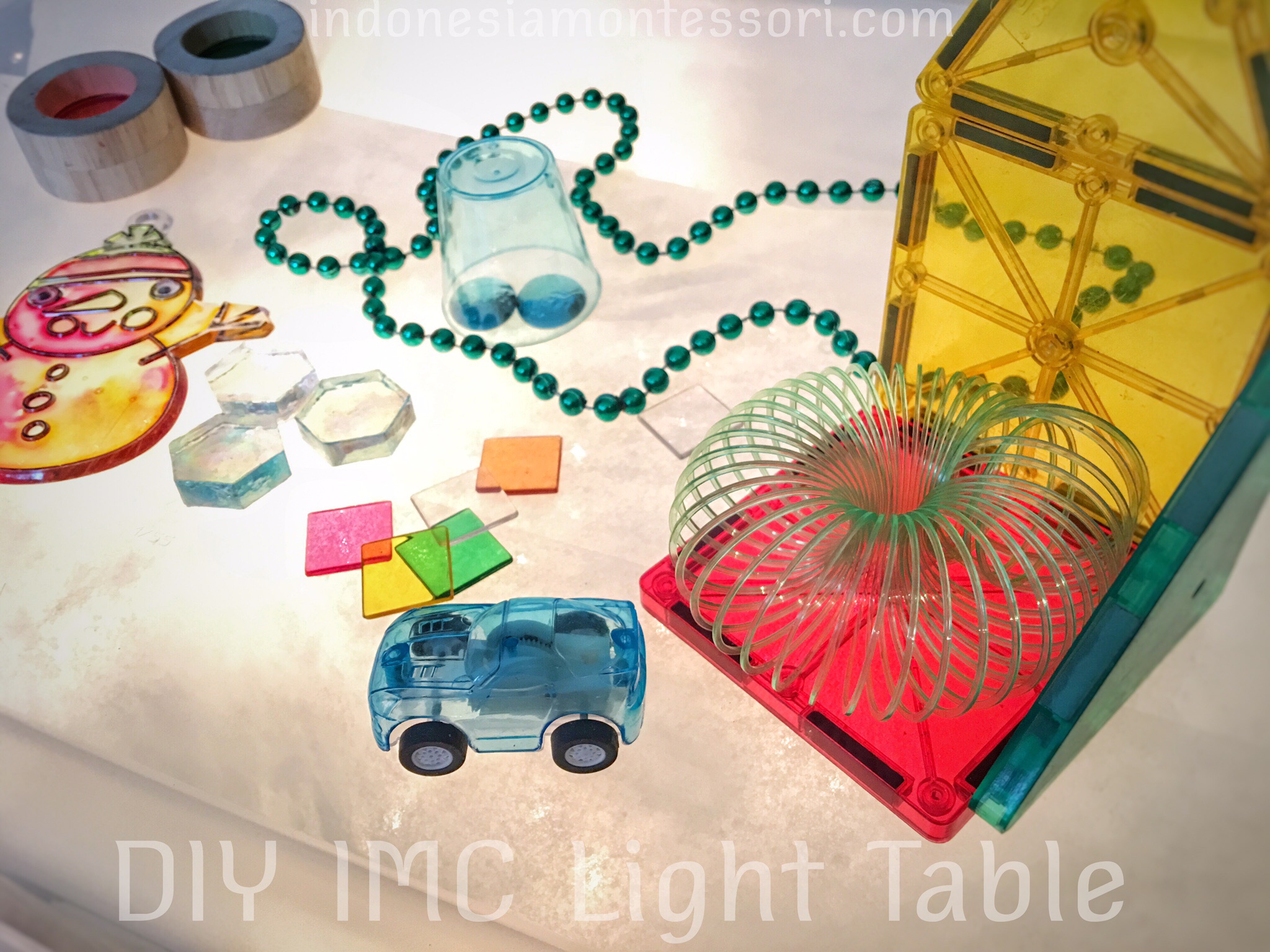 Seruu, siap dimainkan deh! C langsung excited ketemu lagi dengan DIY Light Table nya setelah sudah beberapa saat lampunya dipakai untuk hiasan pohon natal kami. Tujuan momC mengundang C untuk eksplorasi bebas menggunakan DIY Light Table untuk mengembangkan kreatifitas nya, encourage C untuk bercerita dan berkreasi tanpa batas.Salah satu fokus kegiatan kami tahun ini juga mengkombinasikan pendekatan Reggio untuk mengembangkan kreatifitas C menggunakan loose parts dll. Nanti momC ulas ya kegiatan-kegiatan seru kami lainnya menggunakan DIY IMC Light Table ini, mudah kan buatnya? Yuk buat #IMCLIGHTTABLE !