Hallo IMC Mommies, kali ini excited banget saya mau share salah satu DIY sederhana akhir pekan kami. Semenjak C masih berusia 4-5 bulan ia sudah senang sekali dengan buku-buku cerita karya Eric Carle, salah satu buku pertama yang C sukai dan berhasil membuat C mendengarkan sampai bukunya habis pada usia baby tersebut adalah buku The Very Hungry Caterpillar. Nah kalau IMC Mommies bertanya biasa didapatkan di mana buku tersebut? kebetulan saya sedang tinggal di Amerika jadi saya beli di toko buku di sini namun di Indonesia nampaknya juga banyak toko online yang jual judul tersebut soo rajin-rajin di cari saja dan bisa di tanyakan ke IMC Mommies lainnya – have fun hunting!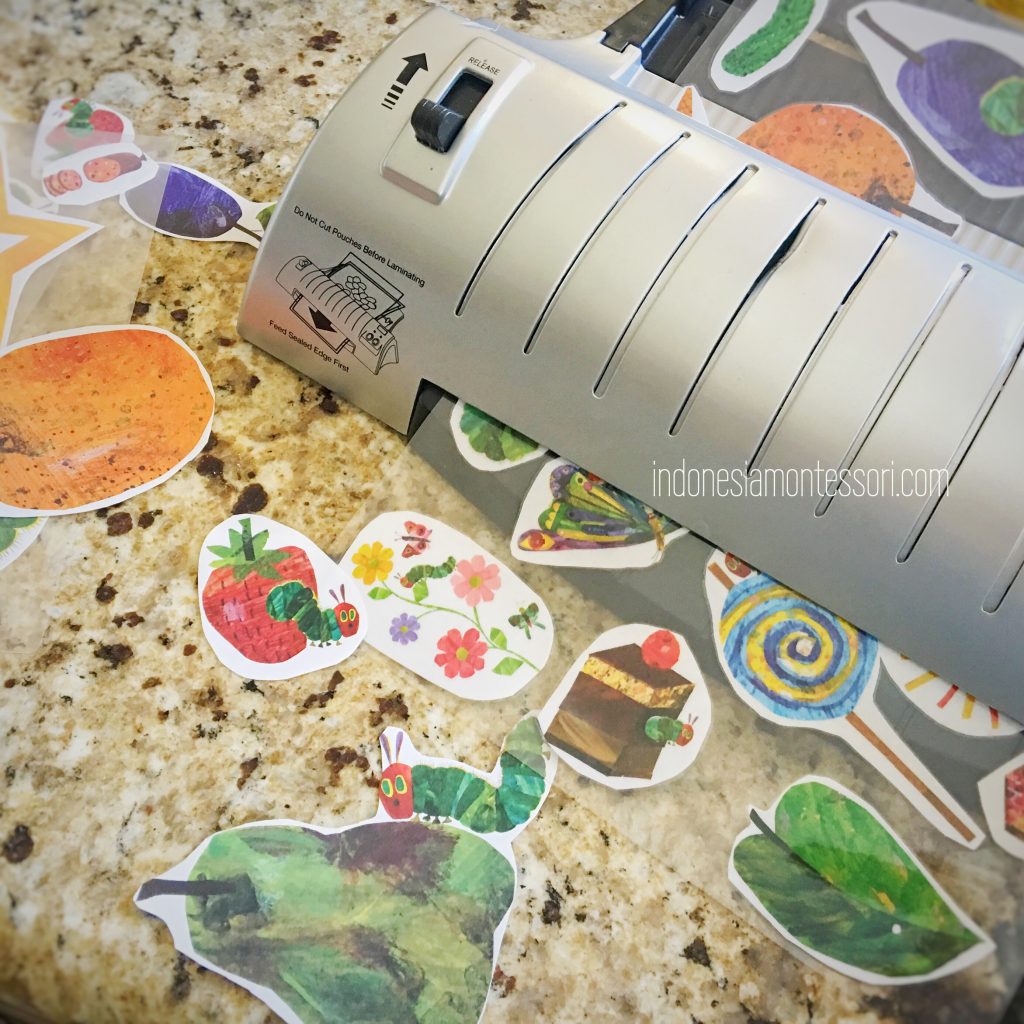 Nah yang ini bukan printable namun dulu sekali buku aktivitas tracing the very hungry caterpillar kami sudah selesai dibuat sooo sayang sekali gambar-gambarnya kami gunting dan laminasi. Untuk IMC Mommies yang mau buat sejenis di akhir artikel ini saya share juga printable gratisnya ya, anda bisa tinggal unduh dan cetak lalu dilaminasi.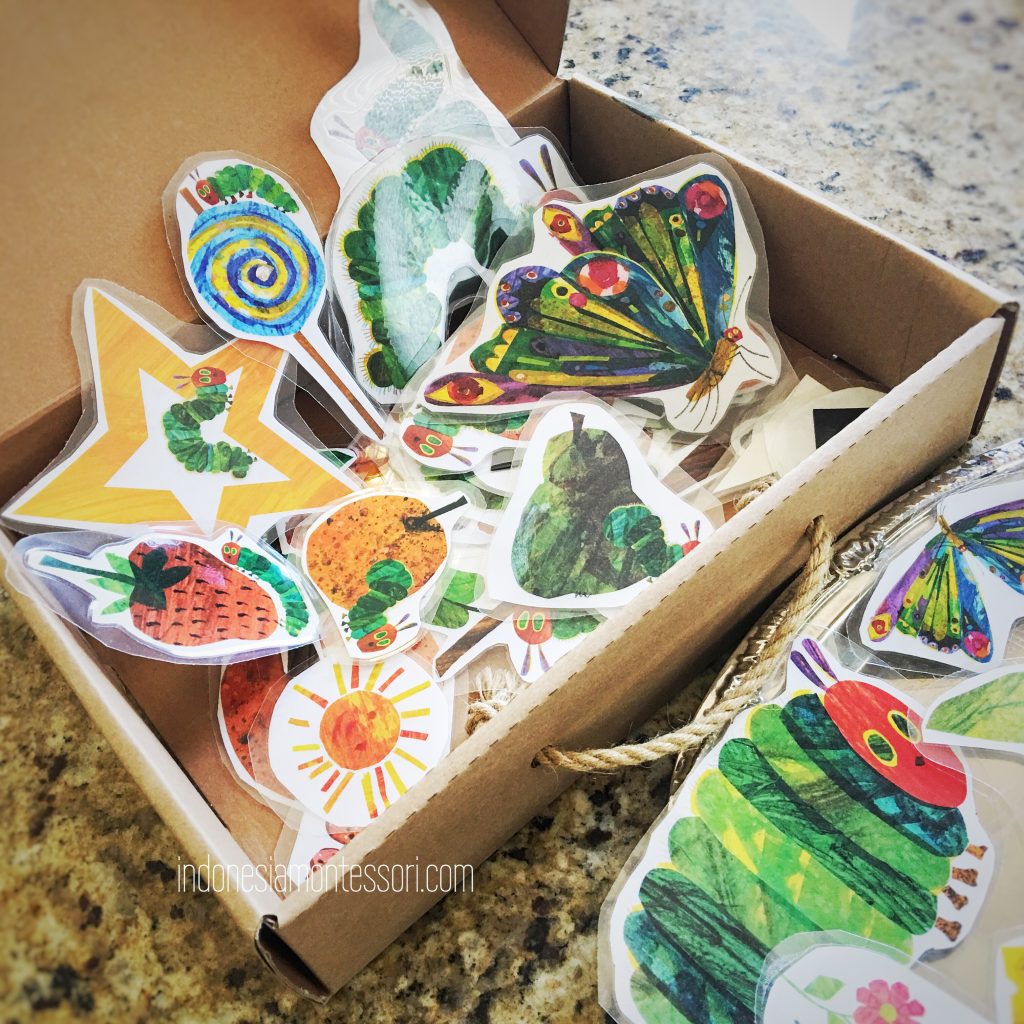 Setelah selesai di laminasi dan digunting, di bagian belakang setiap gambar saya rekatkan dengan magnet sheet dan ta daa….menggunakan kardus (repurpose) dari kardus yang ada di rumah rencananya saya ingin membuat DIY Magnet Box Activtiy – rencana saya bagian atas kardus (bagian dalam) mau di tempelkan dengan magnet sheet supaya kalau travel ataupun dimainkan di rumah C bisa nempel-nempel caterpillar dkk nya di board di dalam box tersebut.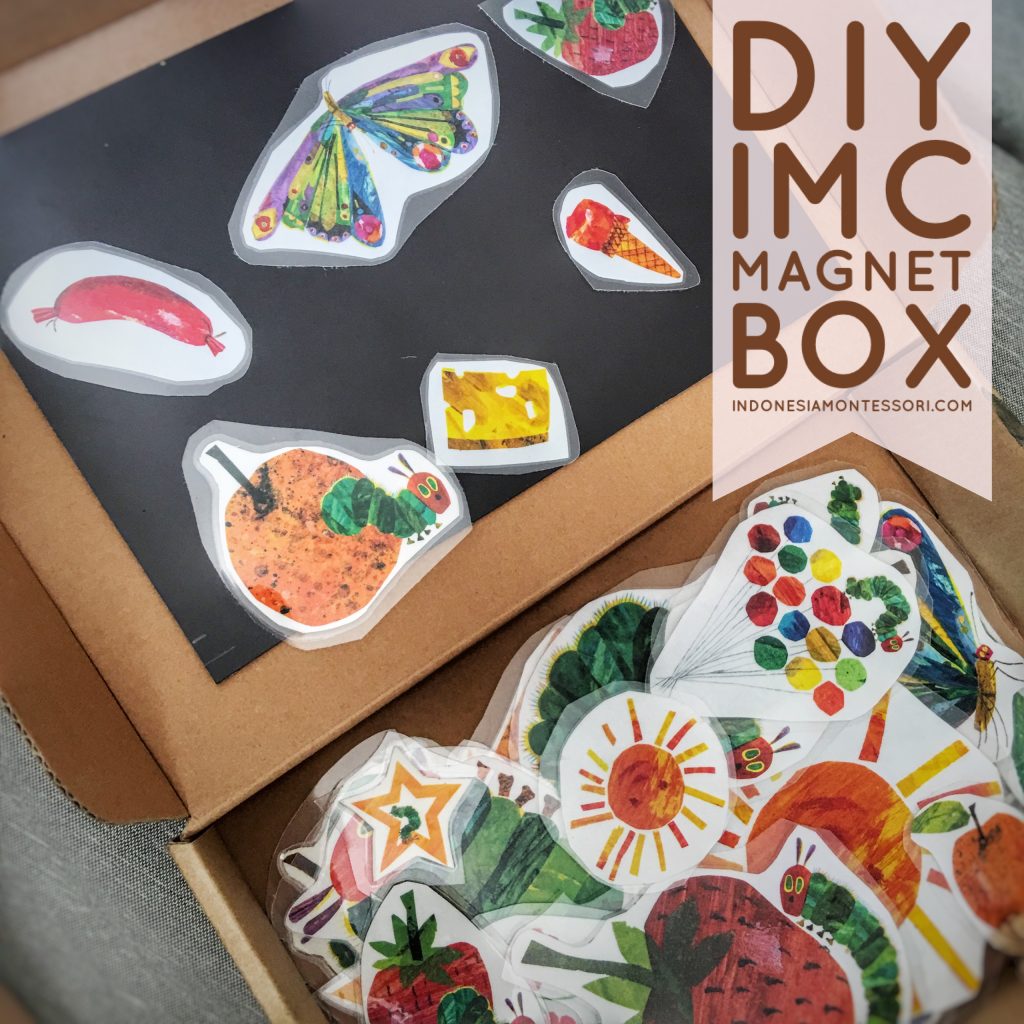 Selain itu bisa juga menggunakan Spielgaben kami magnetic board.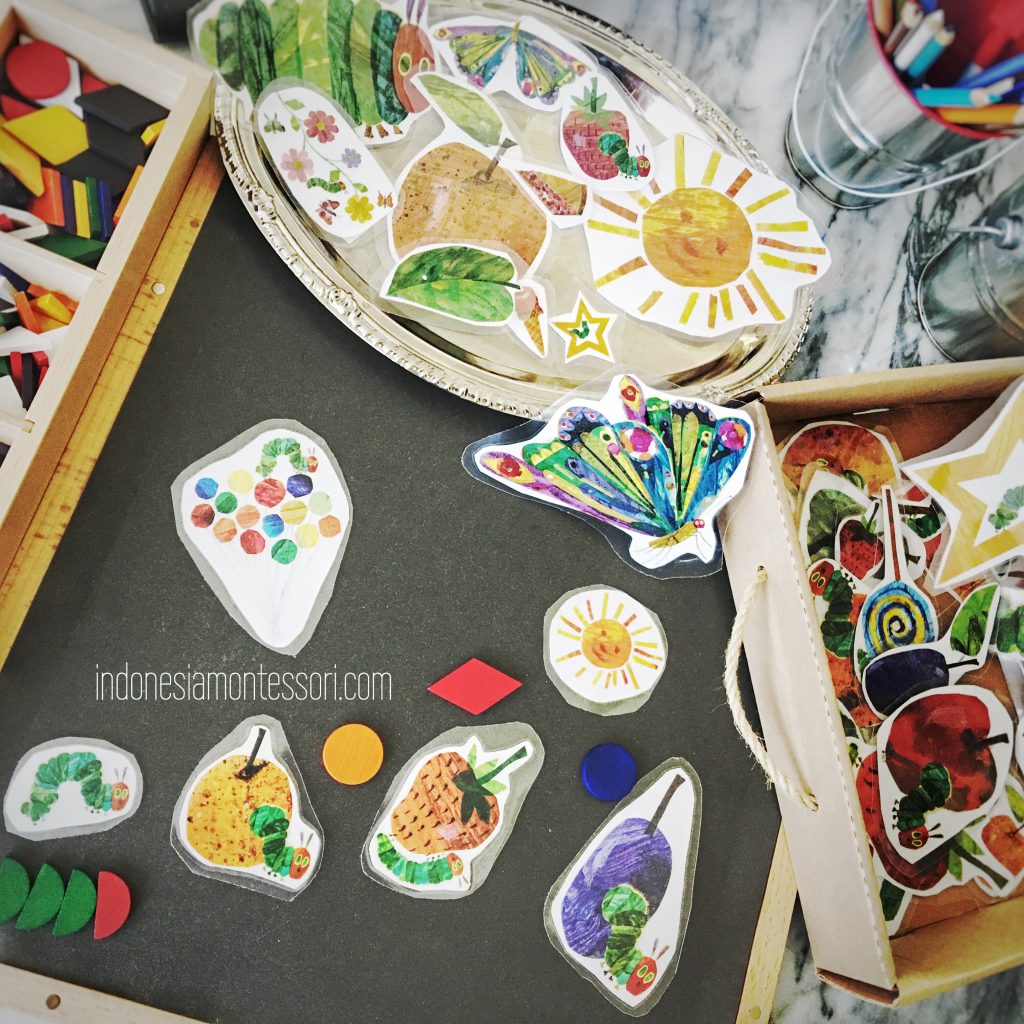 Yuk di coba, nantinya bisa digunakan untuk kegiatan yang berkaitan dengan cerita tersebut, bisa digunakan sambil mendongeng ataupun kegiatan bebas lainnya. Have Fun IMC Mommies!
Untuk printable gratis berbagai kegiatan bertemakan The Very Hungry Caterpillar bisa di unduh di bawah  ya!
Printable Alur Cerita The Very Hungry Caterpillar 
Printable Kertas Mewarnai The Very Hungry Caterpillar
Printable Mewarnai Story Time The Very Hungry Caterpillar
Printable Sequencing The Very Hungry Caterpillar – mengurutkan cerita untuk anak prasekolah
Printable Belajar Mengenal Bentuk
Printable Belajar Mengenal Abjad 
Printable Belajar Berhitung Prasekolah
Printable Mengenal Warna dan Mencocokkan Warna