Fall is here! akhir-akhir ini cuacanya udah ga terlalu panas, jadi kita mulai suka jalan-jalan keluar dan C suka kumpulin daun-daun kering yang beberapa saat lalu momC buat menjadi sensori bin mengenalkan musim yang bisa di cek di sini.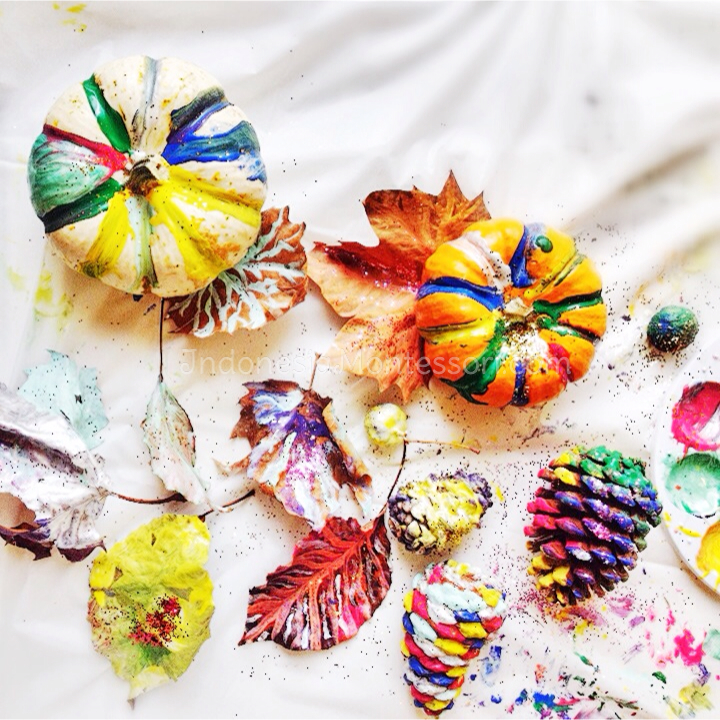 Nah hari ini kebetulan cuacanya sejuk dan agak mendung so kita jalan-jalan "nature walk" ke taman kecil di dekat rumah. MomC sebut sebagai "nature walk" karena kegiatan ini membiarkan C jalan pelan-pelan dan boleh berhenti dimana aja sesuka C. Begitu C lihat semut biasanya dia berhenti dan jongkok "there is ant mommy, they are hungry looking for food mommy!" terus baru jalan sedikir lagi C biasanya merhatiin lagi "there is snail mommy, it is slimy…" pokoknya saat jalan-jalan ini C dibolehkan lihat-lihat fenomena-fenomena alam di sekitarnya dan ga diburu-buru sehingga momC sebut "nature walk".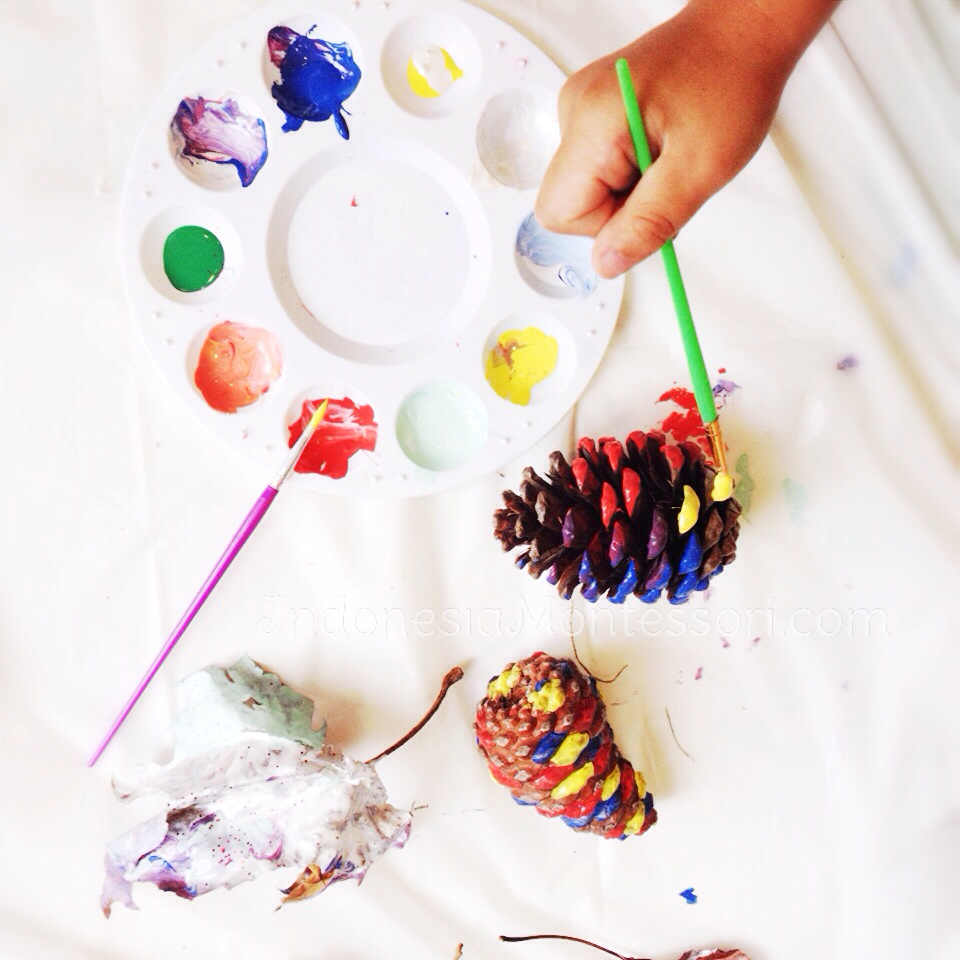 Setelah itu C mulai mengunpulkan cone dan juga daun-daunan kering, inisiatif C sendiri dia bilang mau "painting" daun-daun kering ini. Jadi setelah selesai kumpulin C minta pulang dan momC siapkan cat akrilik warna warni dan mulailah kami melukis.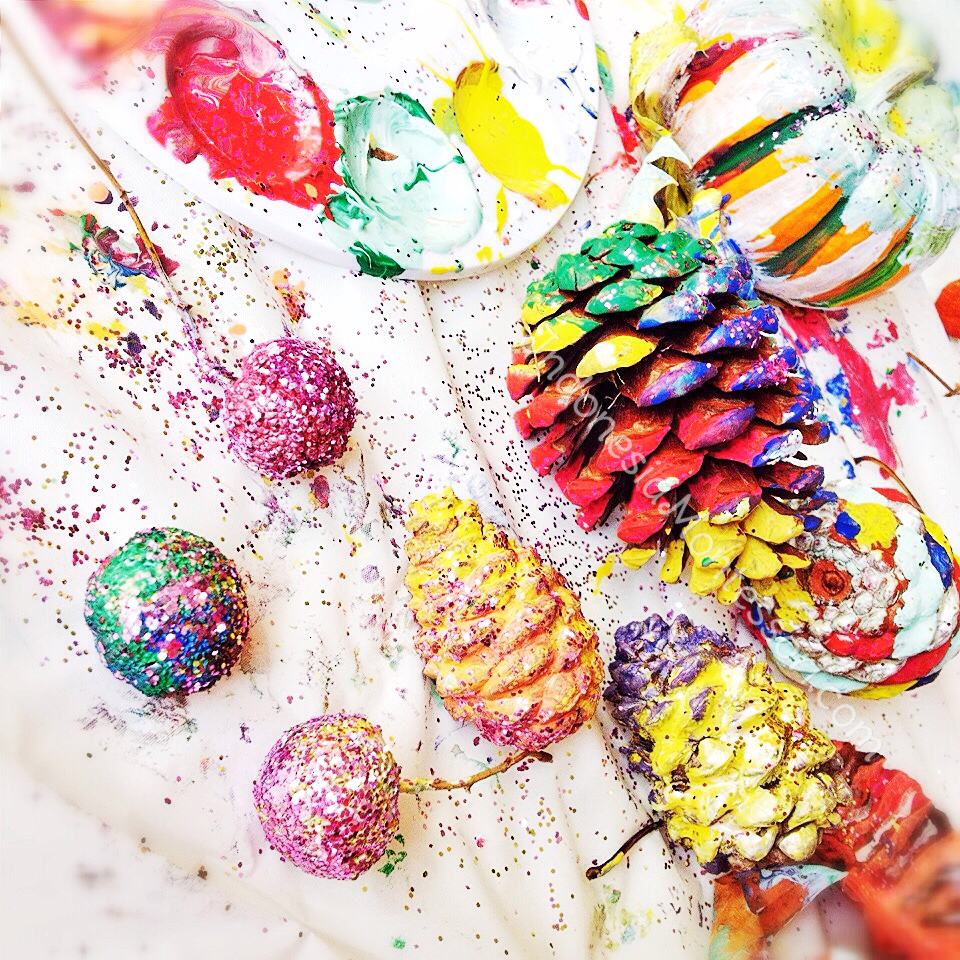 Dan inilah sebagian hasil karya bebas C . Sekarang C ternyata semakin percaya diri dalam mencampur warna dan berkeksperimen menggunakan berbagai kuas dan spons. Tahun lalu persis bulan-bulan ini momC ingat betul C melukis pumpkin kecil juga dan ia menggunakan satu warna saja untuk seluruh pumpkinnya. Senang rasanya melihat progress ini kalau sekarang C lebih berani memilih warna warni dan kalau kurang bagus bagi C ia timpa lagi dengan warna lainnya. Setahun perubahan terjadi begitu cepat ya mommies!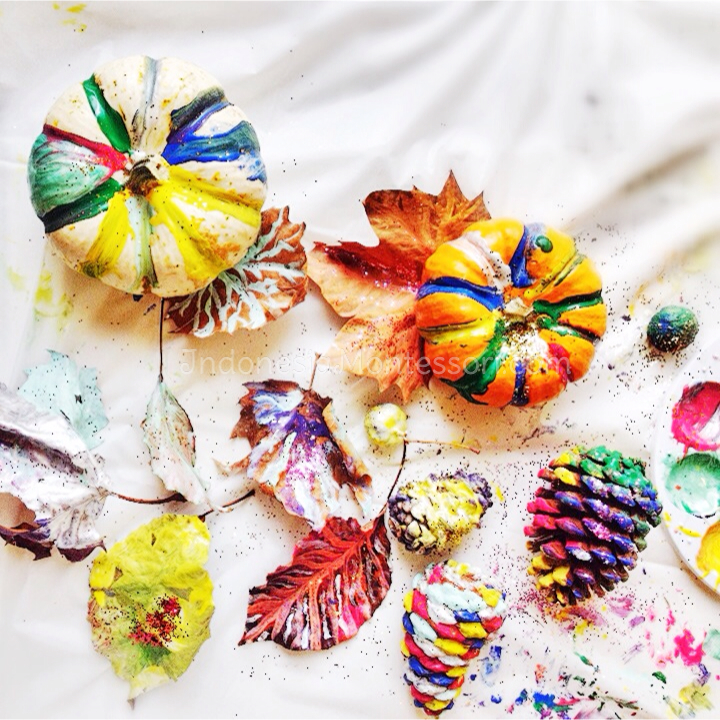 Pumpkin-pumpkin karya C serta rainbow cones karya C, ada daun yang merah itu lukisan mommyC hahaha…seru banget loh ternyata IMC-ers, kami menghabiskan 2 jam penuh melukis semua daun, cone, pumpkin yang kami kumpulkan. Selanjutnya karena tangan dan kaki C udah berwarna-warni, bubble bath to the rescue, langsung aja dilanjutkan dengan bubble bath dan makan mushroom soup. Berikut kumpulan printable gratis untuk kegiatan yang berhubungan dengan musim gugur (fall season) dan pumpkin ya, have fun!
Pumpkin Coloring Sheet from coloring castle
Pumpkin Life Cycle Sequencing from atozteacherstuff
Fall Fun Mini Book – All About Fall from serving joyfully
Pre-K Fun Halloween Activity from Over the big moon
Pumpkin Patch Fraction for Bigger Kids from education