Happy Thanksgiving!
I'm thankful for turkey.I'm thankful for yams.
I'm thankful for cranberries,biscuits, and hams.
I'm thankful for pumpkins.I'm thankful for cheese.
I'm thankful for gravy,potatoes, and peas.
I'm thankful for stuffing; I'm nuts for the stuff.
I'm thankful for eggnog and marshmallow fluff.
I'm thankful for whipped cream and ice cream and pies.
I'm thankful for dad's double-chocolate surprise.
I'm thankful, Thanksgiving,for good things to eat.
But mostly I'm thankful I still see my feet.
Dear IMC-ers, berhubung di sini sedang liburan Thanksgiving,jadi suasananya benar-benar udah "turkey" banget, di mana-mana menunya berbau-bau turkey, pumpkin pie, apple cider, dll. Yum! nah liburan kali ini DadC menyiapkan our own Thanksgiving Dinner ya, 100% by him! jadi mulai dari pemilihan Turkey dan menu , marinade dll udah dilakukan semua oleh DadC. Boleh lah sesekali hubby yang masak, kita tinggal menikmati aja..hihi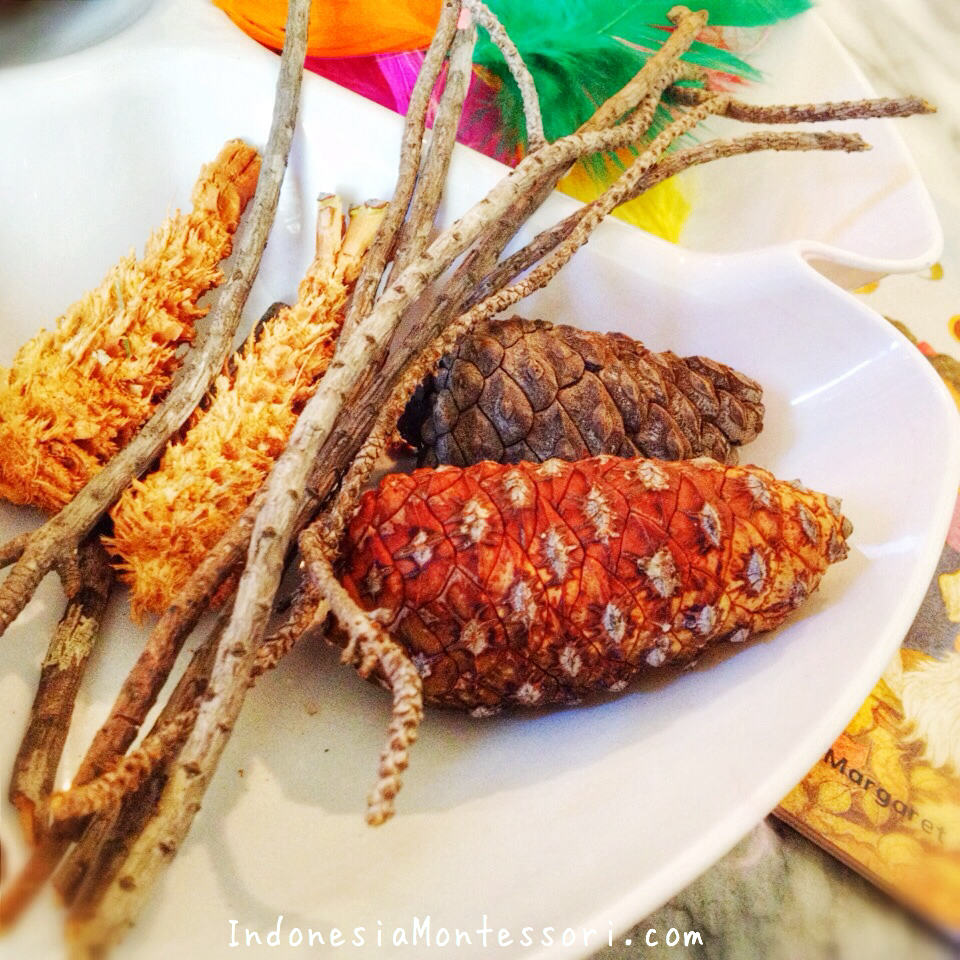 Kemarin seharian main di park, C mengumpukan berbagai ranting, cone dan daun-daunan yang hari ini kami gunakan untuk kegiatan #IndonesiaMontessoriHomeschool kami mengenalkan bagian tanaman dan juga art & craft yang bertemakan "Turkey".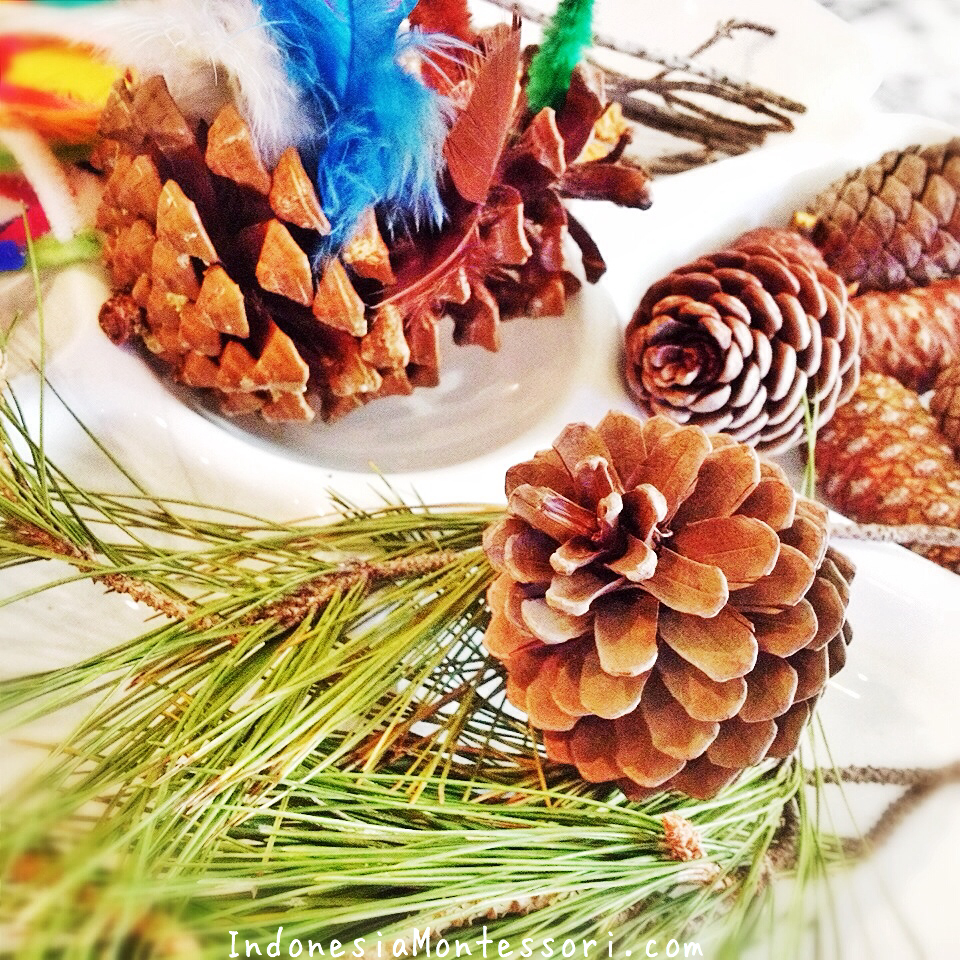 Cantik ya, kalau diperhatikan di sekiling kita ternyata banyak sekali bagian-bagian dari tumbuha yang sudah berjatuhan yang bisa di kumpulkan dan di kreasikan menjadi sesuatu.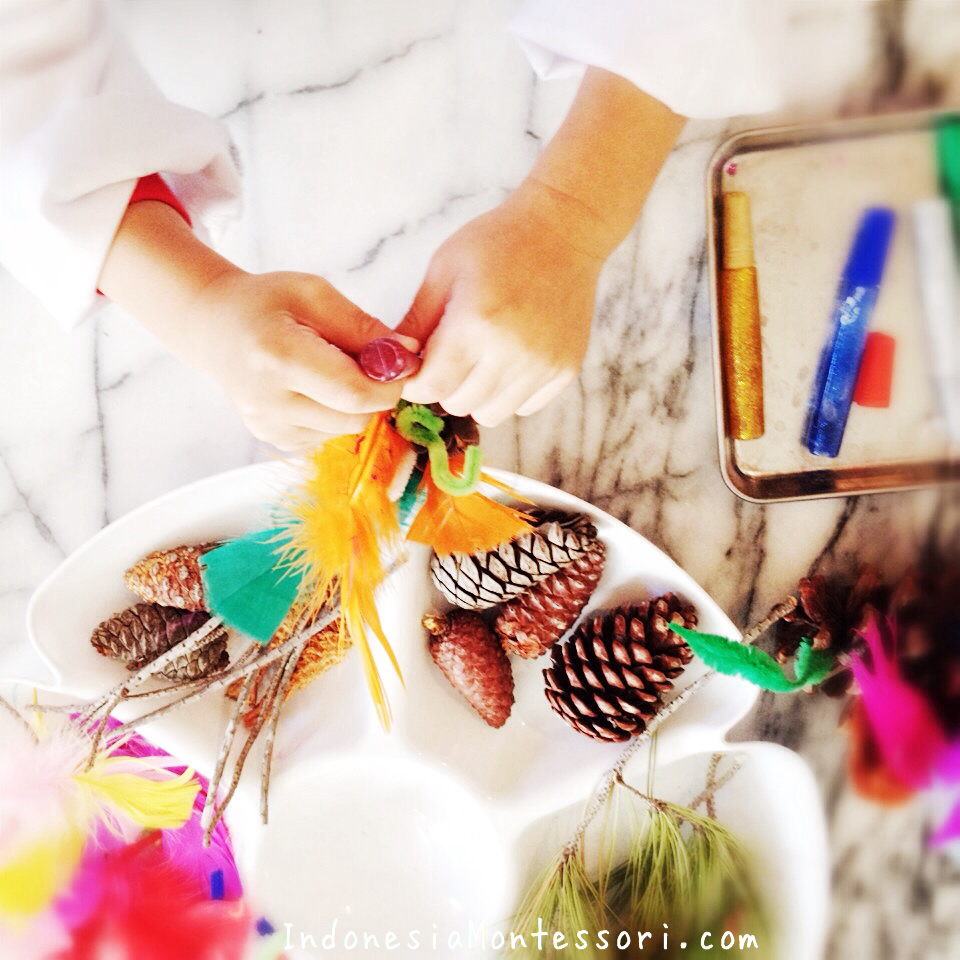 Yuk bikin-bikin C! akhir-akhir ini C lagi suka memakai glitter glue, setiap buat kreasi dimana-mana di tambahkan glitter blue berwarna-warni terus bilang "see, it is so sparkly!"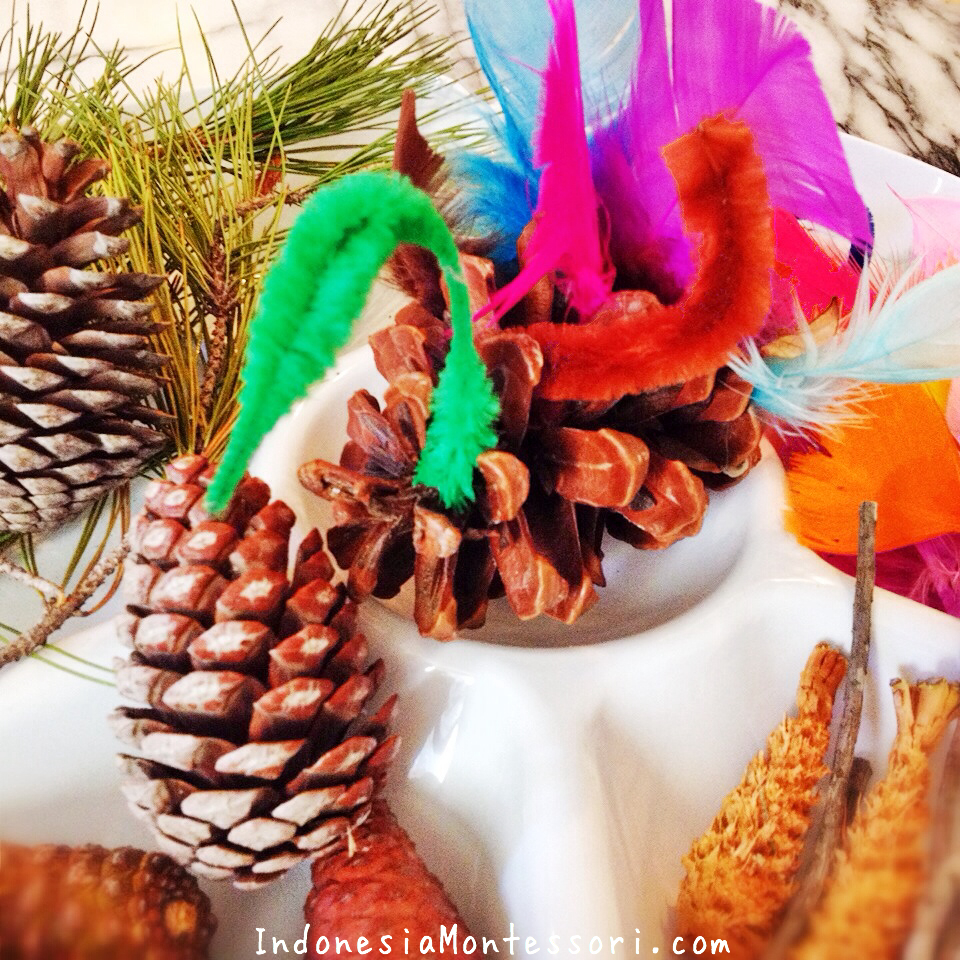 Nah yang di tengah ini ceritanya "turkey" yang di buat dari cone, pipe cleaner dan feather! Big Daddy Turkey!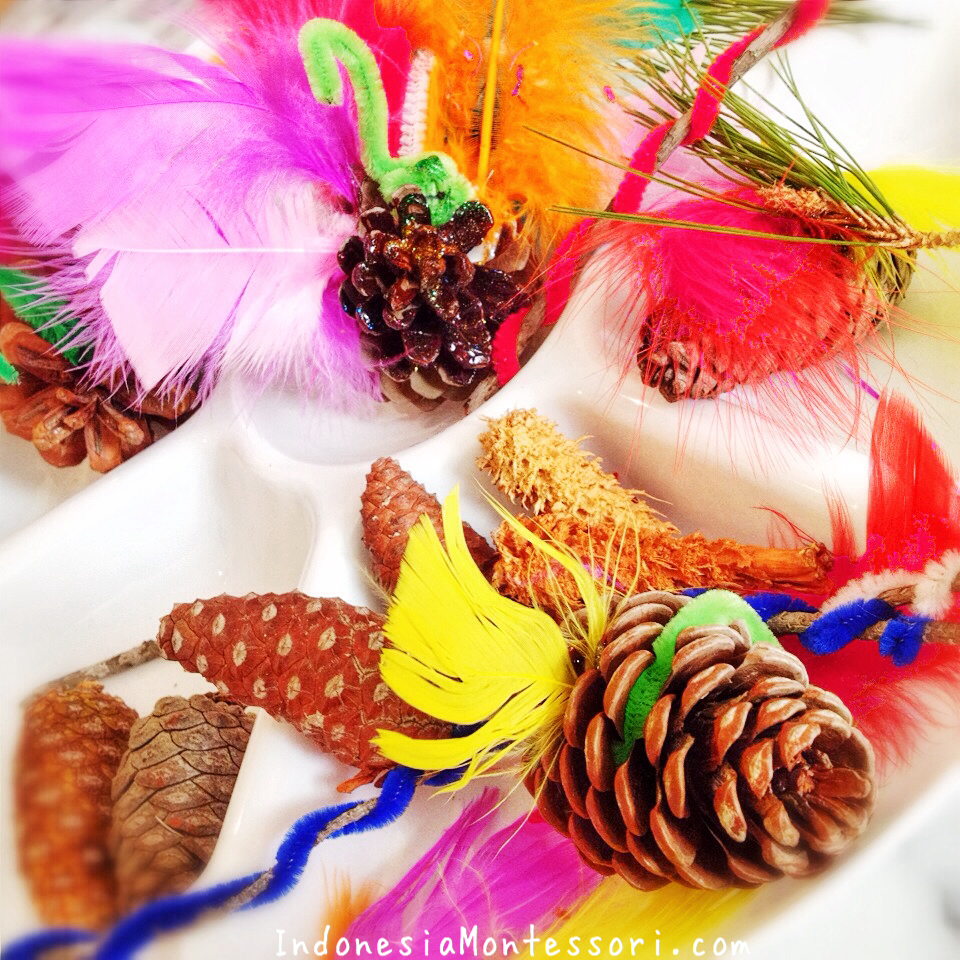 Dan C juga membuat Mommy Turkey and C Turkey! selama kita bikin-bikin ini, udah tercium harum wangi bawang putih , dan broth yang lagi dimasak oleh DadC, jadi lapar! tapi karena belum Thanksgiving Dinner, jadi end up nya makan pempek! hihi udah 3 hari terakhir ini momC ga bisa berhenti makan pempek asli buatan ibu dari Indonesia yang momC pesan dan dikirim ke sini, sekalian juga mengenalkan C ke makanan dari Indonesia, yummy pempek!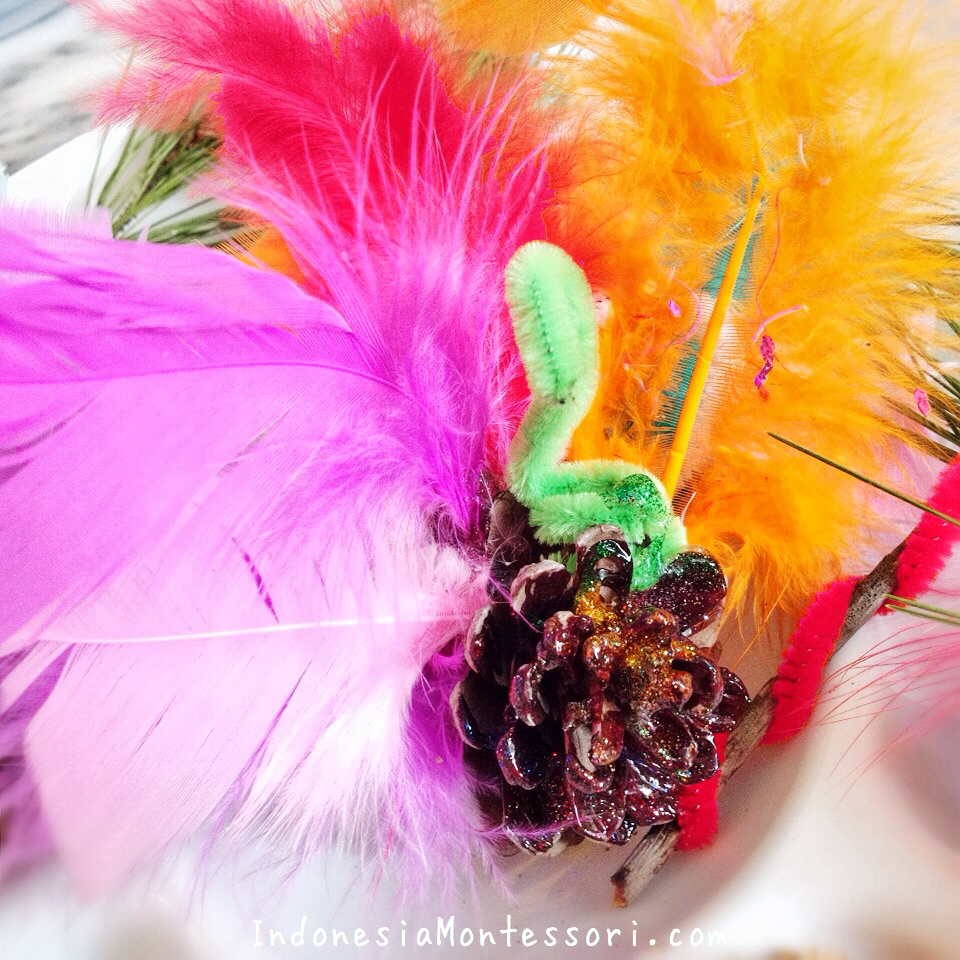 Happy Thanksgiving dear all IMC-ers! I am thankful for our community IMC CLUB , I am thankful for our friendship that inspire, support and motivate each other, I am thankful for my parents, my husband, my C, my dearest sisters and brothers! I am THANKFUL that I am alive! Count your blessings, what are YOU Thankful for?