It's Okay To Make Mistakes!
(Boleh-Boleh Saja Melakukan Kesalahan)
Yes, It is OKAY to Make Mistakes! 
Really?
Yes , Really 🙂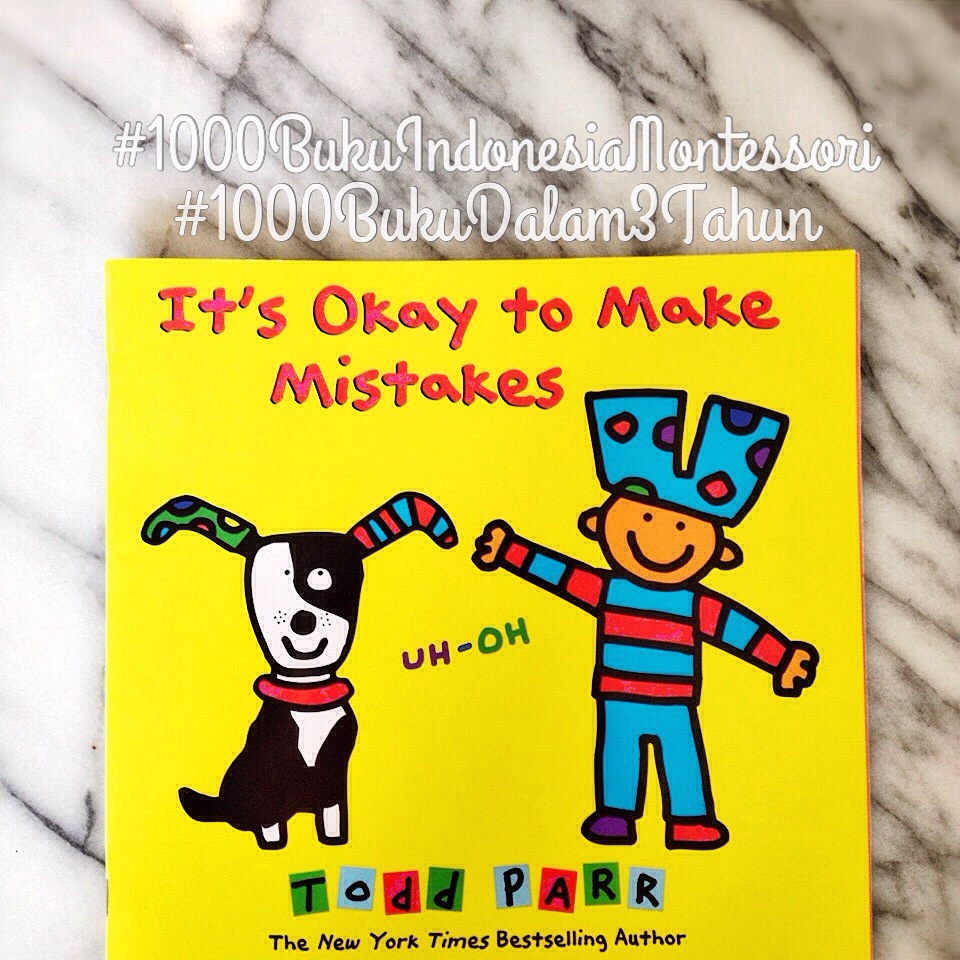 Dear IMC-ers , pada kesempatan kali ini MomC ingin sharing megenai salah satu message dari buku kesukaan kami berjudul "It is OKAY to Make Mistakes" karangan Todd Parr , penulis terbaik versi The New York Times. Mengapa MomC suka dengan message yang ada dari buku Todd Parr ini? karena MomC merasa ini menjadi peringatan untuk kita semua dalam kehidupan sehari-hari. NOT EASY , again NOT EAST seriously, but at least If we are open for input, we will be better persons!
Pesan Todd Parr di dalam buku ini sangat singkat tapi betul-betul mengena di hati kami. Mulai dari awal ya,
" Jangan khawatir kalau kau menumpahkan susu, kamu selalu bisa membersihkannya lagi."
" Boleh-boleh saja mencoba jalan arah yang berbeda, siapa tahu kamu malah menemukan sesuatu yang baru dan berharga!"
" Sah-Sah saja kalau kami tidak mengetahui jawabannya, bertanya membantu kami belajar."
" Sah-Sah saja kalau kamu kadang marah dan kesal , itulah gunanya teman mereka dapat menghiburmu."
" Jangan khawatir kalau sesekali kamu jatuh , kamu bisa berdiri lagi :)"
" Ga masalah kalau kadang kamu lupa bawa payung, bisa-bisa kamu bertemu teman baru yang ingin meminjamkan payungnya …"
" Ga masalah kalau kamu berubah pikiran , setiap orang siap pada waktu yang berbeda-beda."
" Ga apa kalau kamu salah pakai sepatu, kamu bisa selalu minta tolong :)"
" Ga masalah kalau kamu tidak bisa menari , mungkin kamu akan menemukan gerakan baru yang seru!"
" Ga masalah kalau kamu sedikit malu, pendiam itu bisa menjadi pendengar yang baik lho :)"
Demikian cuplikan dari kata-kata pesan yang powerful dari buku ini, momC suka banget karena menjadi self-reminder. Kita hidup dimana segala sesuatu serba cepat, instan dan juga banyak tuntutan di sana sini. Kadang-kadang imperfection dalam hiduplah yang membuat kita lebih human 😀 MomC selalu baca kencang-kencang bagian ini : " It's OKAY to Make mistakes sometimes. Everyone does – even grown-ups!" That's How We Learn."