DIY Sparkly Solar Systems
(DIY Prakarya Tata Surya)
Sebetulnya topik Tata Surya ini salah satu rencana topik #IndonesiaMontessoriHomeschool minggu depan, tetapi apa daya saat MomC siap-siapin bahan-bahannya..C lihat dan mohon-mohon mau langsung dikasih tau..kata C "mau ini, ceritaiin ini…mau planet!!"
Baiklah…MomC mulai ceritakan sedikit banyak tentang planet bumi dkk nya secara garis besar saja, dan karena itulah hari ini MomC juga berjanji ajak C buat kegiatan bertema Planet…dan kali ini kami buat DIY 100% buatan C dan momC prakarya tata surya yang terdiri dari 8 planet , bintang, bulan,matahari dkk 🙂
Nah, pertama-tama MomC gambar dulu berbagai bentuk di kertas karton (3 karton yang sudah dilem menjadi satu) seperti demikian…Setelah MomC gunting dan lubangi ujung-ujungnya..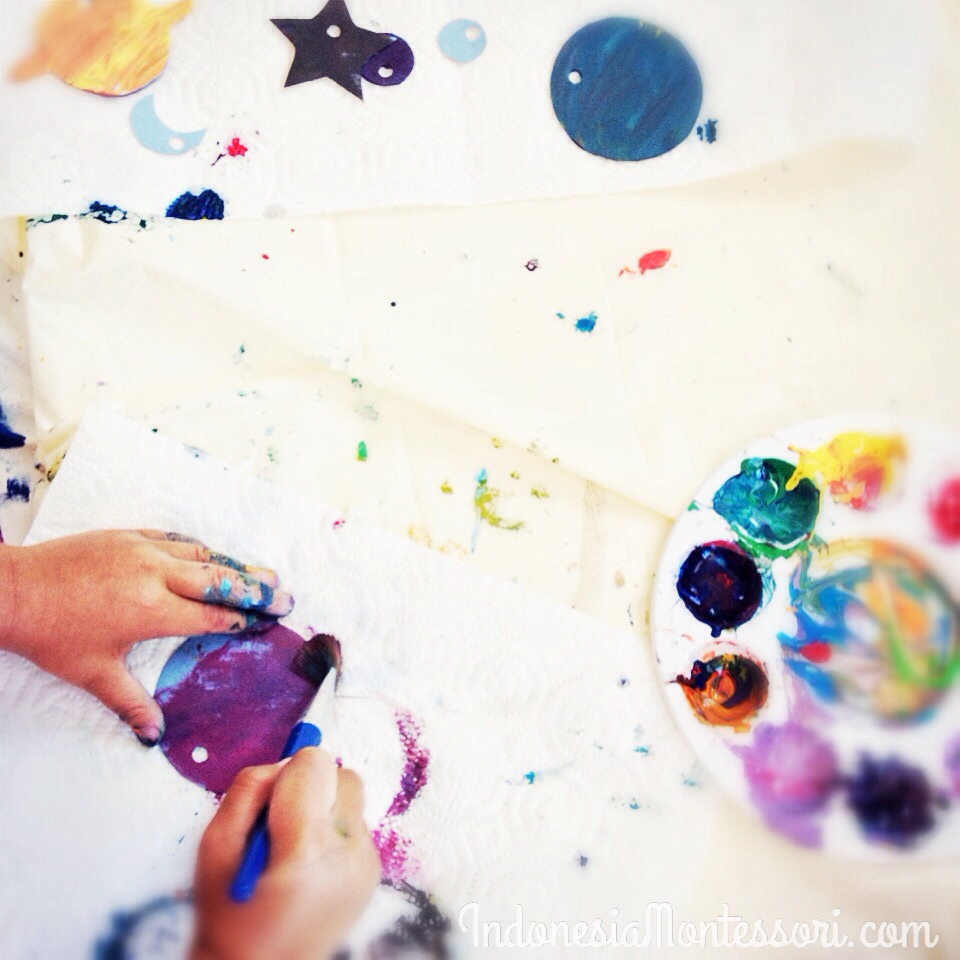 Nah setelah itu C mulai "painting" , C habiskan 1 jam penuh loh untuk serius melukis dengan warna yang sudah bercampur-campur itu…tapi MomC encourage C untuk mencampur warna menjadi gradasi, momC katakan warnanya bebas boleh campur malah memberi efek 3 dimensi..jadi C asik sendiri bebas melukis deh..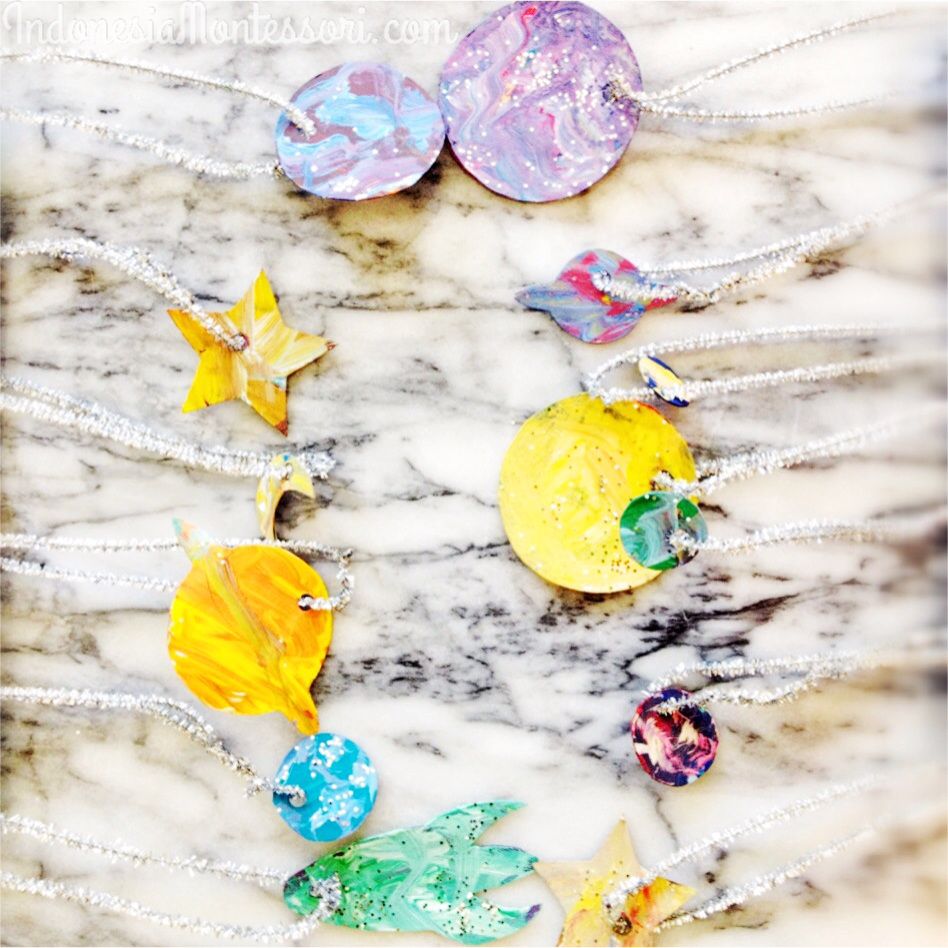 Setelah itu kami keringkan dan MomC tinggal sambil masak makan siang untuk kami berdua…Setelah kurang lebih 20 menit dan kering, MomC dan C masukan sparkly silver pipecleaner ke lubang-lubang pegangannya dan seakan-akan meronce C mulai memasukan masing-masing planet sambil excited sekali dia!! dia katakan berulang-ulang bahwa C yang lukis semua sendiri…Well MomC memberikan finisihing touch sederhana sih, tapi 95% C yang paint warna dasarnya..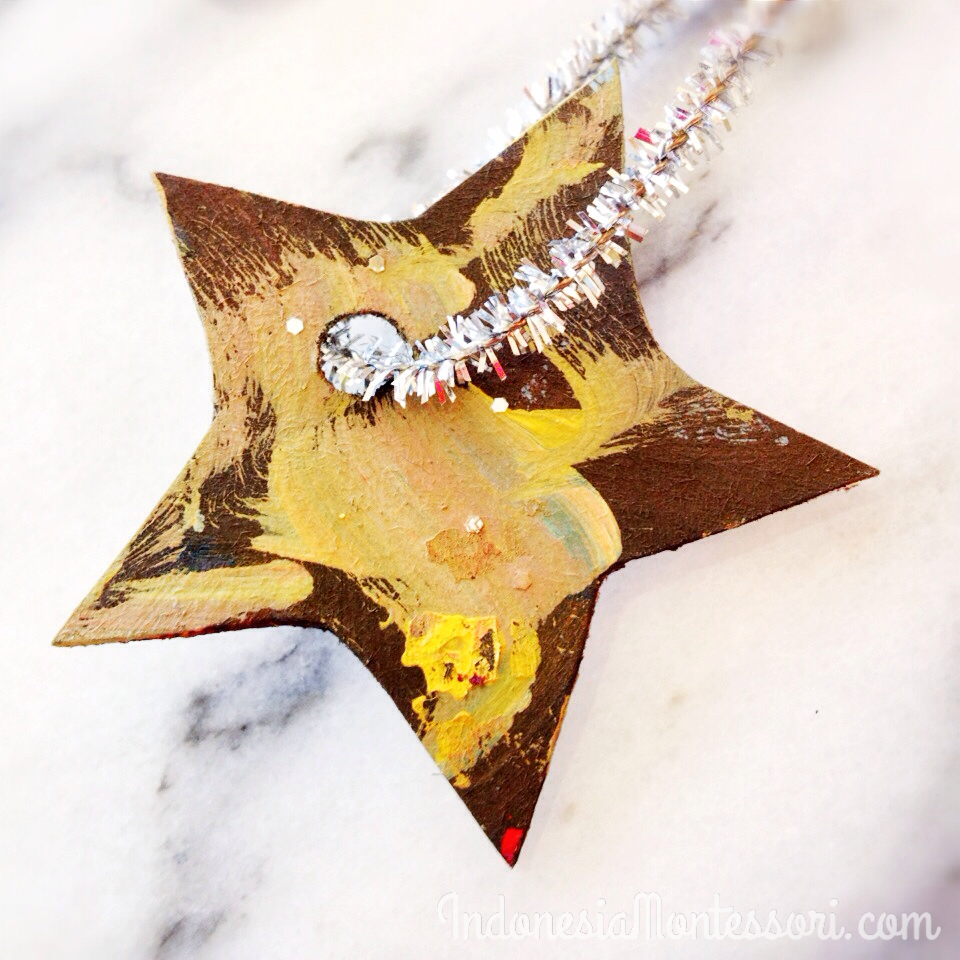 Di gantung satu per satu..." STAR!!!! Sparkly Star "kata C !!!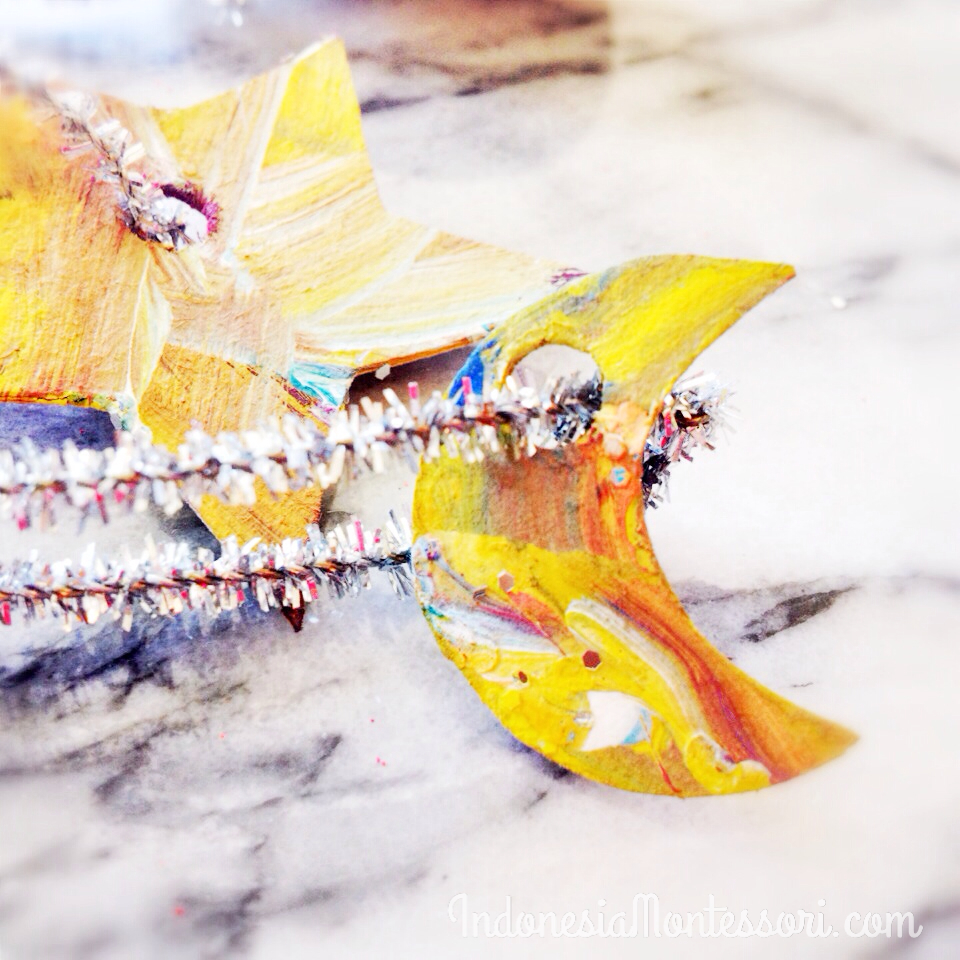 Kami gantung juga si bulan sabit …C katakan " Crescent Moon!!! "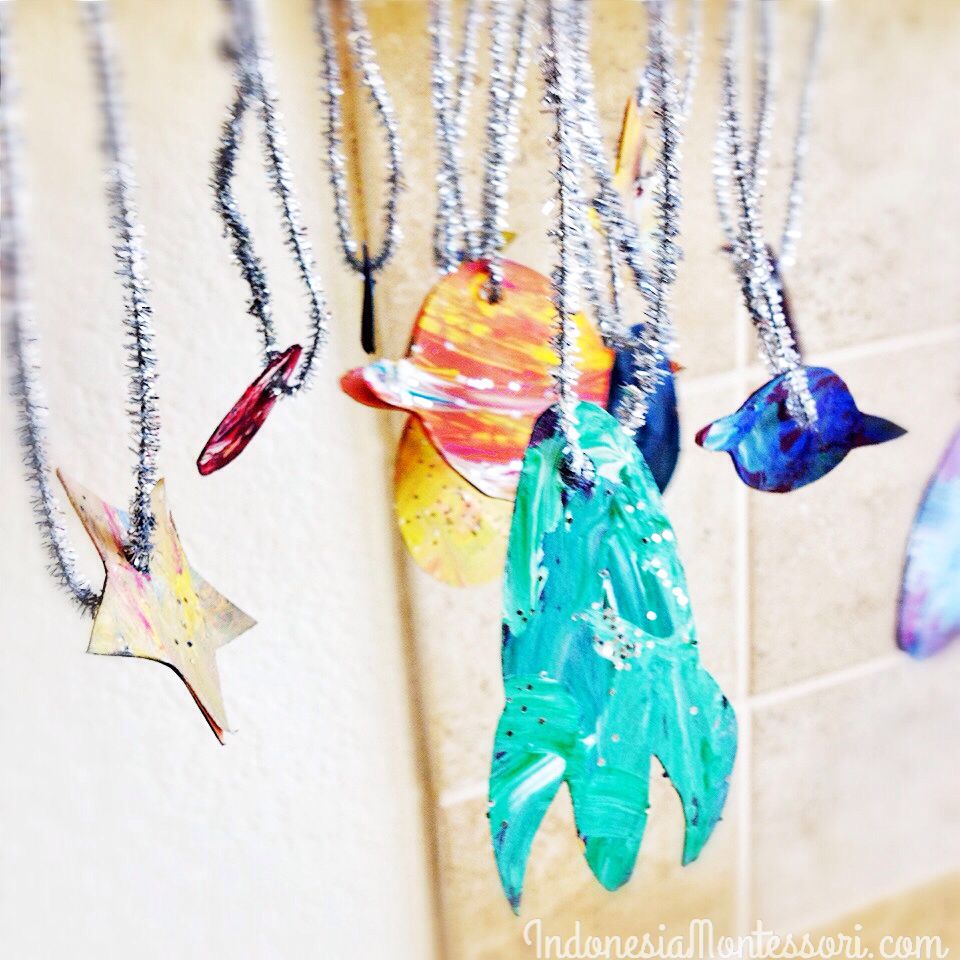 Nah ini kesukaan C " Astronaut is inside the space shuttle!! " …C lagi suka sama space shuttle karena semalam dibacakan buku tenting planet dari national geographic itu 🙂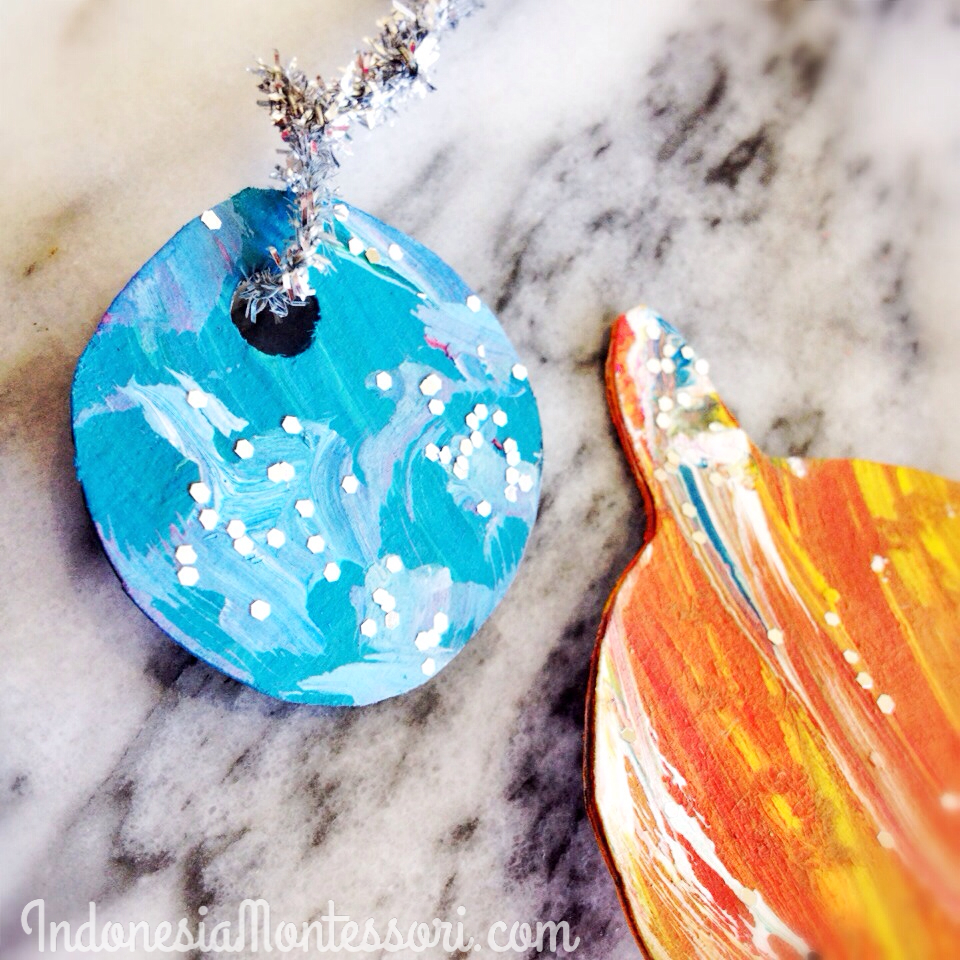 Our "EARTH" planet bumi .. terdiri dari mayoritas air ya C….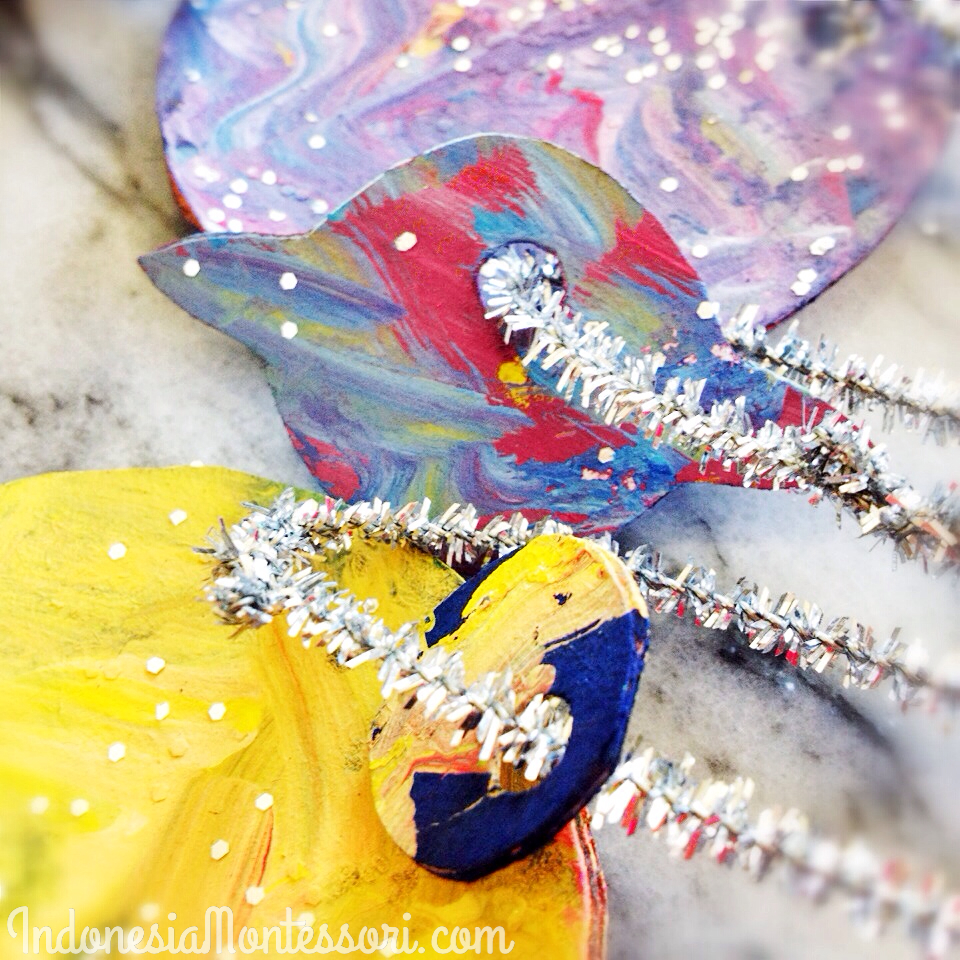 Planet Jupiter!! Uranus!! dan Mercury !!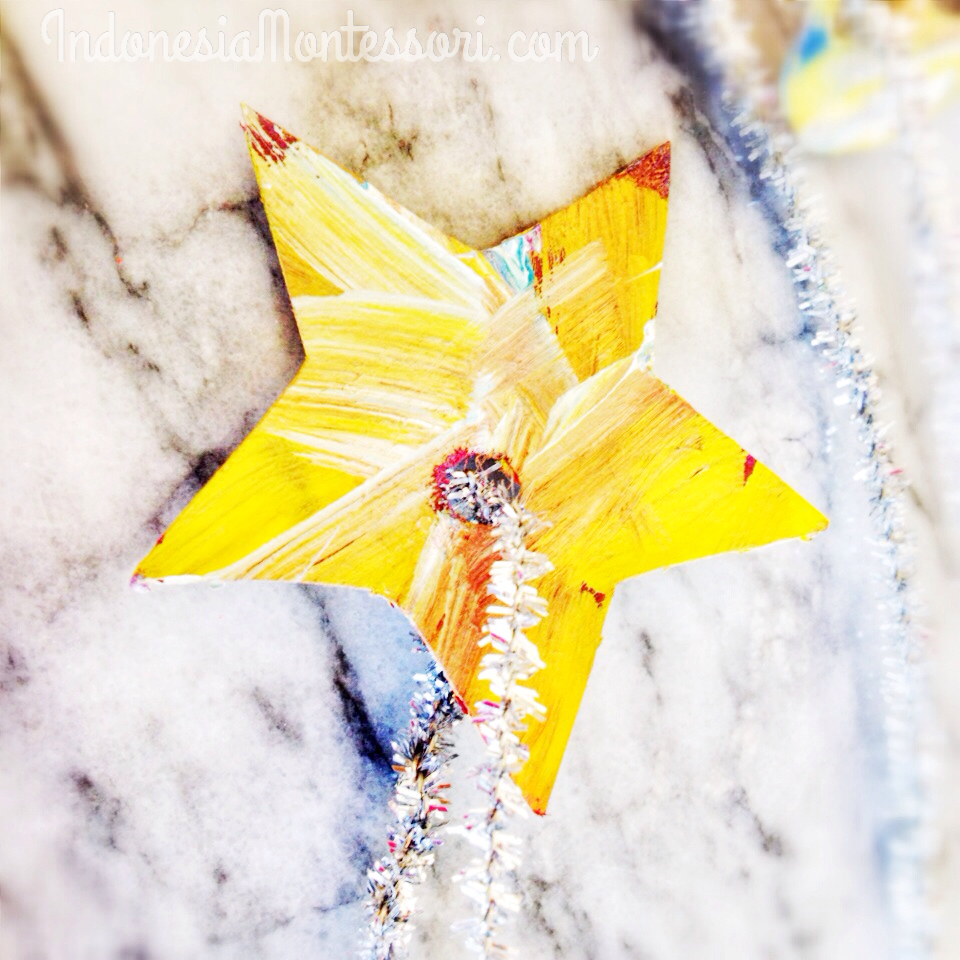 Another sparkly star…
Dan setelah selesai dironce lalu kami gantung 🙂
Ta daaa.. our very own Sparkly Solar Systems!!!!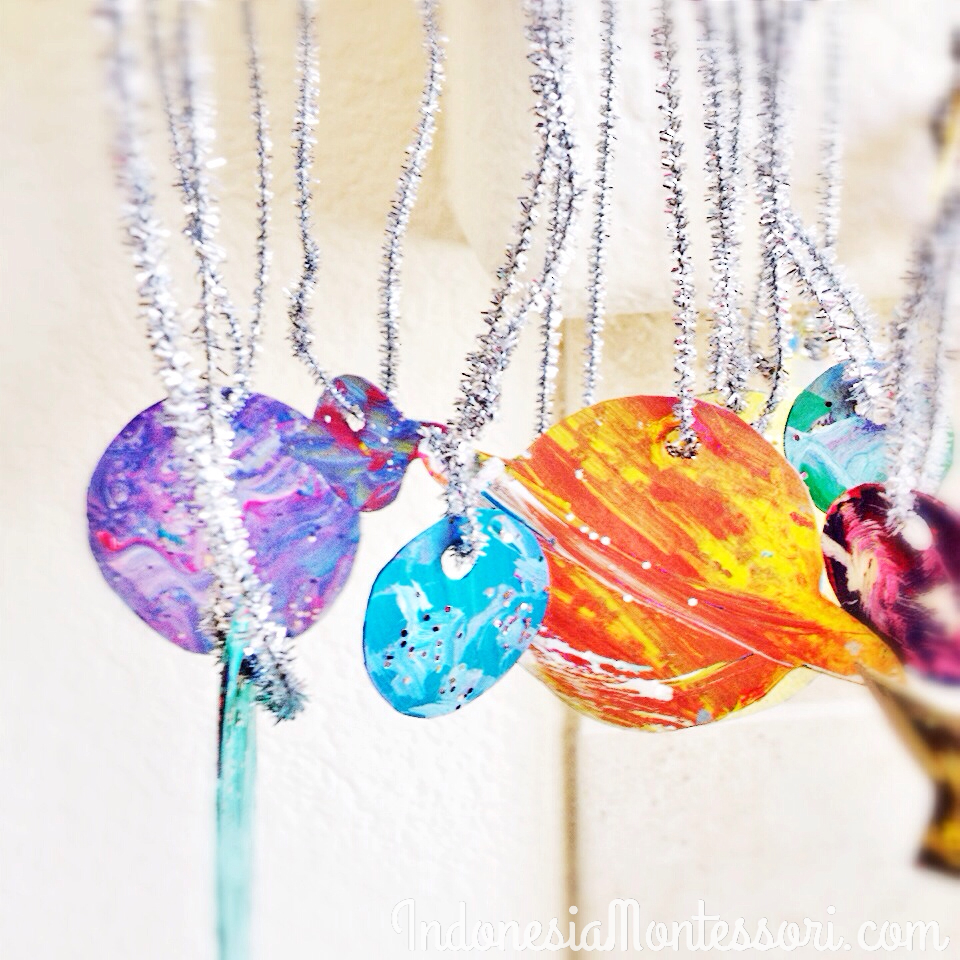 Yuk di coba!
Bahan-Bahan :
3-5 kertas karton
lem , gunting, pelubang kertas
glitter (opsional)
cat (mom C pakai akrilik)
kuas
gantungan (benang wol, pipecleaner, dll)
Aktifitas prakarya yang satu ini menarik sekali untuk mengenalkan si kecil ke sistem tata surya secara FUN dan ngga membosankan, dijamin setelah buat ini si kecil langsung hafal dan cinta dengan topik ini 🙂
"He does it with his hands, by experience, first in play and then through work. The hands are the instruments of man's intelligence." (The Absorbent Mind, p. 25)

"The child has a different relation to his environment from ours… the child absorbs it. The things he sees are not just remembered; they form part of his soul. He incarnates in himself all in the world about him that his eyes see and his ears hear." (The Absorbent Mind, p.56)
Untuk Mendapat Notifikasi di E-mail anda mengenai artikel terbaru dari IMC, masukan E-mail anda di kotak oranye dan jangan lupa verifikasikan 🙂
Have Fun!!
MomC