Dear IMC readers, selamat berakhir pekan…yuk mumpung lagi santai kita coba salah satu kegiatan seru kesukaan C yang sering kami lakukan #IMCTiupBalon. Apalah arti pesta ulang tahun tanpa balon…haha terasa ada yang kurang ya! nah gimana kalau suatu hari pompa balonnya ga ada? mau niup pakai mulut bias doerrr….capekkk…apalagi kalau balonnya besar..terus gimana dong? yay ada solusi serunya nih…kegiatan ini dilakukan oleh C dan DadC yang memang mencintai sains, so siap-siap ya! ambil cuka, baking soda dan balon….itu aja cukup!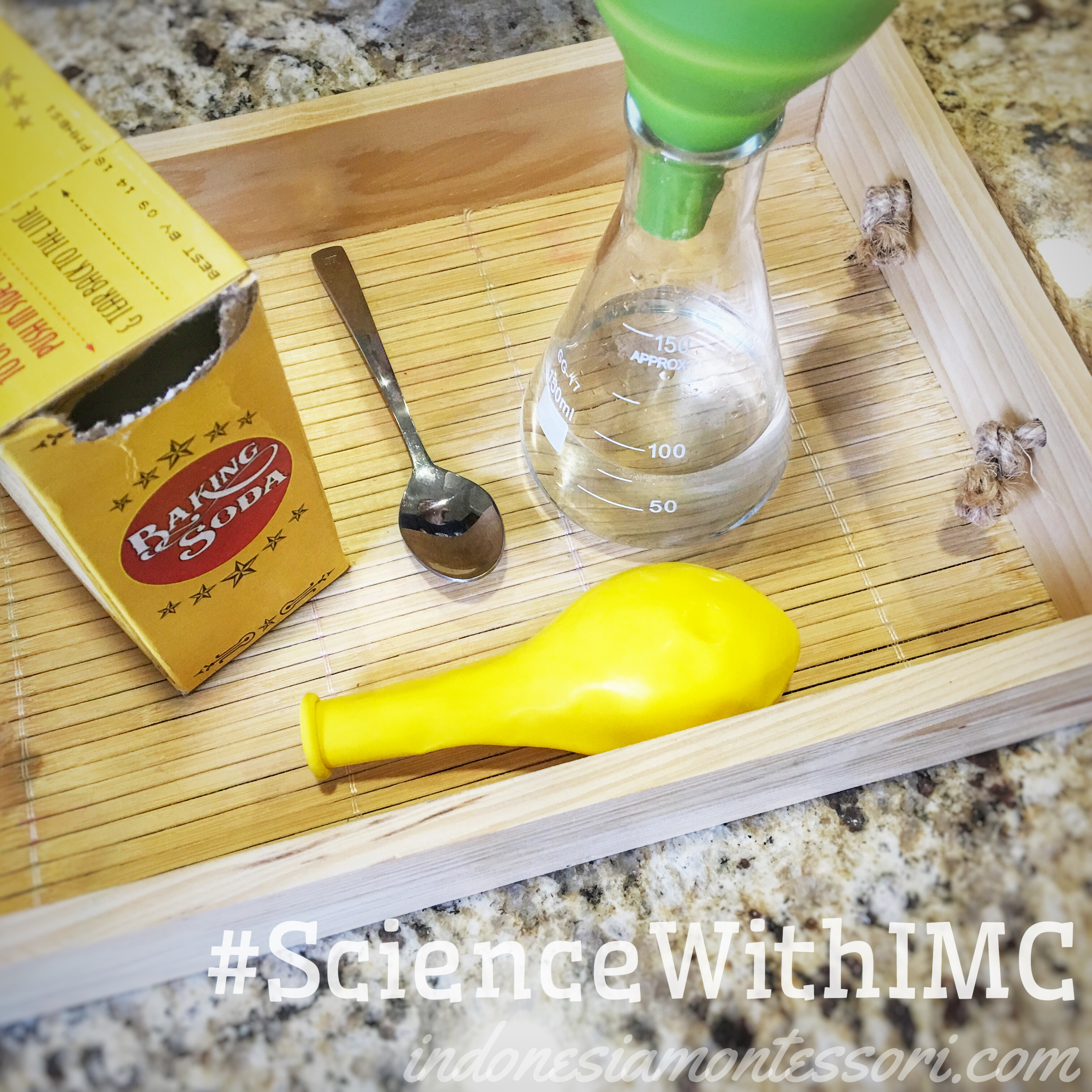 Nah , C menuangkan cuka ke dalam labu Erlenmeyer menggunakan dropper besar, bisa juga menggunakan corong air, yang mana saja yang IMC readers punya di rumah. Tuang secukupnya , lalu ambil balon berukuran sedang dan masukan 3 sendok teh baking soda (soda kue). Kalau sudah silahkan di letakan di mulut labu Erlenmeyer ya dan silahkan tonton reaksi kimia yang terjadi….dijamin si kecil suka banget…kalau C selalu sampai cekikikan..terpesona! Kegiatan ini cocok dilakukan untuk anak usia prasekolah dengan pengawasan penuh dan hindarilah cuka supaya jangan terkena mata si kecil dengan menggunakan goggle / alat proteksi lainnya. Ide kegiatan sains ini juga tentunya masih seru untuk dilakukan bahkan untuk anak SD (sekolah dasar) ya, di sini si kecil dapat mulai memahami reaksi yang terjadi antara asam asetat (diluted CH3COOH) dan soda kue (NaHCO3 / Sodium Bicarbonate)
NaHCO3(s) + CH3COOH(l) → CO2(g) + H2O(l) + Na+(aq) + CH3COO–(aq)
with s = solid, l = liquid, g = gas, aq = aqueous or in water solution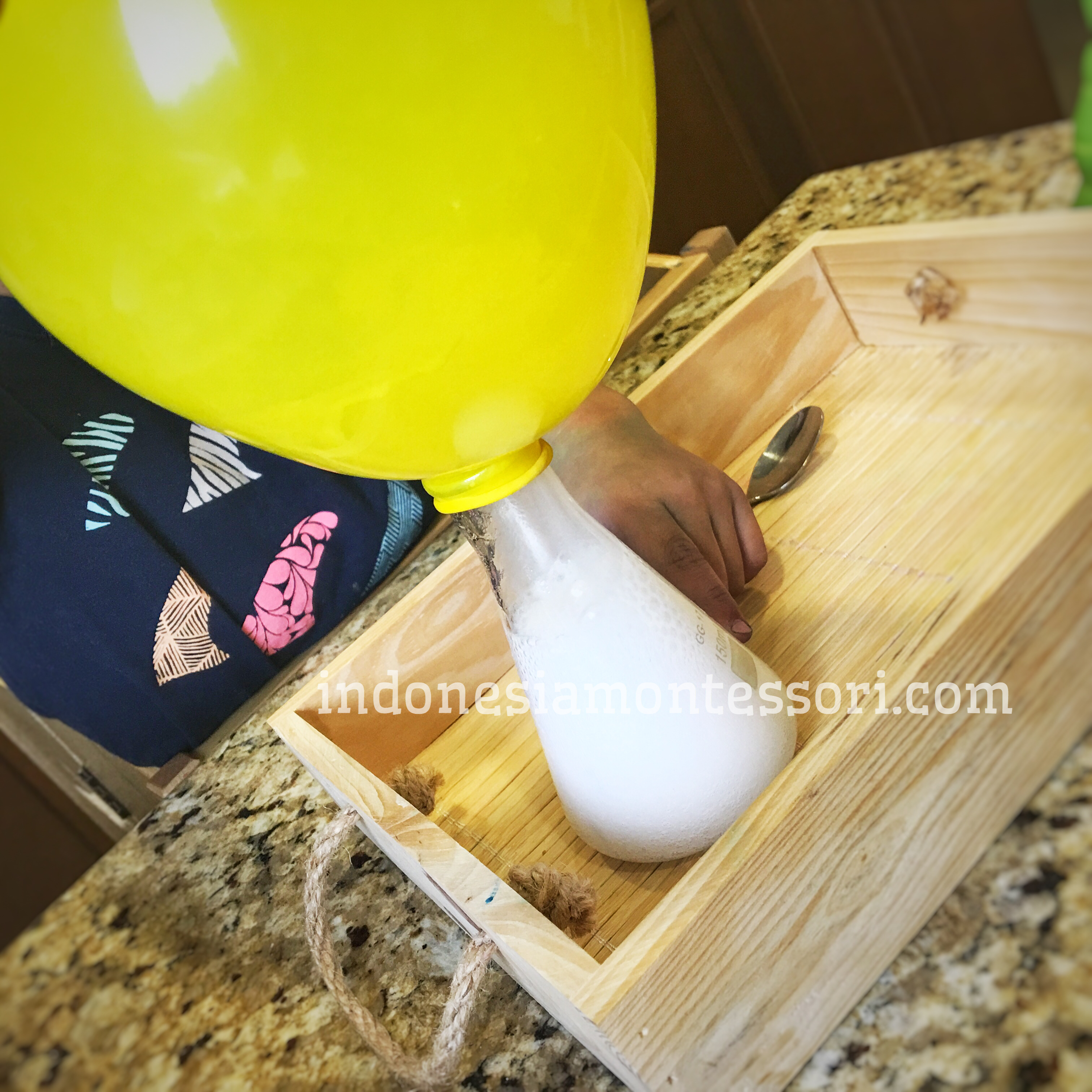 Taaaa..daaaaaa lookkkkk look Mommyyy….!! yay balonnya jadi besar, cuka dan soda kue nya menimbulkan buih-buih juga dan kalau flask di pegang dingin loh…as simple as that C , it is called a chemical reaction. Apa yang terjadi ketika soda kue bercampur dengan asam asetat (cuka) C? timbul reaksi kimia yang juga menghasilkan karbon dioksida sebagai hasil nya…gas yang tidak terlihat itulah yang menyebabkan si balon kuning ini mengembang….
So Bubbly!!! C selalu suka kegiatan ini dan minta berkali-kali hehe…nah kalau lagi ga ada pompa, bisa segera ambil cuka dan soda kue di dapur ya! yuk cobain jangan lupa mention @IndonesiaMontessori #IMCTiupBalon yaaaa…